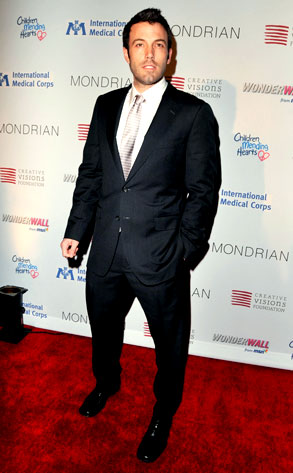 Steve Granitz/Getty Images
Ben Affleck is feeling old.
At last night's fundraiser for the International Medical Corps work in the Democratic Republic of the Congo, Children Mending Hearts founder Lysa Heslov gushed about People magazine naming Affleck the Sexiest Man Alive...in 2002.
"That was very nice what you said about me," the 36-year-old father of two said. "But I'm not sure you needed to put the date of the Sexiest Man Alive."
Among those laughing at Affleck's quip was his wife, Jennifer Garner. Garner didn't spend much time at the event, but when she was there, the two were lovey-dovey, holding hands and hugging
However, it was a bit puzzling as to why Garner didn't do more to help promote her hubby's big cause. She skipped the red carpet altogether and kept to one table inside. When she left, she kept her head down and was trailed by at least one big burly bodyguard.
Less press-shy was Anderson Cooper. When Affleck presented an award to Cooper for his work bringing attention to war-ravaged regions of Africa, the CNN newsman couldn't help but gush over the actor. No, not about his Sexiest Man title...