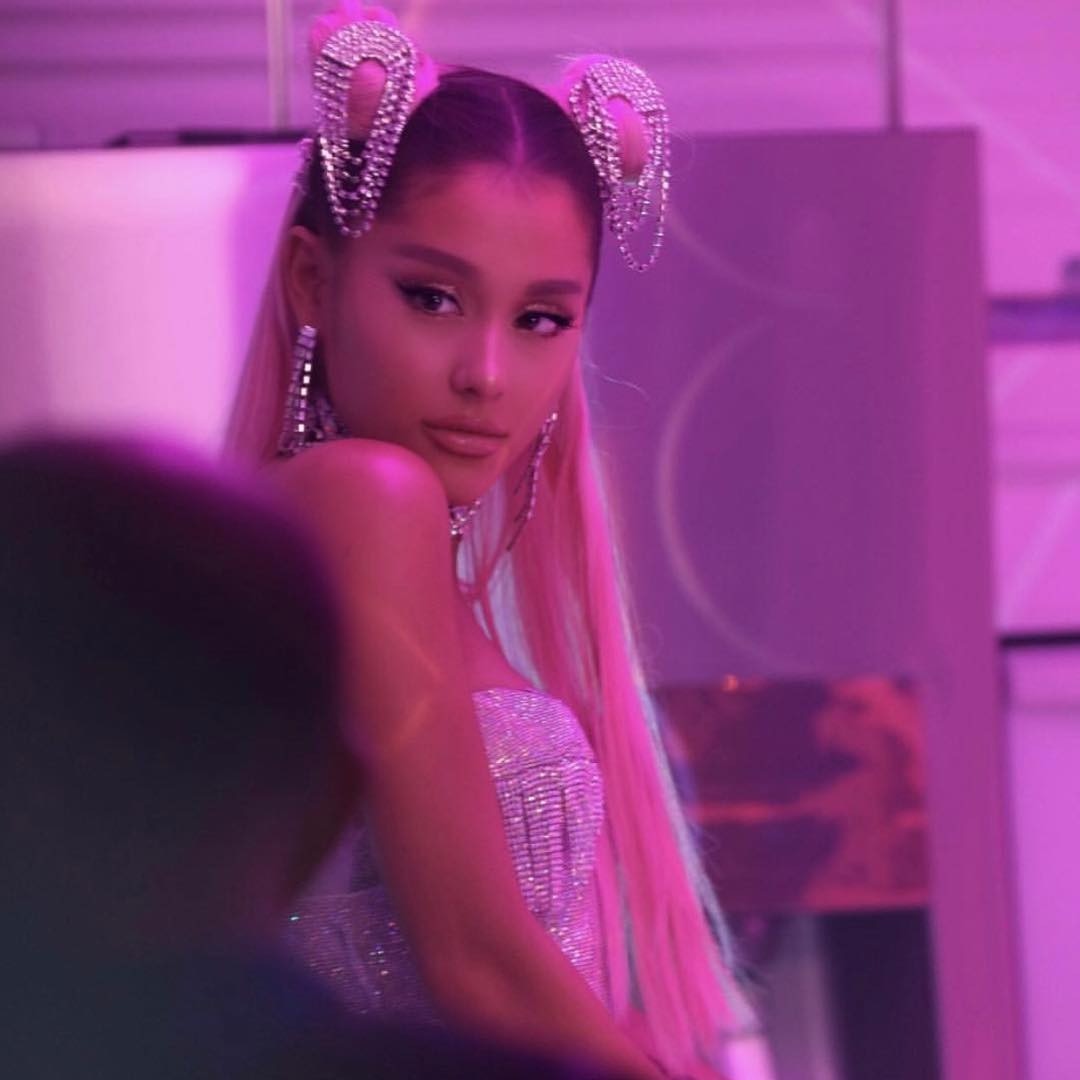 Instagram
Ariana Grande is seeing the world through rose-colored glasses. 
Well, they're more pink. The pop star dropped her highly-anticipated song "7 Rings" along with the music video on Thursday night and it's truly drenched in pink. From the super sexy ensembles to the kitchen Ariana crawls across, pink was everywhere.
And oh yeah, did we mention Ariana raps? Set to the "My Favorite Things" from The Sound of Music, the songstress makes her love for the finer things in life known. From "lashes and diamonds" to "ATM machines" and "breakfast at Tiffany's," Grande's latest track is an ode to living life on her terms. 
Without further ado, we're breaking down our favorite moments from "7 Rings:" 
1. Easter Eggs Galore:
True Arianators quickly noticed that the intro for "7 Rings" was suspiciously similar to the one included in the music video for "Thank U, Next." This means that Grande was dropping clues (a.k.a new music!) right under our noses and we didn't even notice. 
2. All About Her Squad:
Her besties—or as Ariana describes, "six of my bitches"—joined in on the action and are featured throughout the video. They were the lucky ones who Grande gifted with Tiffany & Co. rings on a day out in New York City, hence their starring roles. Back in December, the "Thank U, Next" singer revealed to her Twitter followers that the inspiration behind the song happened on a "pretty rough day." 
Her friends decided to take her to Tiffany, where they had way "too much champagne." One thing led to another and she bought them all rings. "It was very insane and funny," Ariana shared at the time. "[And] on the way back to the [studio] Njomza was like, 'Bitch, this gotta be a song lol.' So we wrote it that afternoon."
3. One of Mac Miller's Best Friends Is a Co-Star:
The recipient of the diamond ring Ariana was referring to above is singer-songwriter Njomza, who was a close friend to the late rapper and Ariana's ex-boyfriend. The pair frequently collaborated, and Njomza even performed at Miller's tribute concert last October. Grande seemingly acknowledges the loss in "7 Rings," singing, "Been through some bad s--t / I should be a sad bitch / Who woulda thought it'd turn me to a savage..."
4. A Girl's Best Friend:
Her dog Toulouse ended up making an appearance in one scene, not because he got a ring, but simply because he "literally wouldn't leave" Ariana while filming. The precious pooch even has his own doghouse!
5. Even Her Signature Ponytail Gets a Shout Out:
It's long been known that Grande's go-to hairstyle came about because after dying her hair red for so long on Nickelodeon's Victorious, she was forced to use hair extensions to help cover up the damage. The pop star has fully embraced the larger-than-life tresses and the chorus of "7 Rings" includes the lyric, "You like my hair? / Gee thanks, just bought it..." 
"7 Rings" is the second single from Grande's upcoming album, thank u, next. 
And given her track record, it's only a matter of time before she gives the world another hit.