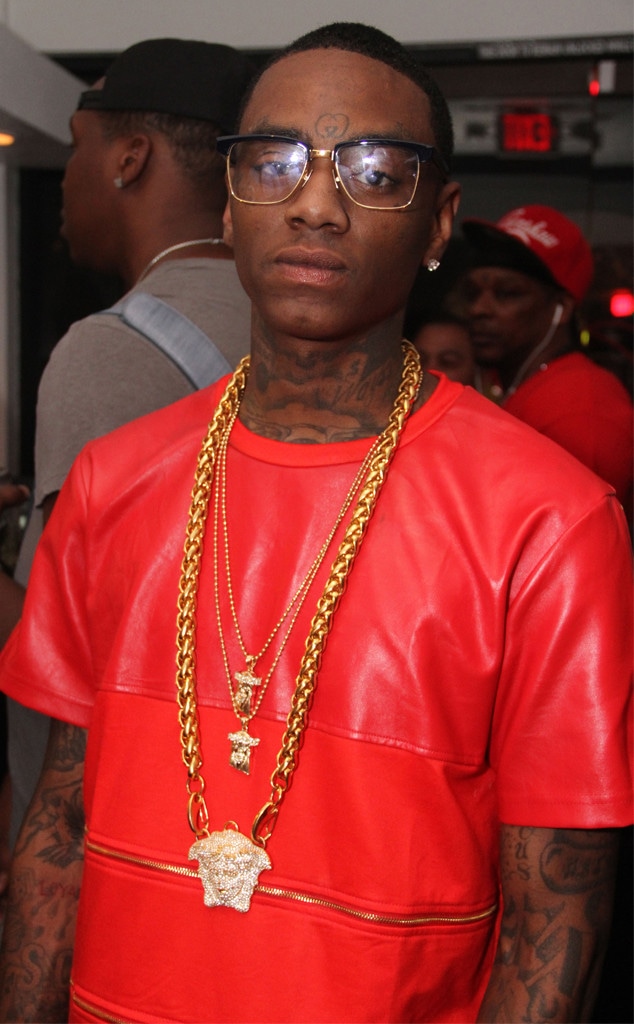 Mediapunch/Shutterstock
Soulja Boy isn't holding anything back.
On Wednesday morning, the rapper appeared on Power 105.1's The Breakfast Club where he was asked about a few familiar faces in the music community.
Let's just say the "Crank That" rapper wasn't holding back when sharing his thoughts.
When radio hosts Charlamagne Tha God and Envy insisted Drake was the "biggest rapper in the world," Soulja Boy got up from his seat and made it clear he disagrees.
"Drake? The n---a that got bodied by Pusha-T? The n---a that's hiding his kid from the world but his world ain't hiding from the kid?" he asked. "You n---as better stop playing with me. Stop telling me like I ain't teach Drake everything he know."
Another famous rapper that came up in conversation was Kanye West. When the Grammy winner was mentioned, Soulja Boy couldn't help but question his public thoughts about politics.
"We looking at you like you goofy, bro. You up here supporting Trump and s--t, bro," he shared. "You supporting Trump, bro?"
As for Kanye's success in the fashion world thanks to his Yeezy line, Soulja Boy didn't sound too impressed.
"You ain't Walt Disney, you ain't none of that, bro. You kissed them folks' a-- at Louis Vuitton. You kissed them folks' a-- at Adidas and you came out with two pair of goofy-a-- tennis shoes," he shared. "And that ain't enough, bro. I'm younger than you. I'm flyer than you...You cryin' every week on Twitter about Drake. You gotta stop that s--t bro! You look lame!"
And just when you thought he said enough, the 28-year-old heard the name Tyga and couldn't help but sound off.
"Tyga...Tyga...Tyga," he shouted during the interview. "The n----a who let Travis Scott steal his bitch?"
We'd share more shady moments, but maybe it's best to watch the whole interview for yourself above.