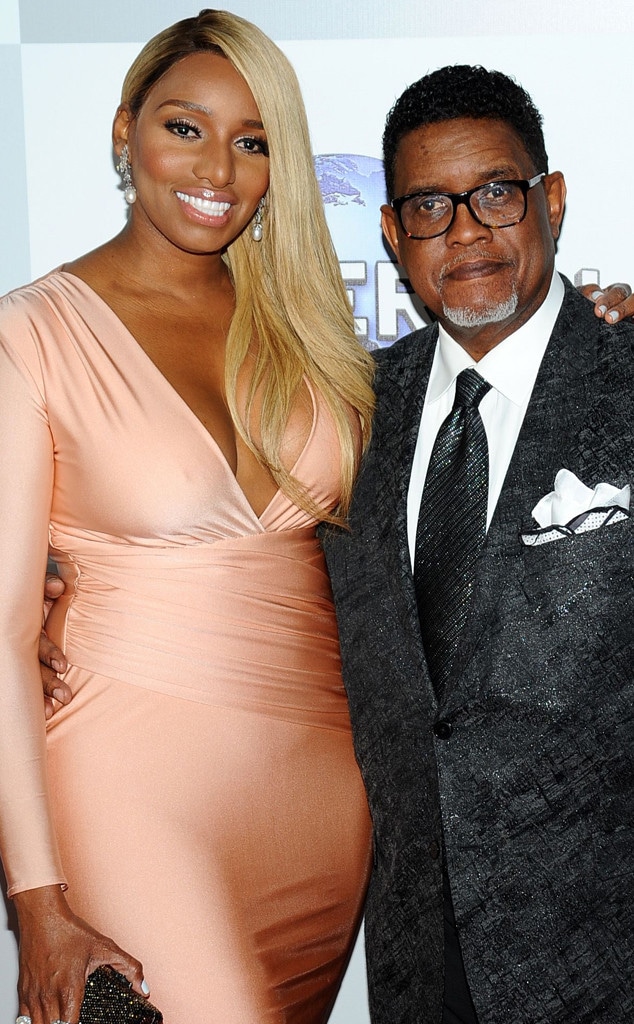 Andreas Branch/Variety/REX/Shutterstock
Less than two months after NeNe Leakes slammed her husband Gregg Leakes for being "mean, grouchy and evil" during his cancer battle, the Real Housewives of Atlanta star's spouse took to Instagram to apologize.
"We always hurt the ones we Love..because they allow us to hurt them rather than snap back," he wrote on Tuesday alongside a picture of his wife. "I'm tired of hurting my wife who is only trying to take good care of me and wants only the best for me too. She deserves much more for her hard efforts and tireless hours spent on me. I Pray to God to get it together..She's done NO wrong…this is ALL on me......Cancer WILL change your Life..." 
Gregg also acknowledged the hurt in a separate post.
"I wish I could get it right everyday & not be mean to my wife, doctors or anybody else," he wrote alongside a selfie of him wearing a "cancer sucks" hat. "It's NOT my intentions to be so. I stand in the 'need' of Prayer...You can't help but wonder what's around the next turn for yourself. Forgive me Hunni, forgive me America….. #neverbeenherebefore #nevergiveup#Imscaredtoo."
At the end of November, the Bravolebrity blasted her husband after he posted an inspirational message on Instagram about life lessons, including loving those who practice kindness, forgiving quickly and always thinking before acting out in anger.
"Well u need to do everything you posted! Practice what you preach," NeNe replied in a since-deleted comment. She also added the following: "You need to pray for yourself! This mean, grouchy, evil stuff u pulling these days are NOT cool."
After a follower called her a "cool piece of work" and noted the "tables can easily turn," NeNe clapped back.
"Chileeee shut up!" she replied. "Gregg has done so much s--t. It didn't just start! While u commenting saying s--t to me, ask him what has he done! Oh, and by the way, Gregg isn't bed stricken and needing daily help! You got it twisted." 
In addition, NeNe vented her frustrations on Twitter. 
"I would just think if I have or had cancer, I would see life so differently!" she tweeted. "Not being mean, grouchy and evil for no real reason! But that's me. Pray for me."
She also claimed she was "ALWAYS the bad guy."
NeNe revealed her husband's cancer battle in June and confirmed it was stage three colon cancer during her show's season 11 premiere.
"Being a caregiver—it's a difficult role to play," she said on a recent episode of her Bravo show. "Gregg having cancer—he's grouchy, he's sad, he's depressed. He puts all that energy on me. Like, I'm the closest thing to him. So, if he wants to vent, or yell or be mean, I'm the person that he's doing that to. It really has been difficult for me."
However, like any couple, it looks the spouses have their good days and their bad ones. Yesterday, for instance, NeNe took to Instagram to post about her husband having some fun at the casino.
"@greggleakes Happy [you're] out in the casino doing what you love to do because for some strange reason, people seem to think your like stuck in a bed or hooked up to some sort of machine when that couldn't be further from the truth!" she wrote on Instagram. "Enjoy your day and bring home some of that money hunni."
However, she seemed to reflect a different tone earlier this week after an episode about her being a caretaker aired.
"Sometimes the wrong person gets accused!" she wrote. "I'm pushing thru tho because I know what you don't know #itsmylife RHOA."
(E! and Bravo are both part of NBCUniversal).