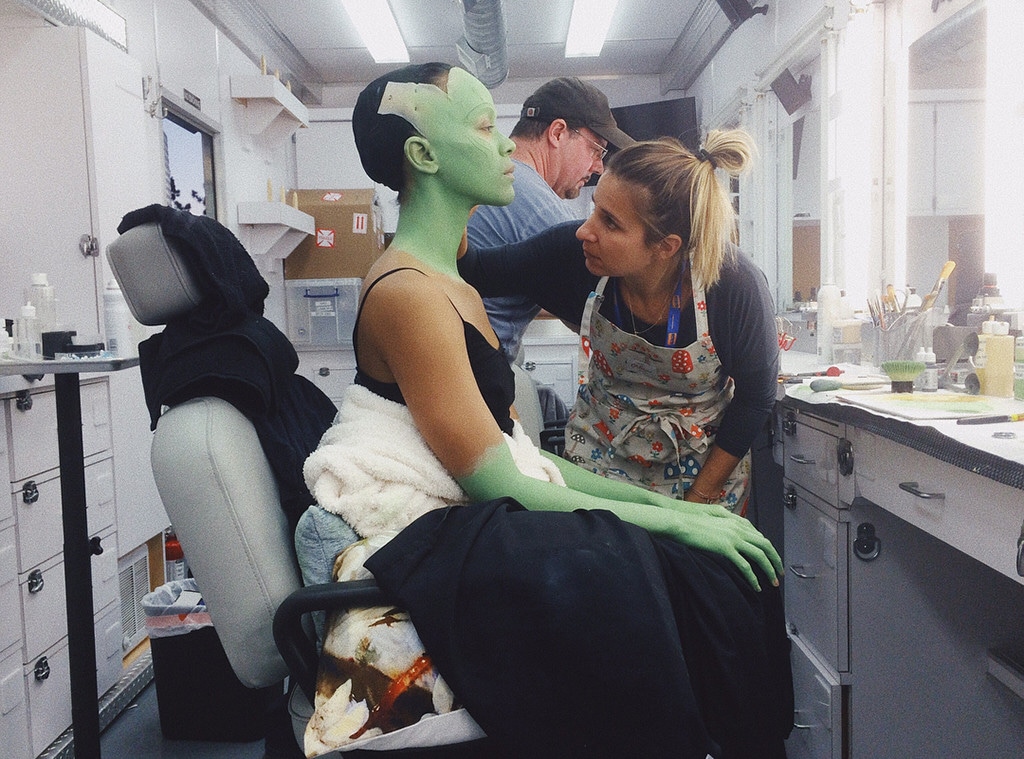 Instagram
It's not easy being green.
Zoe Saldana has been playing the Guardians of the Galaxy's Gamora in the Marvel Cinematic Universe for nearly five years, and yesterday, the 40-year-old actress gave another look at the painstaking process required to get her in and out of character. "Hair up! What goes on, must come off!" Saldana wrote in her Instagram video caption. "Adios Gamora…for now at least! Ha."
Tagging special makeup effects artist Will Huff and makeup artist Vera Steimberg in her time-lapse video clip, Saldana showed her followers why it takes several hours to get camera-ready.
When she first played Gamora in 2014's Guardians of the Galaxy, Saldana spent about five hours in hair and makeup. "It's all Zoe, although she is wearing a few prosthetic pieces made from encapsulated silicone," special effects makeup designer David White told Allure at the time. "Her forehead is a prosthetic that I sculpted to create a new shadow line where her eyebrows once were. And her cheeks are prosthetics, too." Applying all the prosthetics took about two to three hours, he estimated: "Taking it off took anywhere from 30 to 45 minutes."
Saldana's only request? "She just needs to be pretty," the actress said.
"That's usually a thing that I don't think about with other characters that I play, but for some reason—because I was going to be green and I was going to be the lead girl—I just wanted teenage boys to find me attractive," the badass beauty admitted to SlashFilm in 2014. "I don't know why I was stressing this a lot, but I really was when we were testing. That's where I was coming from. Everybody else was just like, 'Contacts? Do we dye the hair? Wig? No wig? What color hair? How long is it?' I'm like, 'Pretty. Teenage boys, please—we gotta get their vote.'"
For Guardians of the Galaxy Vol. 2, the team whittled the process down to four hours. "We made progress," Saldana told Metro U.K. "The first movie was five and we shaved off an hour!" Later, as the actress revealed on Twitter, the team had gotten everything down to about three hours.
Needless to say, the procedure can be exhausting—and boring.
"It gets harder, 'cause you're tired. It's like Groundhog Day; you're living the same day over and over. You're like, 'When is this going to stop? How many more makeup days do we have?" Saldana told Hollywood Outbreak in 2017. "There's a great deal of tantrums that go by, so I appreciate the fact that my team always protects me. But as soon as I get to set, I forget it all."
With five films done (including this year's Avengers: Endgame), things have gotten easier. Gamora's original prosthetic design "consisted of a silicone forehead, and right and left silicone cheek pieces," Brian Sipe, department head of makeup for Legacy Effects, blogged in 2017. "Zoe was not a fan of having 'all of this alcohol-based make-up sprayed all over her face,' so the search was on to find something more skin-friendly." After a series of tests, the team brought in Steimberg, Saldana's personal makeup artist. "When it came to redesigning her coloration, we knew we needed to involve her right away," Sipe explained. "We poured through the continuity and application notebooks from the first film to see what we could change and streamline."
Mike Ornelaz and his team also created a new wig for Gamora, as well as re-front one of the original wigs for a backup, Sipe said: "Mike had all the hair pre-dyed the correct brown color, and then dyed the ends with the correct magenta color." Sipe added Camille Friend, the film's department head of hair, was in charge of doing Saldana's final "on-set application and styling."
In the end, it's always worth it.
"It was fun," Saldana told E! News in 2017. "It was a lot of work, but I was prepared..."