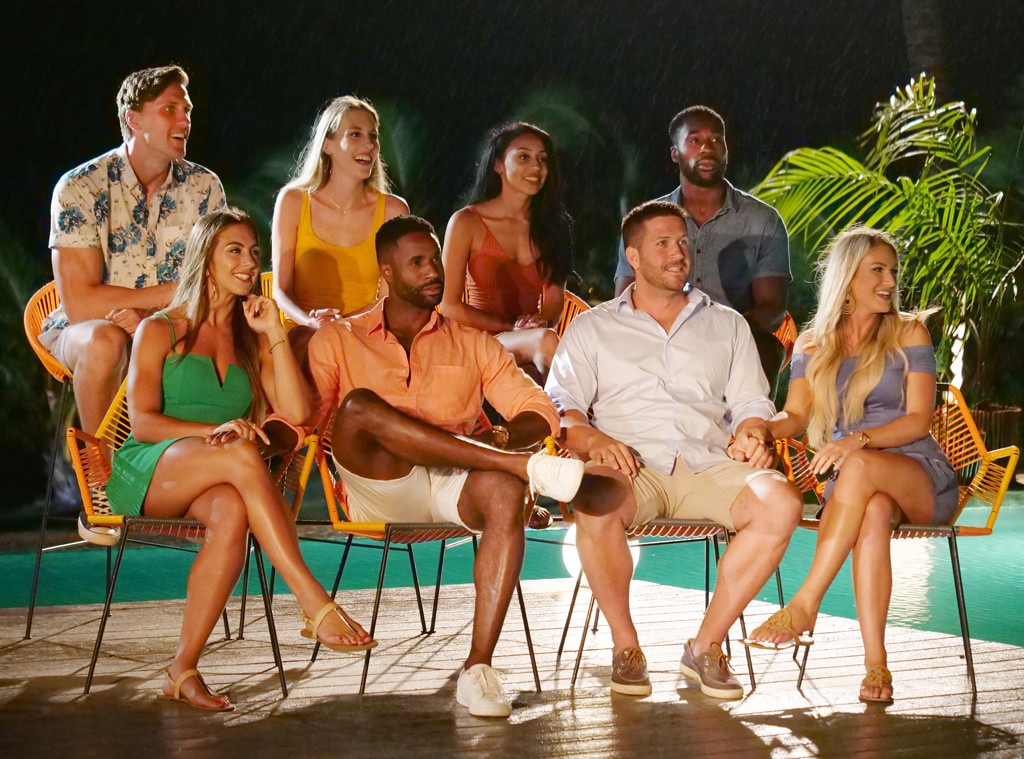 USA
Temptation Island makes its revamped debut on USA Network tonight, and it's not quite the same Temptation Island you may remember from 2001. 
That much is clear just from watching the opening of the premiere, which couldn't go in a more different direction from the original premiere. Where the 2019 version begins with beautiful shots of a beach and loving couples embracing each other on the beach, followed by host Mark L. Walberg describing this as a "journey" these couples are about to embark on, the 2001 Fox version hits a whole lot harder. 
"I feel like I sold my soul to do something fantastic, which is come to this place," says a distraught man. "And now the fun is over, and I'm paying for it." 
That footage is intercut with text, explaining the definitions of "tempt," "tempting," and "temptation." 
It's like the beginning of a disaster movie, showing you what's about to happen before it tells you how, and it's clear we're all here to watch some couples cheat on each other and have a good time. The music is terrifying, the footage is scandalous, and this show also wants to call itself a "journey," but it's in angry-looking red text that says "The journey begins now." It's not a journey that looks fun to go on! 
The series takes four straight couples (originally eight couples) and splits them up, sending the guys to live in a house full of single women and the women to live in a house full of single guys. They have to mix, mingle, and date the singles while trying to resist "temptation" (whatever that means for them) along the way. Many couples had already had problems with cheating, and wanted to test to see if things really had changed. 
The original show was all about the scandal and the drama and the inevitability that these couples who opted to join this show to "test their devotion to each other" were definitely not going to pass that test. 
Walberg, who returns for the 2019 version, seemed pretty optimistic about the test, but he was the only part of the show that seemed optimistic. This time, everything from the lighting to the music is bright and sunny, like the test is now designed for the couples to succeed, even as they're still surrounded by sexy singles specifically cast to tempt them into cheating. 
The original show had the singles simply introduce themselves by giving their name and saying where they're from and this time around, each single also gets a line to say. Most of them go with something along the lines of, "I'm about to steal your partner, deal with it." 
And like in the original show, the men and women still get to choose singles their partners are forbidden from dating, and the dates are still somewhat ridiculous, and it's still a little hard to decide what we're rooting for with this show. Do we want to watch people cheat on their significant others? And if not...do we want to watch people just go on platonic dates with people they're not actually dating? 
That's the journey we get to go on as we watch and decide for ourselves if we're rooting for each of these couples or if they're better apart. At least this time we get to do it without feeling quite as bad as we did the first time around. 
Temptation Island airs Tuesdays at 10 p.m. on USA Network. 
E! and USA are both part of the NBC Universal family.