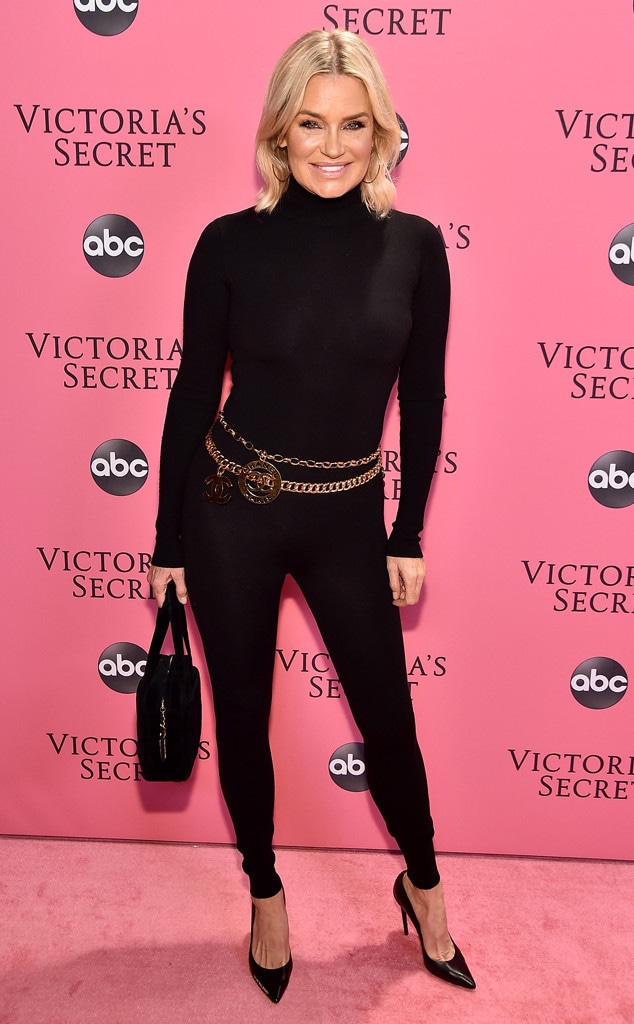 Theo Wargo/Getty Images for Victoria's Secret
Yolanda Hadid is living her best life at 55.
A few days after her birthday, the model showcased her lithe body in a mirror selfie and wrote about a transformation that's making her feel as healthy as can be. Yolanda celebrated her 55th birthday on Jan. 11 and wrote on Instagram that she was "smiling from the inside out" and "back to the original 1964." 
She explained she wanted to free herself of unnatural things in her body, including "breast implants, fillers, botox, exstensions [sic]." Yolanda added she got rid of "all the bulls--t I thought I needed in order to keep up with what society conditioned me to believe what a sexy woman should look like until the toxicity of it all almost killed me."
Yolanda urged people to "make educated decisions" about these types of procedures because "your health is your wealth."
The former Real Housewives of Beverly Hills star said this epiphany of sorts wasn't immediate.
"It took me many years of undoing some bad choices I made for myself before I finally found the freedom to sustainable internal beauty and acceptance of what is the best version of myself by no standards but my own," she wrote. "It's on us to learn to love our selves and celebrate our unique, one of a kind beauty at all ages as we move through this journey called 'life.'"
She concluded, "Beauty has no meaning without your health" and added the hashtags "#ShamelessSelfie #55 #BeautyStartsFromWithin #AgeComesWithWisdom."
It may not be a far leap to say her "new year, new you" mentality stems from her Lyme disease. Yolanda has talked openly about her health struggles and on New Year's Eve, she posted a long statement about it. She said she suffered a relapse of Lyme due to mold exposure, and that it was a "big disappointment in the health department." The end of the year and spending time on her Pennsylvania farm with daughters Gigi Hadid and Bella Hadid as well as son Anwar Hadid has inspired her to "choose to look at the bright side."
Anwar also has Lyme, and she wrote about her initial reaction in her 2017 memoir Believe Me. "A wave of helplessness washes over me. I am totally pain-stricken. How can I cure Anwar if I can't cure myself?" she penned.
In January 2018, Yolanda revealed she was dating a new man and was "very much in love." She was married to her kids' dad, Mohamed Hadid, from 1994-2000 and David Foster from 2011-2017. "I wrote exactly what I wanted," she told Wendy Williams of her new beau. "After two and a half years being single, you have a lot of time to think, you know? It was like, 'What do I really want in a man?' I wrote it exactly down. 'What are the qualities that I really feel that I need in that other person.' And he magically appeared. He rang the doorbell at the farm. Here he is!"
While his identity remains a mystery, it's definitely no secret how much she loves to support her kids. Yolanda sat front and center at the 2018 Victoria's Secret Fashion Show and cheered on Bella and Gigi alongside Bella's boyfriend, The Weeknd.
While at the show, she told E! News' Zanna Roberts Rassi about the values that she instills in her children. "Every young girl that age wants to be a model and there's girls that are way more beautiful than my girls…and they deserve success as much as my girls do," she explained at the fashion show. "If you want it, you have to really be your authentic self and share your heart with people."
She added, "People don't remember a beautiful face. People will only remember the heart."