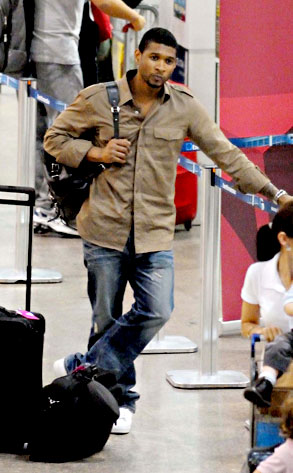 INFphoto.com
Well, this explains Usher's solo and seemingly premature departure from Brazil.
The R&B star's wife Tameka Raymond was released from São Paulo's Sírio-Libanês Hospital Monday night after spending 11 days recuperating her ill-fated liposuction sugery.
"She checked out yesterday," a spokesman for the hospital, speaking, as always, on condition of anonymity, told E! News.
Though Usher was quick to drop his Grammy commitments and rush to his wife's side on Feb. 7, the singer raised eyebrows yesterday when photos surfaced of the 30-year-old star strolling through the São Paulo-Guarulhos International Airport and checking in for a state-bound flight.
While Raymond is no longer hospitalized, it's unclear if she remains in Brazil or whether she has already departed for the U.S.