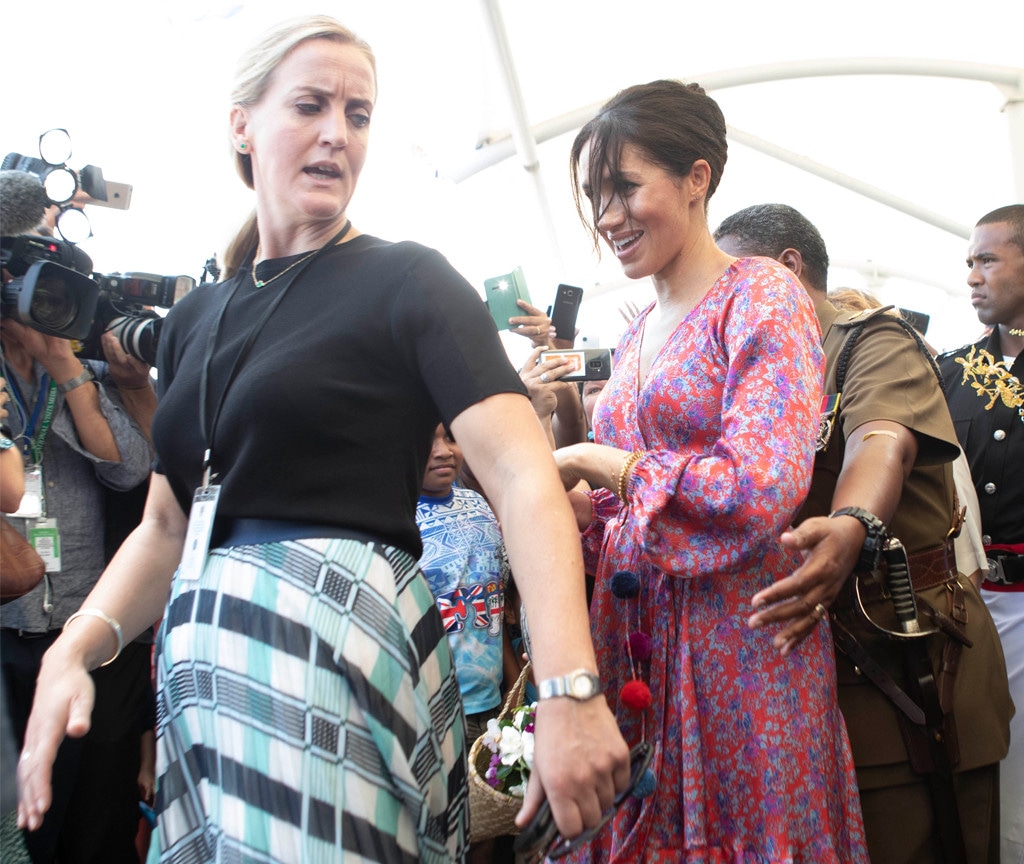 Ian Vogler - Pool/Getty Images
It looks like Meghan Markle is down another staff member.
Multiple outlets have reported the Duchess of Sussex's bodyguard has quit after less than a year in the role.
As for the reasoning behind her departure, a source tells People the bodyguard is leaving the Metropolitan Police, which runs the royal protection group, for personal reasons—not because of any bad blood between her and the royal or Prince Harry.
"The Duchess is gutted," the insider tells the magazine, "so the officer is also upset as she didn't want to leave the team." 
The Daily Mail also has similar reporting.
"It's true she is leaving," a source tells the newspaper, also denying any kind of feud. "She told the household and principals at Christmas. But it's for personal reasons and [has] absolutely nothing to do with the duke or duchess, who are hugely disappointed at losing her. She has made a decision to leave the Met Police. It's a real shame as she was a great addition to the team and hugely liked. It came as quite a shock. Everyone was very sad at the news. As was she. It was clear it was a decision she hadn't taken lightly."
However, The Sunday Times' reporting tells a slightly different story. While Scotland Yard sources tell the news outlet there was no personality clash with Meghan, the insiders claim Meghan had a desire to be seen as "one of the people," which reportedly presented challenges.
"Unlike someone who has grown up in the royal family and has been used to having close protection from an early age, it can be quite constraining," the sources tell The Sunday Times. "Even though she was a famous actress, she could still do what she wanted in the way of getting around freely. But in her current role, she can't go anywhere without her protection team and that's a massive constraining force on an individual like her." 
E! News has reached out to Kensington Palace for comment.
The bodyguard, whose name has been left out of the press for security reasons, has accompanied the couple on several outings. Royal admirers will recall she was there when Meghan left a market in Fiji early due to a "security risk" on the recent royal tour. 
She also isn't the only one to recently leave Meghan's staff. In December, news broke that Meghan and Harry's interim private secretary, Samantha "The Panther" Cohen, intended to leave the position after the birth of their first child, who is due this Spring. In November, it was also reported that Meghan's personal assistant, Melissa Toubati, was leaving. While The Sunday Times reported Melissa and Meghan had a "difficult relationship," other outlets have claimed Meghan has a good rapport with her team.
"I've gotten to know the people who Meghan has in her work world, and I've never heard a bad word said about Meghan," royal commentator Omid Scobie told Us Weekly upon Samantha's departure. "Whether it's members of charities going into the palace for meetings to work with her or household staff, everyone has a pleasurable experience working with her. They've really enjoyed her energy and personality. When you hear reports that she's demanding or a diva, it's hard to see where any of that comes from."
The exit is just one of the many changes Meghan has going on in her personal life. She is also expecting a baby and set to move from Kensington Palace to Frogmore Cottage.