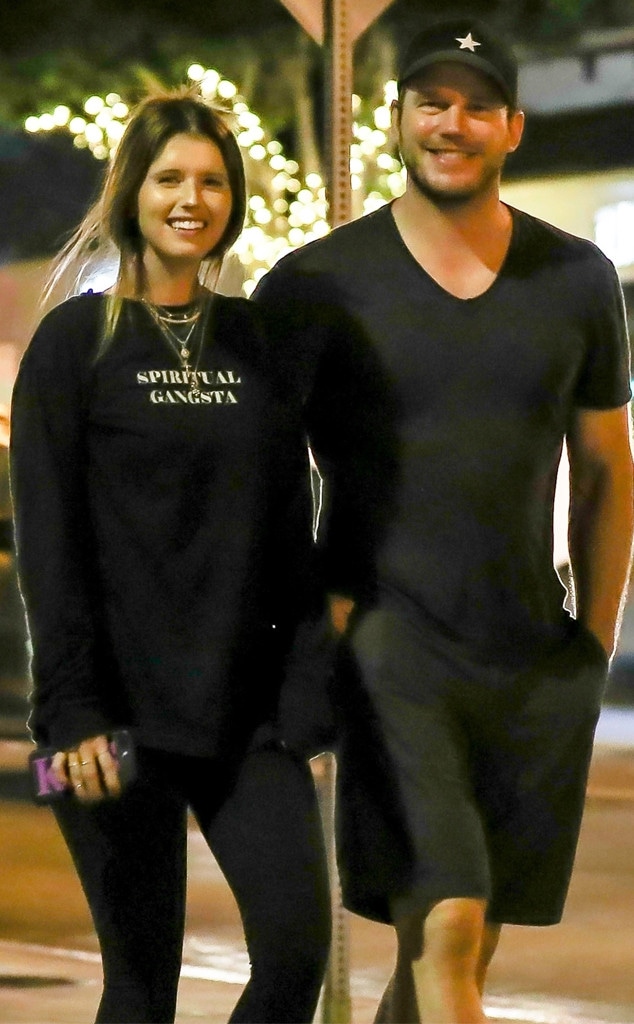 SPOT / BACKGRID
It's official! Chris Pratt and Katherine Schwarzenegger are going to tie the knot. 
After secretly getting engaged, the Jurassic World star spilled the beans on social media to get ahead of the headlines. "Sweet Katherine, so happy you said yes! I'm thrilled to be marrying you," he wrote alongside a photo of the two hugging shortly after the proposal. "Proud to live boldly in faith with you. Here we go!"
As he added in the caption, "Ideally we'd have kept this secret for as long as possible. But considering there's paparazzi camped out in the alley behind our house and they document everything whether we like it or not, we'll take the lead here and release this statement."
Just like that, the 39-year-old actor and 29-year-old author are ready to take the next step in a romance that first emerged publicly in June when the two were snapped having an eyebrow-raising picnic.
"It's still very new between Chris and Katherine, but the picnic was not their first date," a source later told E! News, noting that Pratt was "smitten" and that Katherine's mom Maria Shriver helped set them up. "They have been on multiple low key dates and have been talking consistently for the last two months or so."
As Pratt noted, paparazzi have clung to their relationship, capturing every moment since, including a July smooch that confirmed their relationship was much more than a friendship.
At the time, the pair enjoyed a Sunday morning church service together before lunch at Soho House with a pastor. Later on, Schwarzenegger met up with her beau for frozen yogurt with his son, Jack, another signal that the two were much more serious than fans had time to realize. 
"Chris was taking things slow with Katherine at first but overall, he is not seeing anybody else and considers what he has with Katherine as exclusive," an insider explained to E! News at the end of July. "He's not afraid to show his affection for her in public. Chris is doing things differently by not putting too much pressure on anything, but they are very happy so far." Another source noted, "Maria is very excited for Katherine. Everyone has their fingers crossed that this is going to work out long term. They think Chris is an amazing guy and a great catch. They are really perfect together and have similar goals and values. They have gotten serious quickly."
Several dinners together followed in August, including a family one with her famous mom and actor brother, Patrick Schwarzenegger. In September, Katherine returned the favor, spending a weekend with the star and his family, notably his brother Cully Pratt. The two were later snapped in November on a double date with her famous dad, Arnold Schwarzenegger, and his girlfriend, Heather Milligan. 
As it seemed, Pratt got the stamp of approval from all of her well-known family. "They haven't been together that long but everyone is rooting for an engagement to happen soon," a source said. 
Clearly, things were moving along, especially after the actor's divorce from ex-wife Anna Faris was finalized in November, with a prenuptial agreement in place and split legal and physical custody of their 6-year-old son. 
Not to fret—the exes were clearly on good terms, particularly after Pratt and Faris were spotted out together—along with their significant others—all dressed up in costume for Halloween trick-or-treating with Jack. Now that's something you don't see everyday in Hollywood. "They all seemed like very good friends and had a lot of laughs and good times," an eyewitness described to E! News.
As another source previously put it, "Luckily they are both dating people who love Jack and are very good with kids. Jack is going to be a big part of their lives and they wouldn't date anyone that didn't accept that."
The end of the year was a packed one for the couple as they celebrated holidays like Thanksgiving for the first time together, as well as Schwarzenegger's 29th birthday. "Happy Birthday Chief!" he wrote to his off-screen leading lady on social media, making the romance finally Instagram official. "Your smile lights up the room. I've cherished our time together. Thrilled God put you in my life. Thankful for the laughs, kisses, talks, hikes, love and care." The celebrations also included a dinner party at mom Maria's house. 
"Chris is treated like one of the family and they all love being together," the source said. "He gets along with her brothers and of course her mom. They all really think the world of him. He makes Katherine incredibly happy and everyone is excited about them and their future as a couple."
Their whirlwind, milestone year capped off with a trip to Cabo along with Katherine's mom, siblings and Chris' son to ring in the new year. Just over a week later, the two are starting off 2019 as an engaged pair. 
As the bride-to-be put it, "My sweet love. Wouldn't want to live this life with anyone but you."
Congratulations to the couple on kicking off their life together!