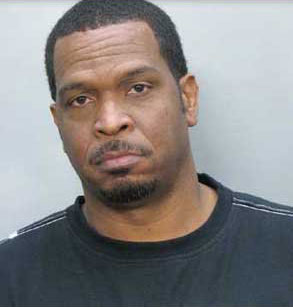 Miami-Dade County Police Department
Luther Campbell's as deadbeat as he wants to be.
The "Me So Horny" rapper formerly known as Luke Skyywalker and leader of raunchy 1980s rap group 2 Live Crew has been jailed in Miami for failing to pay more than $10,000 a child-support case.
Per a spokeswoman for the Miami-Dade police, the 48-year-old Campbell was taken into custody at about 6 p.m. Tuesday by officers acting on a Feb. 6 court order issued by Circuit Judge Mindy Glaser.
Uncle Luke will remain locked up at Miami-Dade's pretrial detention center until he can come up with the $10,223 owed to Shakera Morgan, the woman who brought the paternity case against him.
In a 2 a.m. email sent to the Miami Herald, the hip-hopster disputed the allegation that he's a deadbeat dad, telling the paper that "the matter at issue pertained to attorney fees...my payment as to child support was and is current."