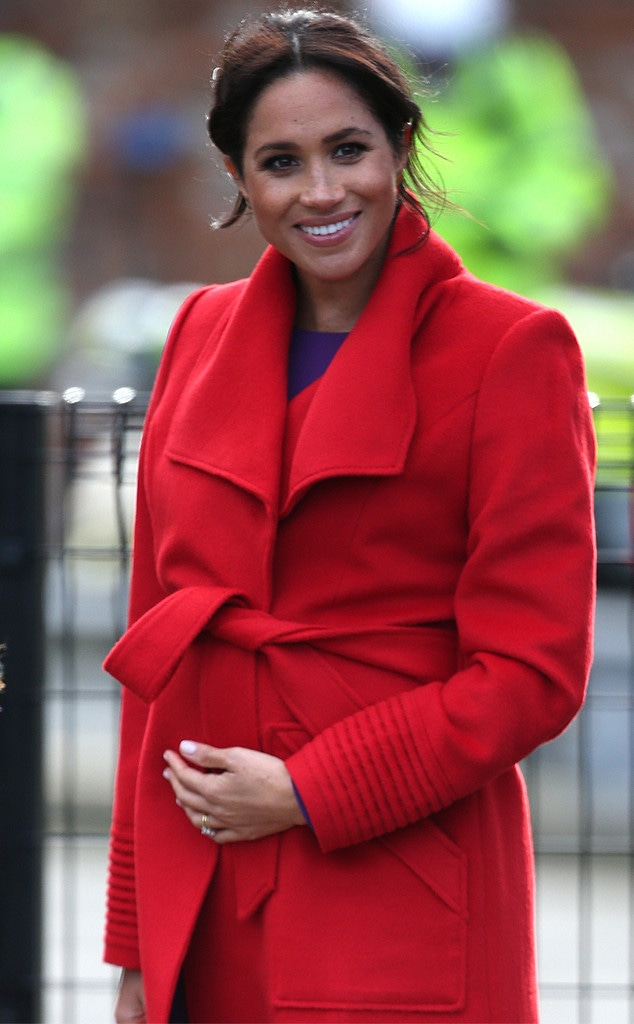 Aaron Chown/PA Images via Getty Images
Meghan Markle and Prince Harry made their first joint appearance of 2019 in Birkenhead, Merseyside, today, and with it, they shared some big news: The Duchess of Sussex's due date!
During a walkabout in Hamilton Square, the mom-to-be revealed she is six months pregnant and due around the end of April/early May. This was the closest confirmation of her due date, as Kensington Palace had previously only said she was due in spring 2019. Meghan doesn't know the baby's sex as she wants it to be a surprise, The Daily Mail's Rebecca English tweeted.
(On Christmas, Meghan hinted at her due date during a walkabout outside Sandringham. "She said, 'We are excited. We're nearly there.' I said, 'Enjoy every moment. Being a mother is a wonderful thing,'" royal fan Karen Anvil told E! News. "She was so genuine. She was doing her duty as a royal with the crowds, shaking hands, etc. But when I asked her about the baby, she changed totally. She was glowing and instinctively went for her stomach. It was lovely.")
Aaron Chown/PA Images via Getty Images
With her hair styled in a chic chignon, Meghan covered her baby bump in a $49.99 purple dress from ARITIZIA's Babaton collection and a $1,395 coat from Sentaler. (She has a tan version of the coat from the Canadian label, which she first wore in Sandringham for Christmas in 2017.) Meghan completed her look with $60 Pippa Small Nosheen stud earrings, a $1,795 Gabriella Hearst Demi leather tote, a $240 Wide Ripple gold-plated bracelet and red high heels.
Meghan was especially sweet while interacting with the children who'd been waiting for her. After accepting a bouquet from a local Kilgarth School student, the pregnant duchess picked one out of the flowers to give back as a memento, royal correspondent Omid Scobie tweeted. Meghan also asked for baby name suggestions, Scobie said, and one little girl suggested Amy. "Oh, I like Amy, too!" Meghan replied, pointing to her aide, Amy Pickerill. "That's her name!"
Meanwhile, Eliza Morris, 4, caught Harry's attention with a sign that read (in part), "Gingers Unite!" He gave her a hug, exclaiming, "I love this! Do you love your hair? The sign is amazing!"
Before Harry and Meghan's morning walkabout, the royal couple checked out a new sculpture that was erected last year to commemorate the 100th anniversary of war poet Wilfred Owen's death. They then met local veterans and members of the Birkenhead Institute Old Boys, of which Owen was a member. Next, they headed to Tomorrow's Women Wirral, an organization that supports women in vulnerable situations, "offering training courses and support groups around mental health, domestic abuse and more," Kensington Palace said. After meeting women and touring the on-site café and "Inspiration Hall," they visited the Wirral Youth Zone, "where young locals have a safe place for leisure, building key skills and confidence building." Lastly, they unveiled a plaque and entertained kids while taking part in activities and workshops. At one point in the day, Meghan was served lemon cake and mint tea. English tweeted that the former Suits star politely declined the coffee, however, "because of the baby!"
Danny Lawson/PA Images via Getty Images
Expect to see much more of Meghan before she goes on maternity leave. Just last week, Kensington Palace announced she has become the patron of four charities—The National Theatre, the Association of Commonwealth Universities, Mayhew, and Smart Works—as they "reflect the causes and issues with which she has long been associated including the arts, access to education, support for women and animal welfare." Queen Elizabeth II passed down the former two patronages to Meghan after she held the roles for 45 and 33 years, respectively.
Meghan is reportedly considering Frimley Park hospital in Surrey for her delivery, as opposed to St. Mary's Hospital in London, where her sister-in-law Kate Middleton and the late mother-in-law Princess Diana gave birth. It makes sense, as it's about a 15-minute drive from Harry and Meghan's new home. Plus, Prince Edward's wife, Sophie Wessex, gave birth to her two kids at Frimley Park. However, Vanity Fair has also claimed the duchess is considering a home delivery.