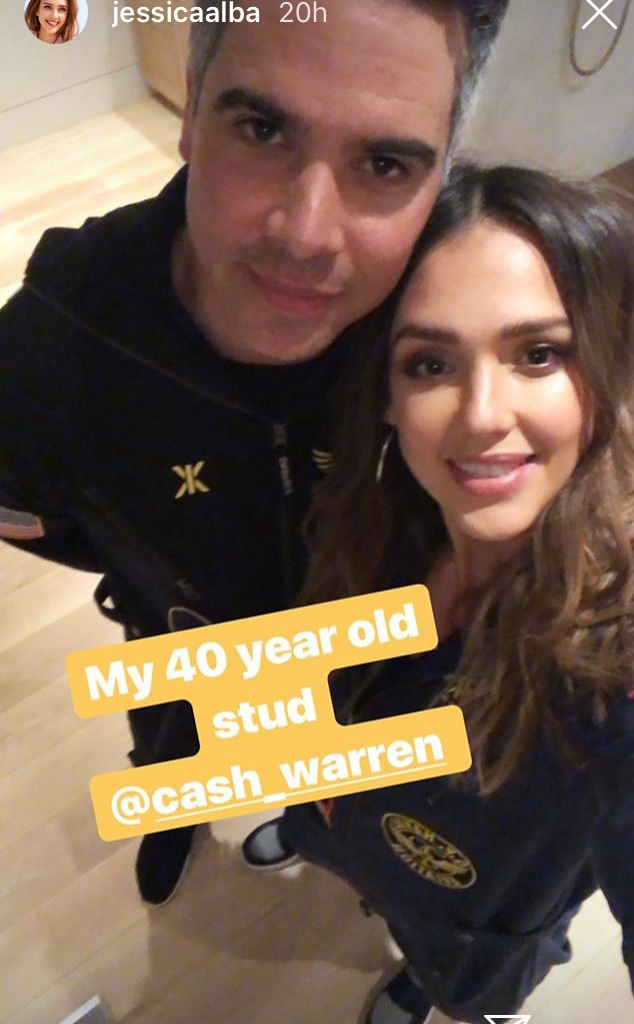 Instagram
Happy birthday, Cash Warren! 
While Jessica Alba's hubby turned 40 years old on Thursday, the actress decided to celebrate her main man's big day with a birthday bash this weekend. 
The party took place at the couple's house in Beverly Hills, Calif. The event had a "game night" theme and guests were asked to wear their pajamas to the soirée. From Twister and charades to beer pong and flip cup, the party had something for everybody. An insider told E! News guests received name tags and were divided into teams. There were even instructors at each game station. 
It looks like The Honest Company founder got really into the competition, too.
"Jessica is very competitive," the insider told E! News. "It was hilarious. She made a scene cheering loudly for herself when she scored a point in the corn hole."
Guests definitely didn't leave hungry, either. The Fantastic Four star offered her guests food from Dave's Hot Chicken and treats from Dylan's Candy Bar. Of course, she also had a birthday cake for her hubby.
"They brought a cake out, sang 'Happy Birthday' to Cash and he made a really sweet speech afterward and talked very lovingly about Jessica," the insider said. "He talked about how amazing she is, and said he's so lucky to have her. They were [really] cute all night together." 
There was also plenty to drink. The couple had a full bar outside, as well as a Casamigos bar with a make-your-own margarita station. And in case that wasn't enough, Alba even brought in a marching band.
Several of Alba and Warren's celebrity pals attended the party, including Cameron Diaz, Benji Madden, Joel Madden, Nicole Richie, Rachel Zoe and Rodger Berman. Kelly Sawyer was also there along with Olivia Munn, Kourtney Kardashian, Harold Perrineau, Johnny Knoxville, Jaime King, Kelly Rowland and Soleil Moon Frye. The insider said there was even a cute video montage featuring well-wishes from stars who couldn't be there, including Jimmy Fallon and Kim Kardashian.
To see more photos from the star-studded event, check out the gallery.
We can't wait until next year!