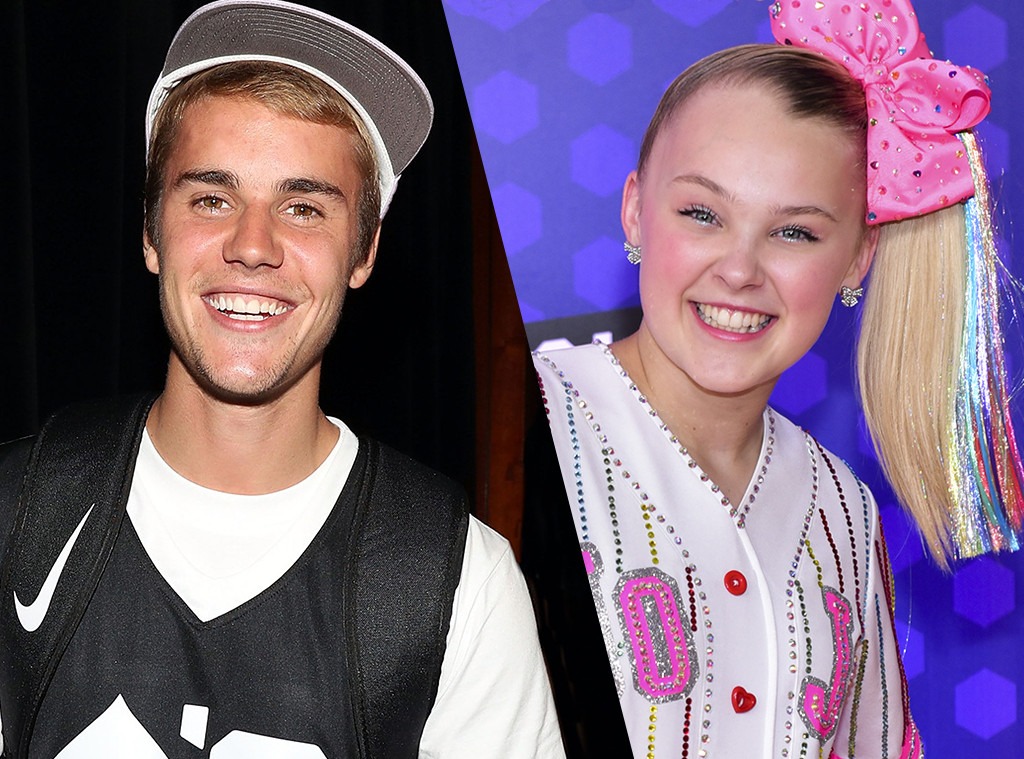 Getty Images/FilmMagic
It's never too late for Justin Bieber to say sorry to JoJo Siwa.
The Canadian singer jokingly reignited his feud with the 15-year-old YouTube star on Friday. Bieber posted a picture on his Instagram Story of Siwa's book called JoJo's Guide to Making Your Own Fun and captioned it "Burn it haha jk."
The Nickelodeon star immediately clapped back with an Instagram post of her own. She shared a photo of herself reading a book next to a cardboard cutout of teenage Justin Bieber. "Since @justinbieber likes my books now I thought I would read him my new one JoJo and BowBow CANDY KISSES)!!" she joked in the caption.
Cardboard Bieber was smoldering and holding up his hood, but Siwa looked the exact opposite with a huge smile on her face.
Their brief moment of bad blood goes back to right before the new year when the "What Do You Mean" singer made a comment on an Instagram photo of her new car.
Siwa got herself a custom BMW convertible thanks to West Coast Customs. The exterior of the car is a giant photo of herself and says "JoJo Siwa" in sparkling letters. The wheels are all various colors and there's a plethora of designs all around the car. To top it off, the interior is made of red, turquoise and purple leather.
The over-stimulation of colors didn't bode well with the singer. He commented on the photo, "Burn it."
Her mom didn't appreciate the remark, so she replied, "@justinbieber [crying laughing emoji] burn your own things."
A few days later, Bieber extended an olive branch to the teen star. "@itsjojosiwa I have nothing against you it was the car and the colors I didn't like," he wrote on Dec. 30. "I really hope you didn't think it was malicious or mean spirited."
She accepted his apology wholeheartedly and even offered a way for him to redeem himself. "it's all good bro! you can perform at my 16th birthday party and we'll call it good!" she responded.
Later that day, she shared a photo of the vibrant car once again with cardboard Bieber making a cameo. He sat in the front seat and looked more than ready to take a ride. She captioned the pic "burn it."
It really seems to be her new catch-phrase. All in all, never say never to a feud-turned-friendship.