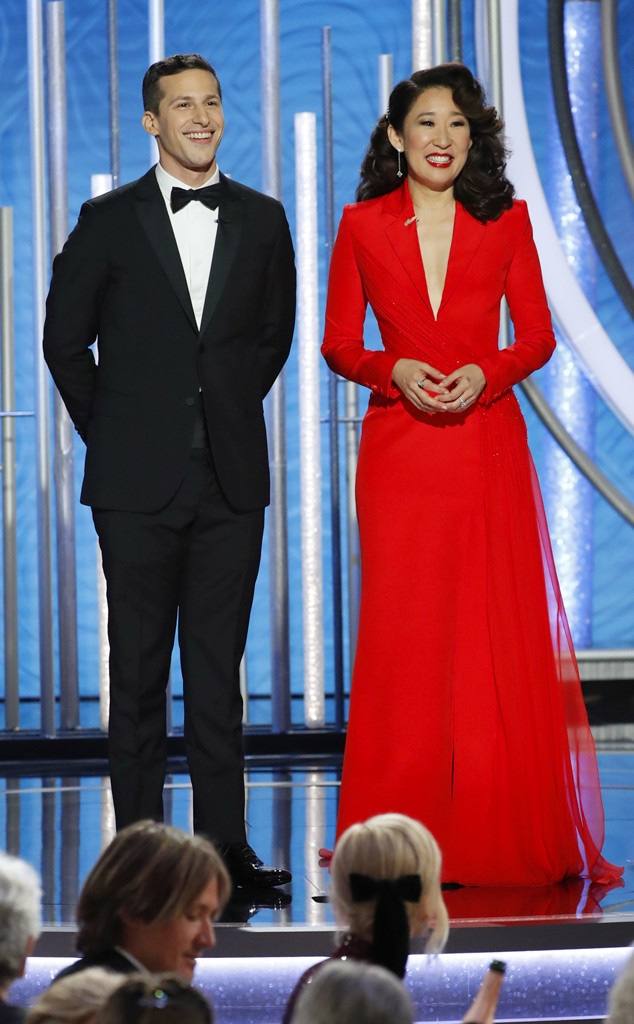 Paul Drinkwater/NBC
So many jokes, so little time. 
Such was the case for Andy Samberg and Sandra Oh, this year's 2019 Golden Globes hosts. As the comedian explained on Late Night With Seth Meyers on Wednesday, there were tons of quips that simply didn't make it into the NBC broadcast this year. Fortunately, the comedian got another chance to tell them to an audience. 
"There's so little time," he said of the annual ceremony. "There were a lot of jokes we really loved that we didn't get to cover and I thought, if it was ok with everyone here, I would just bang through a bunch that we didn't get to do." 
Drumroll please!
The dropped jokes covered virtually everything from the nominated films to 2019 technology to the simply absurd. Here are a few of Samberg's standouts:
"Crazy Rich Asians is up for two awards—and crazy, rich white people are up for the remaining 200."
"Roma is such an emotional experience. When it was over, I literally sat there and cried for a full 5 seconds before Netflix started blasting a new movie where Kurt Russell plays Santa Claus."
"Green Book nominated, which is of course a poignant biopic about Dr. Seuss struggling to finish the title of Green Eggs and Ham."
"BlacKkKlansman was nominated and, judging by the upper and lowercase lettering in the title, is also a Wi-Fi password."
"'Julia Roberts' Amazon show Homecoming was adapted from a podcast' would be a good sentence to confuse someone who just woke up from a coma."
"Netflix beat out Amazon tonight as the most nominated streaming service while the best streaming scene was Bradley Cooper wetting himself in A Star Is Born."
Find out more of the nixed jokes in the clip above!
(E! and NBC are both part of the NBCUniversal family.)