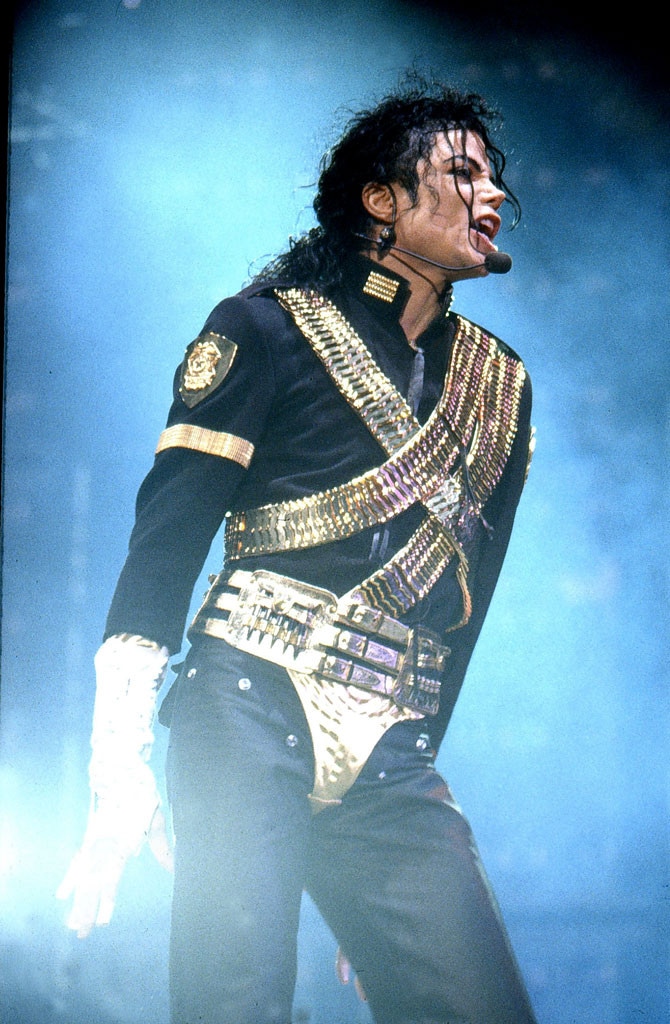 Ilpo Musto/Shutterstock
UPDATE: Michael Jackson's estate is suing HBO and parent company Time Warner for allegedly breaching a non-disparagement clause in a contract from 1999. 
In the complaint filed in a Los Angeles Superior Court, Optimum Productions and the two co-executors of the Jackson Estate said, "Michael Jackson is innocent. Period. In 2005, Michael Jackson was subjected to a trial — where rules of evidence and law were applied before a neutral judge and jury and where both sides were heard — and he was exonerated by a sophisticated jury. Ten years after his passing, there are still those out to profit from his enormous worldwide success and take advantage of his eccentricities. Michael is an easy target because he is not here to defend himself, and the law does not protect the deceased from defamation, no matter how extreme the lies are."
According to the complaint, the Jackson Estate seeks "all damages proximately caused by HBO's reprehensible disparagement of Michael Jackson, which could exceed $100 million should HBO succeed in the damage it is intending to cause to the legacy of Michael Jackson."
In response HBO issued a statement to The Hollywood Reporter that reads, "Despite the desperate lengths taken to undermine the film, our plans remain unchanged. HBO will move forward with the airing of Leaving Neverland, the two-part documentary, on March 3rd and 4th. This will allow everyone the opportunity to assess the film and the claims in it for themselves."
_______
Michael Jackson's estate is criticizing a new documentary preparing to make its world premiere at the Sundance Film Festival at the end of the month.
The acclaimed festival announced on Wednesday that they added a new documentary called Leaving Neverland to their lineup in the "special events category." The site's description for Leaving Neverland reads, "At the height of his stardom Michael Jackson began long-running relationships with two boys, aged 7 and 10, and their families. Now in their 30s, they tell the story of how they were sexually abused by Jackson, and how they came to terms with it years later."
Amanda Edwards/Getty Images, Pool Photographer/WireImage.com
Jackson's estate denounced the claims against the prolific singer and the documentary as a whole. "This is yet another lurid production in an outrageous and pathetic attempt to exploit and cash in on Michael Jackson," the estate said in a statement to E! News. "Wade Robson and James Safechuck have both testified under oath that Michael never did anything inappropriate toward them. Safechuck and Robson, the latter a self-proclaimed 'master of deception',  filed lawsuits against Michael's Estate, asking for millions of dollars. Both lawsuits were dismissed.
The comments continued, "This so called 'documentary' is just another rehash of dated and discredited allegations. It's baffling why any credible filmmaker would involve himself with this project."
Neither Robson nor Safechuck was explicitly mentioned by name on the Sundance website's synopsis for the film. It appears that they have not made any public statements about the documentary yet.
The film is produced and directed by Dan Reed, who has worked on a number of TV documentaries including HBO's Terror series (Moscow, Mumbai, the Charlie Hebdo attacks) as well as BAFTA winner The Paedophile Hunter.
In December 2017, a judge dismissed Robson's case against two of the singer's companies, MJJ Productions and MJJ Ventures. The choreographer filed negligence claims against the companies in 2016. His attorney Vince Finaldi wrote in the complaint, "The thinly-veiled, covert second purpose of these businesses was to operate as a child sexual abuse operation, specifically designed to locate, attract, lure and seduce child sexual abuse victims." Robson claims he was abused from the time he was 7-years-old until he was 14.
Robson filed a child molestation claim against Jackson's estate in 2013, 8 years after he testified in defense of Jackson during his 2005 trial. That claim was dismissed in 2015.
The film runs at nearly four hours long (236 minutes to be exact) and will be screened at the festival in two parts. According to Sundance's website, the synopsis for Leaving Neverland states, "As one of the world's most celebrated icons, Michael Jackson represents many things to many people—a pop star, a humanitarian, a beloved idol. When allegations of sexual abuse by Jackson involving young boys surfaced in 1993, many found it hard to believe that the King of Pop could be guilty of such unspeakable acts.
It continues, "In separate but parallel stories that echo one another, two boys were each befriended by Jackson, who invited them into his singular and wondrous world. Seduced by the singer's fairy-tale existence and enthralled by their relationship with him, both boys' families were blind to the manipulation and abuse that he would ultimately subject them to."
The description concludes, "Through gut-wrenching interviews with the now-adult men and their families, Leaving Neverland crafts a portrait of sustained exploitation and deception, documenting the power of celebrity that allowed a revered figure to infiltrate the lives of starstruck children and their parents."
The "King of Pop" died on June 25, 2009.
(This story was originally published on Wed., Jan 9, 2019 at 8:41 p.m. PST.)