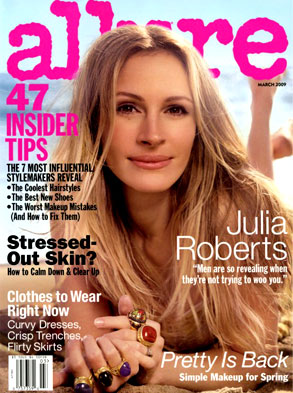 Allure
• Julia Roberts is on the March cover of Allure hogging all the rings. Also revealed: She loves that her kids love her, Brad Pitt and George Clooney are like the biggest pranksters ever, she wants the Obamas to hang out with her, and vacuuming is boresville.
• Finally, Solange Knowles apologizes for one of her outfits...and all it took was a nipple slip.
• This one goes out to anyone who ever doubted Paris Hilton's freestyle abilities.
• When Lindsay Lohan yells at SamRo for being a bad girlfriend or whatever they're always fighting about, she calls her by all three names: Samantha Judith Ronson, which is sort of precious.
• Joe Jonas' girlfriend, Camilla Belle, is looking very un-purity ring in these GQ pictures.
• Whoa, Lady Gaga is wearing both pants and a shirt at the exact same time and appears to be OK.
Amy Fisher has vowed to tour the country as a high-paid stripper until her fans say, "Dear, please put your clothes back on. You're too old." So, in honor of high-paid strippers everywhere, we've got a very special gallery full of movie star strippers.