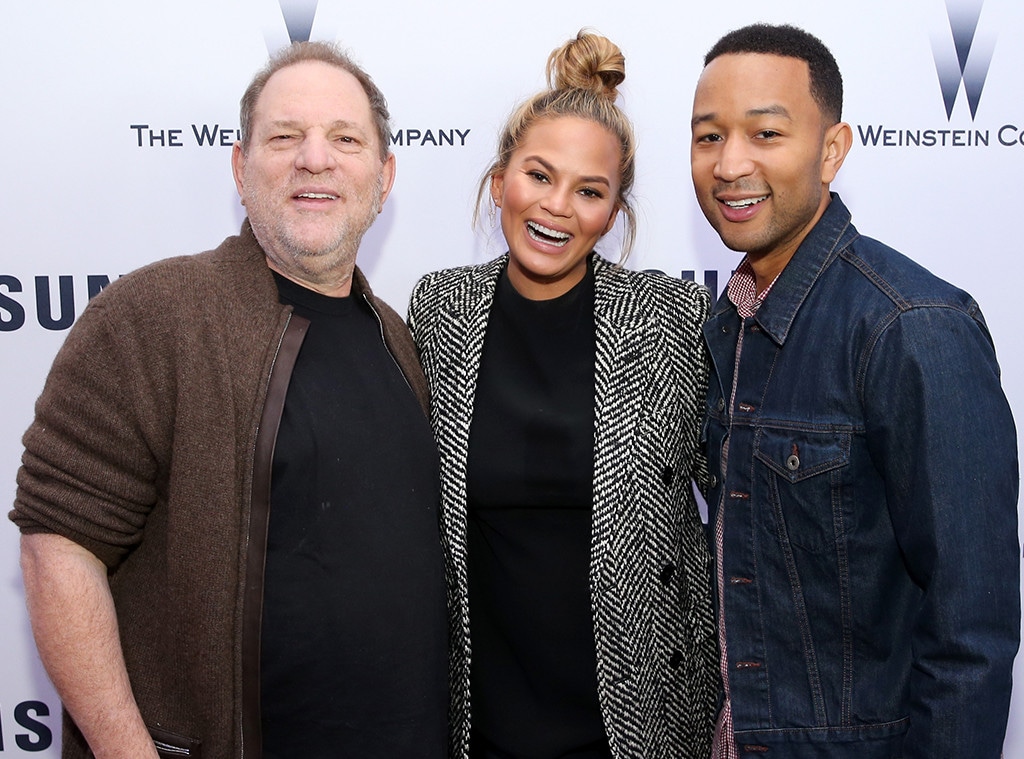 Neilson Barnard/Getty Images
John Legend took to Twitter on Monday to defend himself after an old photo of the 10-time Grammy winner and Harvey Weinstein started spreading online.
The photo was taken at the annual Weinstein Sundance Bowl Football Party during the 2016 film festival—before The New York Times published its exposé about the disgraced producer and other accusers came forward. Weinstein has denied allegations of non-consensual sex.
The picture showed Weinstein smiling alongside Legend and the singer's wife Chrissy Teigen. 
A Twitter user resurfaced the photo and asked the "All of Me" crooner to "please explain" the picture, noting the follower didn't remember Legend "publicly denouncing" Weinstein.
"I took a photo with and worked with Harvey on several occasions before his abuse was known to me and the rest of the world," Legend replied. "Since his being exposed, his company and career have rightfully been destroyed and he's been indicted. Sounds like something that should happen to R. Kelly."
Legend's comment came after he denounced R. Kelly in the Lifetime docu-series Surviving R. Kelly. Last week, he tweeted that speaking out against Kelly in the film—which focuses on women who allegedly underwent sexual, mental and physical abuse by Kelly—was an "easy decision." He also called the "I Believe I Can Fly" singer a "serial child rapist." 
Kelly has denied any misconduct and his lawyer has reportedly threatened to sue Lifetime. He also has not commented on Legend's tweets.
"If y'all wanna cape for R and discount all these women's stories, just say it," Legend continued on Tuesday. "Don't bring up some old pics of me and somebody else."
He also reiterated he never collaborated with the "Ignition" singer. 
"Please show me the songs I made with him," he wrote. "Google really hard. They don't exist."
After a Twitter user accused Legend of being a "hypocrite," the "Heaven" singer fired back.
"Weinstein has been exposed," he wrote. "His career is destroyed, he's ostracized from the business and will never make a movie again. He's charged with sexual assault and is awaiting trial. If you want the same for R, then great! Me too."
Film producer Tariq Nasheed also claimed "no one is trying to minimize the actions of R Kelly" but just "make sure everyone keeps that same energy across the board." 
"I'm glad you agree with me that R deserves the Weinstein treatment," Legend replied. "Believe the victims, expose the rampant predatory behavior, career destruction and indictment with convictions hopefully in the future."
He then added, "No one asked me to be in a Harvey doc. I'm friends with the #SurvivingRKelly director and several protestors in the #MuteRKelly movement so I had a personal connection and agreed to appear. I don't just go around interviewing for every exposé. This is dumb."
Dimitrios Kambouris/Getty Images for Glamour; Prince Williams/WireImage
Legend was not the only artist asked to speak out about Kelly for the film; however, he was reportedly the only one who agreed to do so.
"When it comes to celebrities, It was incredibly difficult to get people who had collaborated [artistically] with Kelly to come forward," the show's executive producer, Dream Hampton, told the Detroit Free Press. "We asked Lady Gaga. We asked Erykah Badu. We asked Céline Dion. We asked Jay Z. We asked Dave Chappelle. [They're] people who have been critical of him. That makes John Legend even more of a hero for me."
It also wasn't the first time he had done so. After the Time's Up movement pledged its support for the #MuteRKelly campaign, Legend also tweeted "I stand with the women of #timesup #muterkelly."
In 2017, parents of alleged victims claimed Kelly was keeping their daughters against their will in an abusive "cult." Not only did Kelly's attorney deny these claims, but the artist also addressed the allegations in his track "I'll Admit." 
"I admit that I am not perfect, I never said I was perfect / Said I'm abusing these women, what the f--k that's some absurd s--t / They're brainwashed, really? / Kidnapped, really? / Can't eat, really? / Real talk, that s--t sound silly," and "What's the definition of a cult? / What's the definition of a sex slave? / Go to the dictionary, look it up / Let me know, I'll be here waiting."