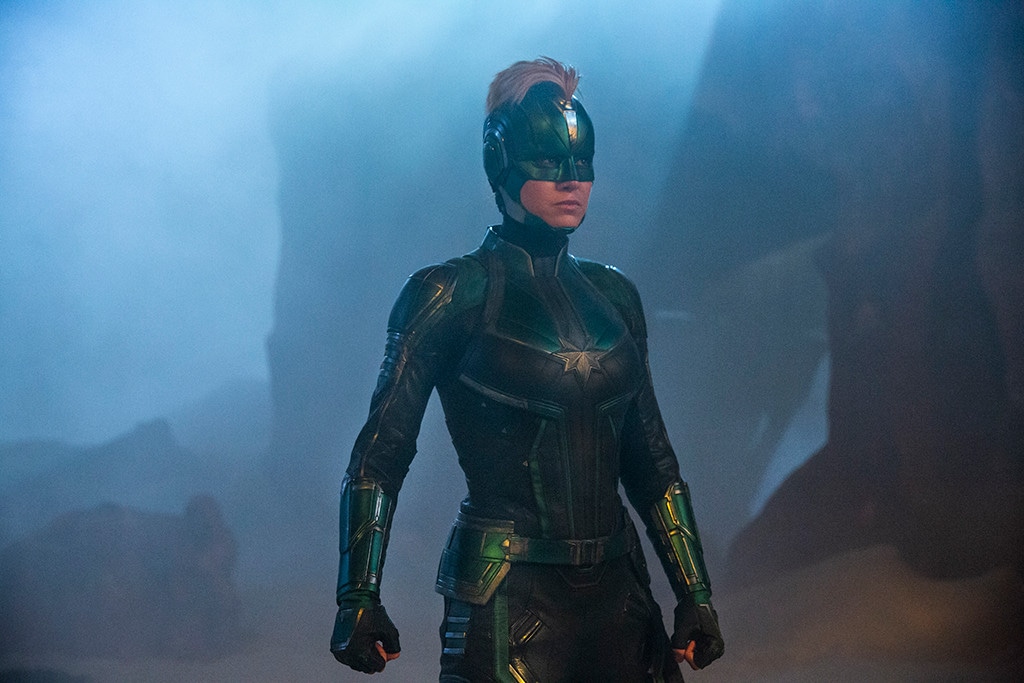 Chuck Zlotnick/Marvel Studios
Captain Marvel has been touted as the most powerful character in the Marvel Cinematic Universe—and last night, fans got their first look at the extent of the superheroine's powers.
The latest action-packed footage debuted on ESPN during the 2019 College Football Playoff National Championship game between the Clemson Tigers and the Alabama Crimson Tide. The trailer opened with Carol Danvers (Brie Larson) parking her motorcycle at a bar and meeting S.H.I.E.L.D. agent Nick Fury (Samuel L. Jackson) to stop an alien invasion from getting worse.
"I'm going to need clarification on this space invasion," Nick said.
"Skrulls are infiltrating your planet," Carol explained. "They're shape-shifters."
"OK," a dubious Nick said. "Prove you're not a Skrull."
With that, Carol shot energy from her hands. "That's a photon blast," she explained.
"And?" Nick asked.
"A Skrull cannot do that," Carol replied, shaking her head as if it were the most obvious thing ever. Rightfully distrustful, Nick asked her, "And I'm just supposed to take your word for that?"
The new trailer also shows more of Jude Law's role as a Kree warrior.
The movie is set in the 1990s, decades before Thanos wiped out half of the universe's population in Avengers: Infinity War. Judging by that movie's mid-credits scene, Carol may be the universe's only hope. As Nick marvels in the new trailer, "I've never seen anything like her."
Based on the comic book character first appearing in 1968, Captain Marvel will continue the big screen adventures chronicled in 2008's Iron Man, The Incredible Hulk, 2008's 2010's Iron Man 2, 2010's Thor, 2011's Captain America: The First Avenger, 2012's Marvel's The Avengers, 2013's Iron Man 3, 2013's Thor: The Dark World, 2014's Captain America: The Winter Soldier, 2014's Guardians of the Galaxy, 2015's Avengers: Age of Ultron, 2015's Ant-Man, 2016's Captain America: Civil War, 2016's Doctor Strange, 2017's Guardians of the Galaxy Vol. 2, 2017's Spider-Man: Homecoming, 2017's Thor: Ragnarok and 2018's Black Panther. The Captain Marvel cast includes Annette Bening as a Kree scientist, Gemma Chan as Minn-Erva, Clark Gregg as Phil Coulson, Djimon Hounsou as Korath, Lashana Lynch as Maria Rambeau, Ben Mendelsohn as Talos, Lee Pace as Ronan the Accuser, Algenis Pérez Soto as Att-Lass and Rune Temte as Bron-Char.
Captain Marvel is directed by Anna Boden and Ryan Fleck, who also wrote the screenplay with Geneva Robertson-Dworet and Jac Schaeffer. The movie flies into theaters nationwide Mar. 8.