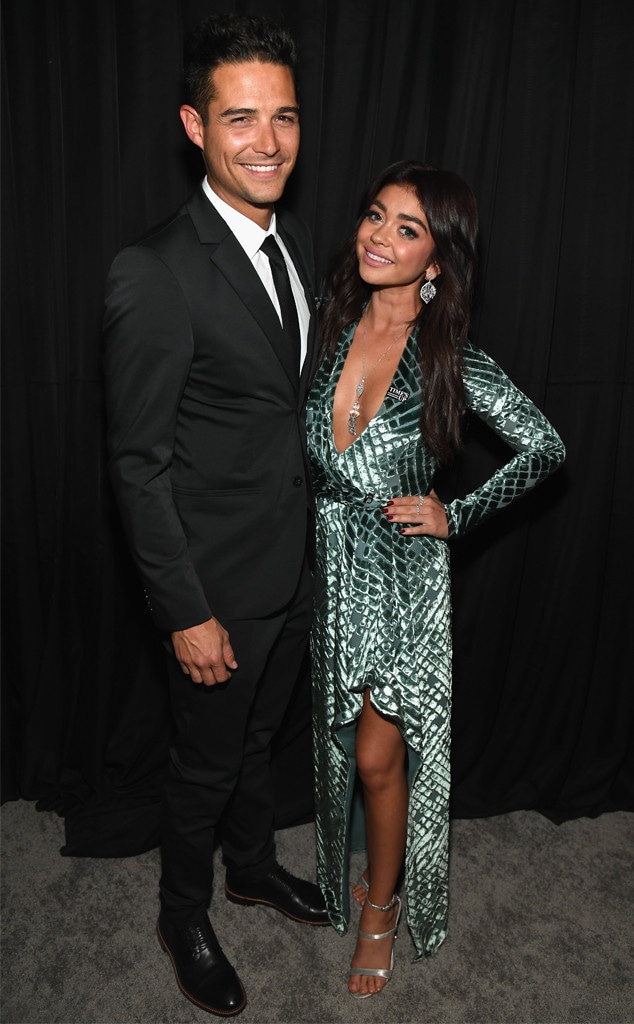 Kevin Mazur/Getty Images for InStyle
Nip slip? No problem.
While attending multiple star-studded after parties for the 2019 Golden Globes, Modern Family star Sarah Hyland had a minor wardrobe malfunction. The actress shared a cute selfie with her beau Wells Adams at the InStyle and WB celebrations, when her plunging neckline shifted and led to a minor nip slip. 
However, the 28-year-old and the former Bachelorette contestant's loved-up selfie totally distracted from the revealing moment. 
Sarah and Wells were total lovebirds throughout the night, with a source previously telling E! News that the pair "weren't shy about showing their physical affection" at the A-list NBC after party. They continued to shower each other with adoration on their respective Instagrams, with Wells being one of the most supportive boyfriend of the night. He shared a video of the madness as photographers clamored to get a shot of the Modern Family star, along with the caption, "God, I love this one."
On Friday night, they were equally lovey-dovey when they attended W magazine's pre-2019 Golden Globes "Best Performances" party at Chateau Marmont in West Hollywood. An insider told E! News that Adams could be seen rubbing his girlfriend's back as they waited for their car at the valet. He even wrapped his arms around her to fend off the cold weather. 
For Friday night's bash, Sarah ditched her naturally curly locks for a chic up-do and straight hair. As for her ensemble, the actress wore a black, plunging suit jacket and a metallic silver skirt, as well as black stiletto Sophia Webster sandals. Her boyfriend went for a classic look with a navy blue suit and tie. 
The actress and former reality star have dated for over a year and continue to make leaps and bounds in their relationship. There are even rumors of an impending engagement! Wells recently told Us Weekly, "Everyone thinks [Sarah and I are] engaged right now. … We are not engaged, let me just say that... We just moved in together, so I think we're still kind of, like, feeling each other out, but… it's gonna happen eventually."
And Wells more than proved his love for the actress when she was struggling with health issues related to a kidney transplant. The actress previously gushed to Self. "He's seen me at my worst... I think that's why I feel the most beautiful in his eyes, because he still finds me beautiful after seeing all that."
Here's to hoping we get an engagement soon!