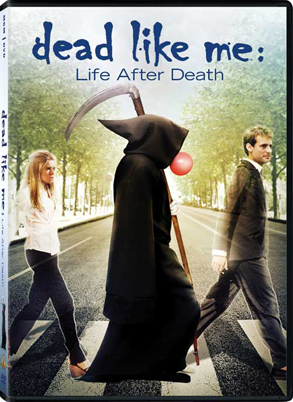 MGM
Although the series Dead Like Me ended years ago, Ellen Muth's passion for playing George, a grim reaper, is as strong as ever with the new film, Dead Like Me: Life After Death.
"From my perspective I would say that a lot of new things happened—it's 3 years later for the reapers as well so it's kind of like starting a new episode that many years later," said Muth.
The movie, which is out on DVD today, was shot in Quebec—thousands of miles away from its original West Coast filming location of Vancouver, although the show itself took place in Seattle, Washington. Muth assures that the feel of the series still radiates with these new surroundings for the film. "There's no 'waffle house' but we're just in completely different scenes, we don't go to the same places as we did in the series but you can't tell we're in opposite side of the country."
Being well aware of online discussions about the series and the film, Muth had the chance to check out some early reviews. "Some have been saying there were a lot of questions answered after having the series end so abruptly and others felt that it picked up from a totally new place."
With so many fans globally (and locally, in Vancouver) along with an ongoing petition to bring the series back to the small screen, the film comes at a good time to expand what the show had built up.
"I love doing films, but I would love to go back to the series," noted Muth. "I think a lot of the actors are in new places in their lives and we all have grown and so with that you tend to get a new perspective on it think of new ideas and ways you could have added to the character so it could actually give a great new take to the series."
The fate of future productions ultimately lies within sales and ratings, however with a spirited cast and even more loyal fans, the outlook for Dead Like Me certainly doesn't look all that grim.
GUEST BLOGGER: Rebecca Bollwitt has been blogging about Vancouver since 2004 on Miss604.com, co-hosting two podcasts since 2005 and in 2008 she co-founded sixty4media, a social media consulting firm.