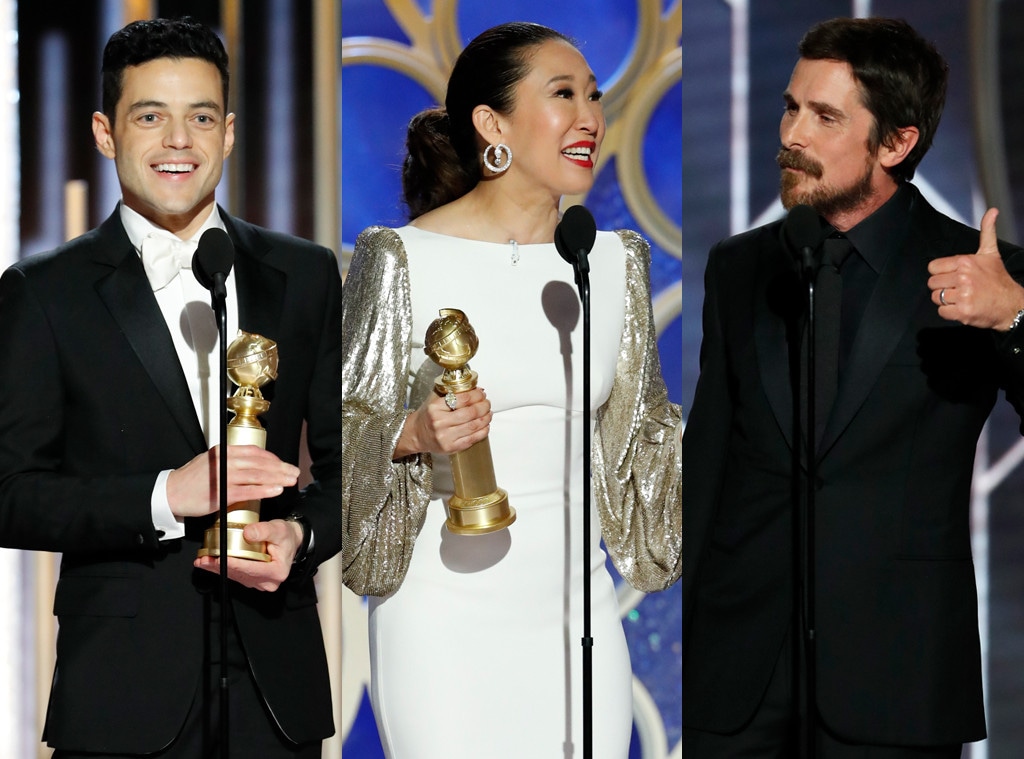 Paul Drinkwater/NBCUniversal
Is this the real life? Is this just fantasy?
A year after a certain air of solemnity understandably held court at what is generally considered the most raucous night of awards season, lightheartedness was once again on tap—and as presided over by co-hosts Sandra Oh and Andy Samberg on Sunday, the 2019 Golden Globes were extra congenial.
It turns out, all those good vibes provided what turned out to be a much-needed soft landing for all of the awards-season rattling bombshells, as it would appear that the Globes are no longer trying to be harbingers of subsequent Oscar night glory. Instead, they muddied the waters quite a bit, honoring a film that didn't even get great reviews—but which has a best ensemble nomination at the SAG Awards, so anything is possible—with the biggest prize.
1. A Different Star Is Born: It's ironic that the quintessential Hollywood tale didn't register with the Hollywood Foreign Press. We're actually not far from the "Shallow" now. In fact, the "Shallow" is where we are, with Best Original Song being the only win of the night for A Star Is Born. 
No one was expecting a clean sweep, per se, not with Alfonso Cuarón once again being considered a lock for directing for Roma. And any way the wind blows doesn't really matter to me, but it was a right shock to hear Bohemian Rhapsody named Best Motion Picture, Drama, last night instead of...any of the other movies. But especially A Star Is Born, which went 1-for-5.
It's hard to envision the Academy doubling down on this choice for Best Picture, but Rami Malek, whose performance as the late, great and enigmatic Freddie Mercury was deservedly singled out for high praise in every middling review of the film, just got this much closer to winning an Oscar.
2. The Dark Arts: God has gotten his fair share of thanks at award shows over the years—though, at the Oscars at least, Steven Spielberg is way ahead in mentions. Presumably brand new to the list, however—and we really should start counting—is Satan, whom Christian Bale heartily thanked for the inspiration behind his performance as former U.S. Vice President Dick Cheney in Vice. The Welsh actor once again rendered himself unrecognizable and, not surprisingly, walked away with the Globe for best lead actor in a motion picture, comedy or musical.
Director Adam McKay said, "'I've got to find somebody who can be absolutely charisma-free and reviled by everybody'...Thank you for all the competition, I will be cornering the market on charisma-free a--holes," promised Bale, looking like himself again. "What do you think, Mitch McConnell next? That could be good, couldn't it?" 
He also started his speech by jocularly announcing, "What a bunch of lucky buggers we are, to make a life out of doing something that we love," and referred to his kids as "banana and burrito," so... we're not sure how he's going to top this should he win the Oscar.
Same goes for the winner for lead actress in a comedy/musical, revered British thespian Olivia Colman (whom we'll be seeing more of at the Emmys and Globes, because she's the new Queen Elizabeth II in The Crown), who referred to co-stars Emma Stone and Rachel Weisz as "my bitches" in a nod to their conniving-to-the-core characters in The Favourite opposite Colman's Queen Anne.
3. You're Killing It, Eve: Sandra Oh didn't need to fake any pep as the second half of the show got under way. The former Grey's Anatomy star and 2019 co-host won for best lead actress in a TV drama for her layered portrayal of an MI-5 security operative who ends up wanting to both capture and get to know the female assassin she's tracking in BBC America's gripping but at times kinda hilarious Killing Eve.
At the top of the evening Oh had landed one of the best monologue jokes, a wordless imitation of an unimpressed Asian mom reacting to the success of Crazy Rich Asians. Oh's mother and her darling dad were all smiles, though, when they saw their daughter make history as the first Asian actress to win a Globe for lead acting in a drama series.
4. Stark Difference: Almost six years after the Red Wedding decimated House Stark, Richard Madden had a much better night at the Golden Globes, winning best lead actor in a drama series for his dreamy but tense, taut and thrilling performance in the BBC's mega-hit Bodyguard, which came to the U.S. via Netflix. 
"Thank you very much. I didn't see this coming at all," the Scottish actor said humbly, truly looking surprised. He capped off his thank you list with "most importantly, my friends and my family, and mum and dad who flew all the way from Scotland, wouldn't be here without you."
And so House Madden raises its flag in triumph.
5. Method Acting: Perhaps the edginess of the work of every other show in the category canceled itself out, so the old-school humor of The Kominsky Method won for Best Comedy Series. Then again, the HFPA also really loves them some Michael Douglas. His win for lead actor in a comedy series was his fourth Globe, including a Cecil B. DeMille Award for life achievement in 2004.
However much The Good Place or Barry may have deserved to win, it was rather sweet to see series creator Chuck Lorre—no stranger to hit shows but a little less acquainted with critical acclaim—get emotional. "This doesn't happen to me," he said. "No one's cryin' for me [and his millions], but this is spectacular."
And if you don't go with a veteran star like Douglas, you don't get lines like, "I guess this has to go to my 102-year-old father, Kirk—alter kockers rule!"
Meanwhile, usually preferring to award brand-new shows (see all of the above), the Globes made up for lost time and named The Americans best TV drama after its final season. A big da to that choice.
6. Queen King: Regina King's long-deserved Moment appears to have entered its cinematic period, with the three-time Emmy winner's win for Best Supporting Actress in a Motion Picture for If Beale Street Could Talk further making the SAG Awards snub a head-scratcher and simultaneously helping her Oscar chances.
"This is so fantastic," she marveled onstage, and proceeded to vow to use her platform to employ at least a 50-percent female staff on every project she produces for the next two years. "Time's Up times two," King said. "...We understand that our microphones are big and we are speaking for everyone."
"Regina, we're available," Megan Mullally, coming on after to present with Kristen Bell, said.
7. Close for Comfort: There's been a lot of talk this year about whether Glenn Close is going to get the finally-it's-her-turn Oscar for The Wife, but no one looked more surprised than the 14-time Golden Globe nominee to hear her name called last night. It was her third Globe win, but first for a film.
"It was called The Wife—I think that's why it took 14 years to get made," she quipped. But taking the baton from King's speech earlier in the night, Close also made a point of stressing the importance of empowering women to go after what they want.
She paid tribute to her mother, who in her 80s "said to me, 'I feel I haven't accomplished anything,'" Close recalled. "And it was so not right. And I feel what I've learned through this whole experience, you know, women, we're nurturers, that's what's expected of us...But we have to find personal fulfillment. We have to follow our dreams. We have to say 'I can do that and I should be allowed to do that.'"