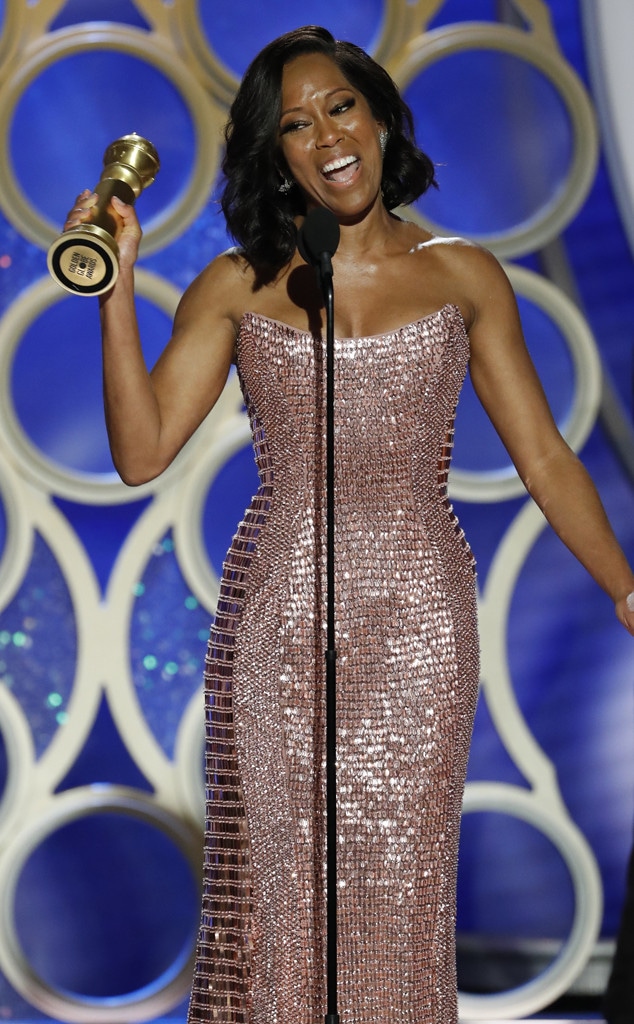 Paul Drinkwater/NBCUniversal
Third time's the charm!
Regina King can now finally add Golden Globe winner to her resume. The three-time Emmy winner has been nominated by the Hollywood Foreign Press Association three time, and took home her first piece of hardware at the 2019 Golden Globe Awards on Sunday, Jan. 6.
Nominated for Best Performance by a Supporting Actress in a Film for her work in Barry Jenkins' adaptation of the James Baldwin novel If Beale Street Could Talk, King beat out Vice's Amy Adams, First Man's Claire Foy, and The Favourite's Emma Stone and Rachel Weisz. 
Taking the stage and accepting the trophy from presenters Sam Rockwell and Allison Janney, she went through the usual list of suspects, thanking her publicists and the film's publicists before turning to Jenkins. "I love you with all my heart. Thank you for your empathy. Thank you for telling stories so rich. And thank you for giving us a film that my son said to me, when he saw it, that it was the first time he really saw himself. Thank you so much for that," she told the director.
After thanking the Baldwin family for allowing all involved the opportunity to bring the beloved writer's word, and as producers began to try and play her off, she decided it was time to throw down the gauntlet to not just Hollywood, but the world at large.
"So often, everyone out there, they hear us on the red carpet, and they say us celebrities, we're using the time to talk about ourselves when we're on the soapbox and using a moment to talk about the systemic things that are going on in life. Time's Up X2. The reason why we do this is that we understand that our microphones are big and we are speaking for everyone," she said. "And I just want to say that I'm going to use my platform right now to say in the next to years, everything I produce, I am making a vow—and it's going to be tough—to make sure that everything that I produce, it's 50 percent women. And I just challenge anyone out there who is in a position of power, not just in our industry, in all industries—I challenge you to challenge yourselves and stand with us in solidarity and do the same."
Congrats, Regina!