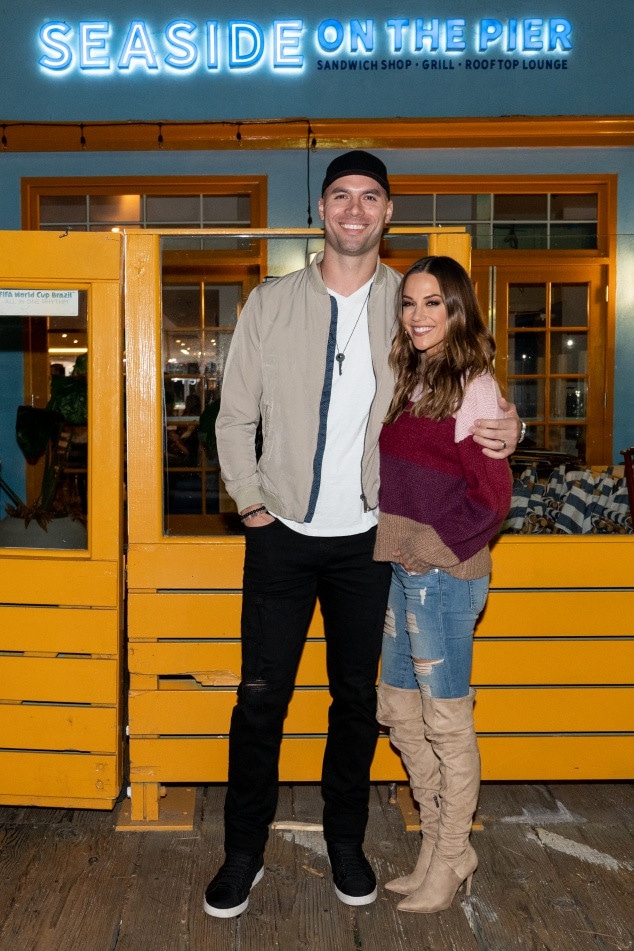 Courtesy of iHeartRadio
Regardless of what a few shamers have to say, Jana Kramer loves her body and her family.
Less than two months after welcoming a baby boy with husband Mike Caussin, the actress and singer isn't focused on her weight or whether she looks good in a bikini. Instead, it's all about the joys of parenthood.
"I have zero pressure to lose the weight. Nobody told me I had to lose weight right away. I worked really hard during my pregnancy," Jana shared with E! News exclusively while celebrating her iHeartRadio Podcast Awards nomination Friday night at Seaside on the Pier in Santa Monica. "I worked out, I ate good."
That's not to say the body shamers didn't have an affect on her. While she tried to silence the not-so-nice commentators in an Instagram post, Jana knows where her true priorities are.
"It made me sad to read the comments because people automatically think we have all this money and we got plastic surgery and we have chefs cooking for us. I'm like your perception of what you think our lives are is not that at all," she explained. "Would I love to have a personal chef? Hell yah. Do we have the money to do that? No."
She continued, "I'm damned if I do, damned if I don't. I'm either too thin or too fat. You can't please everyone. Why can't women just support other women? Everyone's body is different and reacts differently and it was just disappointing. Now I feel great. I have a lot of toning to do, but I don't feel pressure."
While her husband can often be heard on her iHeartRadio podcast titled Whine Down With Jana Kramer, Mike has chosen to stay away from social media. When his wife was faced with body shamers, however, the former NFL player wished he could have fought back.
"When all that happened, I wish I was on [social media] because I would have attacked. I would have come to her defense in probably not the most appropriate way because people don't see behind the scenes how hard she works, how well she takes care of her body, how mindful she is of things," he explained. "It's hard work to get the weight off that easy. It wasn't easy. We cook our own dinners. We work out because we want to. We work hard and Jana's a testament to that."
In addition to raising two kids, the couple is focused on building a new house in Nashville. They also continue to record new episodes of their podcast that is nominated for Best Entertainment & TV Podcast.
As for the idea of having another child, it's definitely crossed their minds. And as it turns out, the answer isn't a complete no.
"Mike will say if you asked us six months ago, we would have said hell no we're not having another kid," Jana shared. "We think we're done but we really want to adopt. That's been something I've always wanted to do, he's wanted to do. Right now, we don't have millions of dollars. We don't have nannies for days. We're moving into our house in Nashville this year. I do think we are done but I don't know."
But perhaps the possibility of having another child is a testament to how far these two have come as they continue to build the best family unit for their two kids.
"We're not ready to close the door on anything. It's pretty cool that we're in that place where we can look that far ahead because a year ago, we couldn't have done that," Michael shared with us. "She wasn't in a place to do that. She wasn't ready to look that far ahead. She wasn't sure if even a year ago, if a year from now that we were going to be together so the fact that we are able to consider that is awesome."
The 2019 iHeartRadio Podcast Awards presented by Capital One will be held January 18 in Los Angeles.