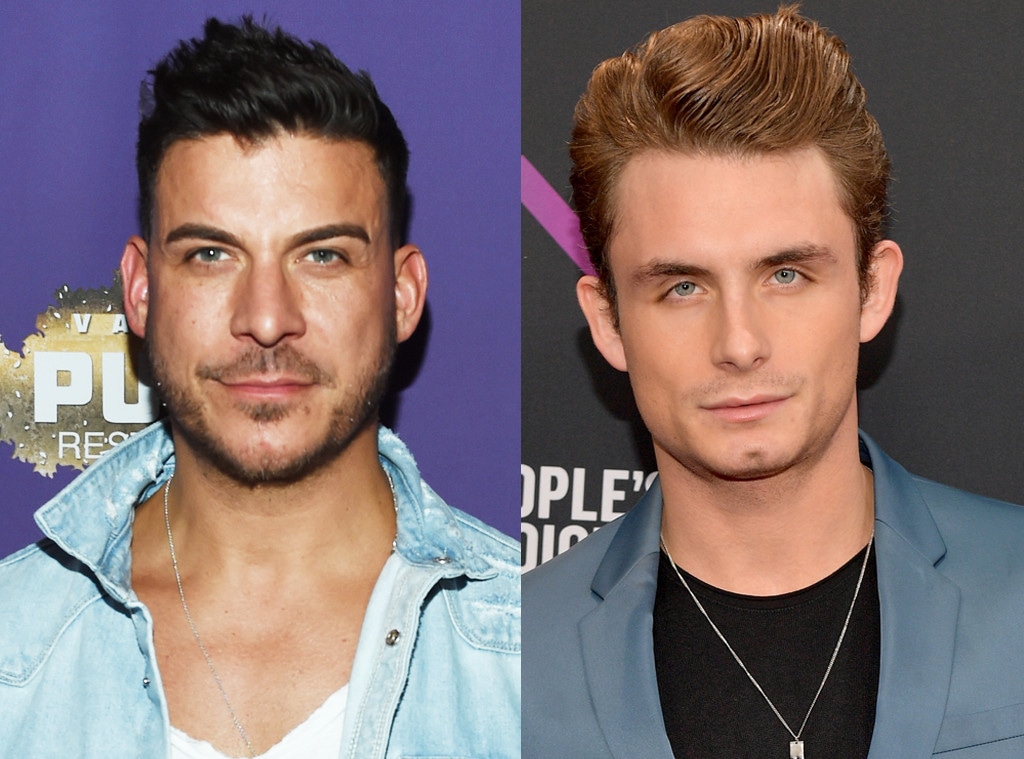 Amanda Edwards/Getty Images Matt Winkelmeyer/Getty Images
Attention Bravoholics: This Twitter war isn't about the pasta!
In the middle of a brand-new season of Vanderpump Rules, two co-stars are keeping fans glued to social media with their surprising posts.
As viewers know, James Kennedy has found himself on the outs with much of his cast members. In fact, his recent tweets have only hurt any chances of a reconciliation.
"Katie Maloney is one disgusting human. Basically making up stories about me to gain gain gain. That's all she does—her marriage won't last and trust me neither will she after #PumpRules," James reportedly posted. "And Jax?! He is just a sad man after his daddy died. Coming for me cause I'm the only man he don't like—brother make peace with your dead father please so you can be set free. That goes for Lala also. BTW, he made fun of George when he left."
 Brittany Cartwright decided to weigh in on the messages before they were deleted. "The disgust continues," she wrote. "@ItsJamesKennedy I pray YOU will find peace some day."
James, however, couldn't stay quiet. "Jax is the disgust," he reportedly wrote. "That lives in most people screens and baby you're engaged to it. #GoodLuck #GreatFirstWife."
On Wednesday, all of James' controversial posts had been deleted except an apology to his co-stars.
"Hey I'm sorry for what I said about Jax and Lala and I apologize deeply to them and anyone I offended," the DJ shared. "I hope you guys also stop provoking me, thank you and I wish everyone a happy new year."
While apologizes are nice, Jax wasn't exactly buying it.
"Keep your fake ass apology homie, I know Bravo made you do this. We aren't idiots, know your role in life and keep your mouth shut," he shared on social media. "You will always be on the bottom of the totem pole in life until you figure your s--t out. You're a sad miserable human being. I feel bad for you."
And without naming names, Brittany cryptically tweeted, "There is a difference between someone who notices his wrongs and changes everything about his life for the better and someone who just doesn't care who he hurts no matter what and has no intention of admitting his wrongs or changing. We know what's real. Y'all see 30 mins."
Ultimately, many of James' co-stars aren't focusing on what James tweets (or deletes). Jax and Brittany were spotted in Miami with Lala Kent and fiancé Randall Emmett where they shopped at Zara and enjoyed dinner at Prime 112 before heading to the Bahamas.
Furthermore, Lala is living her best life on a giant inflatable where she captioned her photo "unbothered."
And while James' girlfriend Raquel Leviss may want to defend her man on the show and on social media, Jax has a warning for fans: Don't believe everything she posts.
"At the Vanderpump Dogs Gala, I was outbid by another bidder for sweetest baby boy puppy," she reportedly wrote on Twitter. "It wasn't meant to be but I'm happy to increase the bidding so more $$ was donated to @VanderpumpDogs. Anything for a good cause. "
Jax screenshot the purported tweet and wrote, " You did not get out bid, we sat 10 feet from you when you attempted to bid on the puppy, you looked for money from James, he has none so he bolted and then Lisa saw it was you and told the auctioneer 'no way' and gave to the next bidder. How can you lie when 300 people saw this?"
Forget about the popcorn. Pass the beer cheese!  
Vanderpump Rules airs Monday nights at 9 p.m. on Bravo.
(E! and Bravo are part of the NBCUniversal family)