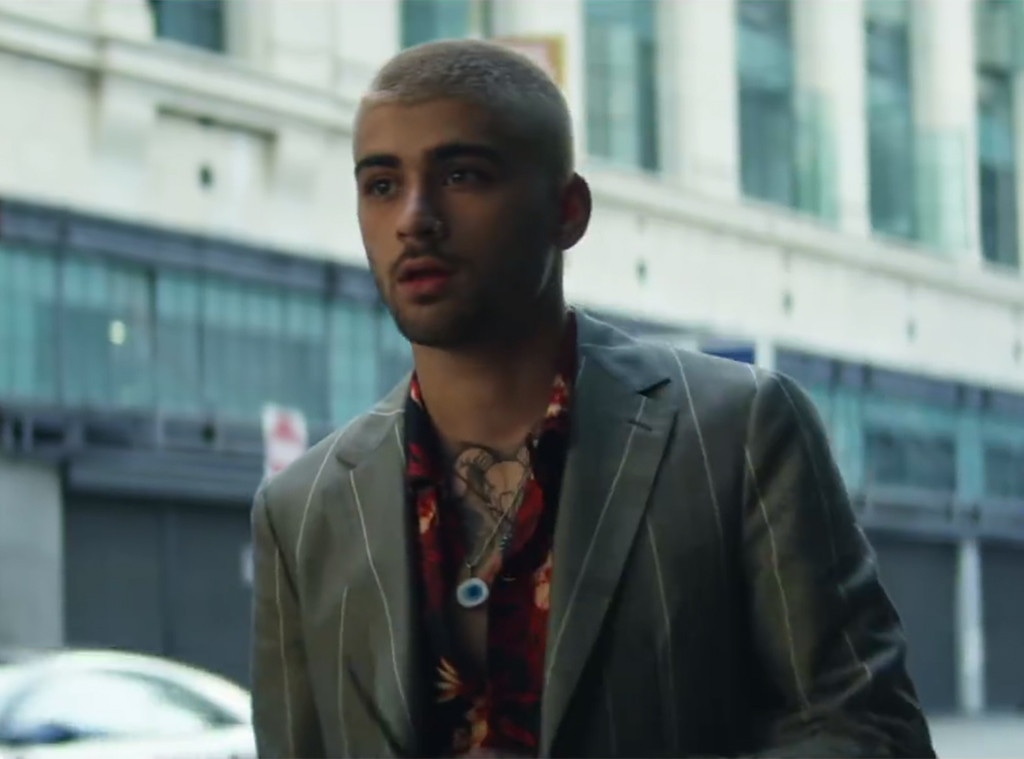 VEVO
Cheers to 26! Zayn Malik is another year older and we love him and his music even more now than we did when he was a just a young teen in One Direction.
The birthday boy might keep his life under the radar, but when it comes to his songs he's an open book. He sings of love, loss and more in all of his solo music and we can't get enough of it.
In honor of the British singer turning 26 years old today, we've rounded up his best music videos from his solo career below for you to relive and re-watch as much as you'd like. We'd recommend listening to the artist's solo stuff in between his 1D hits all day long. 
What's a birthday without killer tunes anyways, right?!
From "Dusk Till Dawn" to "PILLOWTALK," Malik has had a lot of hits thus far on his own and we really can't pick a favorite.
With each new release, fans have waited for corresponding music videos from the England native and in eight instances he's delivered to the fullest.
Whether you love his black suitcase trilogy of videos or are big fans of his debut record videos, there is something for everyone when watching Malik's catchy tracks come to life on screen.
As you scroll through his best music video moments below, try to pick your favorite. Once you do, make sure to cast your vote in our poll below.
"Dusk Till Dawn" feat. Sia
In 2017, Malik dropped the video for "Dusk Till Dawn" and it began a three-part music video series that we have been hooked on for a long time now. The video starred Girls actress Jemima Kirke and was quite the story. In this mini movie, the British singer starts with a black suitcase full of what appears to be gold. At the same general time we see Kirke wearing a black wig and walking with her own black suitcase. After crossing paths and running from the police, Malik is caught, but he isn't the man they thought they were looking for. His tattoo has been changed to a yin and yang sign (Kirke has the matching ink) and his suitcase is full of clothes. After he leaves the interrogation, he leads a band of bad guys to a house trap where the cops finger them for the whole thing. He then takes off with Kirke into the sunset, money and suitcase in hand.
"Let Me"
In April 2018, the former One Direction singer released the second installment to his suitcase video series. This video begins with Malik walking into a club as "Dusk Till Dawn" plays in the background, suitcase in hand. He is then in a luxury suite of a mob boss who has a pretty piece of eye candy (Sofia Jamora) that Malik obviously notices. After making a deal with this man and getting him what he wants in return (a switching of suitcase at the marina), he returns to the club to hand over the goods. As he does this we get a glimpse at a romance between Malik and the mobster's girl, which is made obvious when he turns down the mobster's offer of the girl as part of his payment. Things get heated and ends with the mob's No.1 girl taking him down as Malik takes out his henchmen and the lovebirds escape off in a speed boat...with the suitcase in toe.
"Entertainer"
This video dropped one month after its predecessor, "Let Me," and showed what happened after Malik and his getaway girl fled the club. They had a romance that was intense and apparently didn't last long. Now, Malik is alone, but goes to a strip club where his ex-flame is dancing and she gives him a lap dance as their relationship is shown flashback style to viewers. The only bad thing about finding her again is that the mob boss that he royally burned before gets tipped off on his whereabouts. Before he gets caught however, Malik fleas, this time on his own and all we see is the singer standing at the marina with the suitcase by his side before it ends. 
"Like I Would"
As one of the songs off of the 26-year-old crooner's debut album Mind of Mine, fans were ready to see a change from Malik with "Like I Would" and that's what they got. In this video, the artist gives off a futuristic vibe and looks like a character out of Tron. He is wearing a light-up suit, has one orange contact in and dances under laser lights. As Malik sings you also see girls dancing in spandex leotards and neon ensembles. It's very visually appealing and definitely catches your attention from start to finish.
"BeFoUr"
"BeFoUr" is a laid back music video from the Bradford, England native. It shows different people in a specific friend group just living their lives. Malik is one of the crew who drives around town, eats French fries and hangs out at a bonfire. Some of his friends take boxing classes, others get their hair cut or clean tables at a bar. They're all doing their own thing, living life and having fun when they're together.
"PILLOWTALK"
Off his debut record, "PILLOWTALK" is a show-stopping video. It is a super sexual and sensual video featuring his then-girlfriend Gigi Hadid and it is hot, hot, hot. There are a slew of trippy backgrounds, kaleidoscope lenses and the couple kissing and loving one another throughout. There are also other powerful visuals of screaming, smoking, dancing and fighting brought to life with graphics and colorful mind-bending scenes.
"iT's YoU"
Unlike any of the British artist's other music videos, the "iT's YoU" video is completely in black and white. It is basically a slow motion movie about a man (Malik) who is still in love with a girl who has moved on from him. Throughout the video you seen Malik pining over a beautiful blonde who can be seen taking a dip in the pool, mingling at a party and eventually driving away in a classic car much to the dismay of Malik. It feels like an old Hollywood film and it's much more serious than most of the videos we've seen from the Bradford bad boy.
"I Don't Wanna Live Forever" with Taylor Swift
This video and its corresponding song were made as a part of the Fifty Shades Darker soundtrack and it's so good. To kick things off, Malik arrives at a swanky hotel and the paparazzi are everywhere. He is depressed after losing his love, played by Taylor Swift. Through red lights and smoky rooms you see him tear apart his room and sing out for her to come back. When it comes to Swift, she is dressed in lingerie as she walks the halls of the hotel and goes to her own room wondering if she made the right decision or lost the love of her life. It's a gorgeous video and ties in perfectly with the love and lust themes of all of the Fifty Shades movies.
Now the time has come for you to cast your vote for Malik's very best music video. It's a tough decision, but we know you can handle it!
Happy birthday, Zayn, continue to rock our socks off for another year, will you?!
Zayn Malik's Best Music Videos