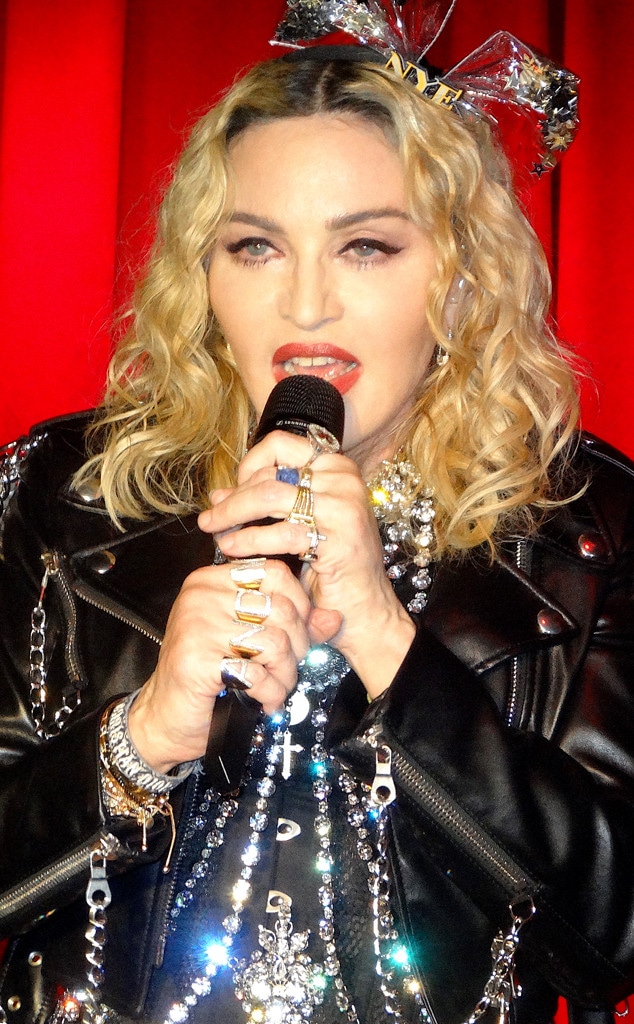 Splash News
UPDATE: Madonna knows you guys have been chatting about her backside.
And on Thursday afternoon, the music superstar took to Instagram where she cryptically addressed the chatter about her New Year's Eve performance.
"Desperately Seeking No Ones Approval................... And Entitled to Free Agency Over My Body Like Everyone Else!! Thank you 2019!" she shared with her followers. "Its Going to Be an amazing Year!!! #2019 #freedom #respect #nofear #nodiscrimination." 
——–—
Madonna's New Year's Eve appearance has everyone talking.
Earlier this week, the superstar singer made a surprise appearance at The Stonewall Inn in New York City to help ring in 2019. While there, Madonna took to the stage to perform a number of songs, including her hit "Like a Prayer."
"Back stage at STONEWALL INN!!" Madonna captioned a BTS photo of herself on NYE. "2019 came. in with a Bang!!! #stonewall #pride #50th #newyear #newlife."
Madonna was joined on the stage for the performance by her 13-year-old son, David, who accompanied her on the guitar.
"Me and my favorite Freedom Fighter At Stonewall Inn!" Madonna wrote to her Instagram followers alongside a photo with David.
She added that it was an "unforgettable New Years Eve!!"
After Madonna's surprise appearance, footage of her performance started to surface online, like the Instagram video above from @vickydeville. In response to photos and videos from NYE, many social media users are speculating about Madonna's butt, suggesting she might've had it enhanced.
"As a society we have made Big Butts so BIG Madonna went out and got one. I'm done," one Twitter user wrote. While another social media user asked, "Who done went and told Madonna to get this fake butt."
One Twitter user also suggested, "Madonna need to leave the butt implants alone."
While the speculation continues to heat up, Madonna has yet to address the rumors.
(Originally published Wednesday, January 2, 2019 at 10:05 a.m. PST)