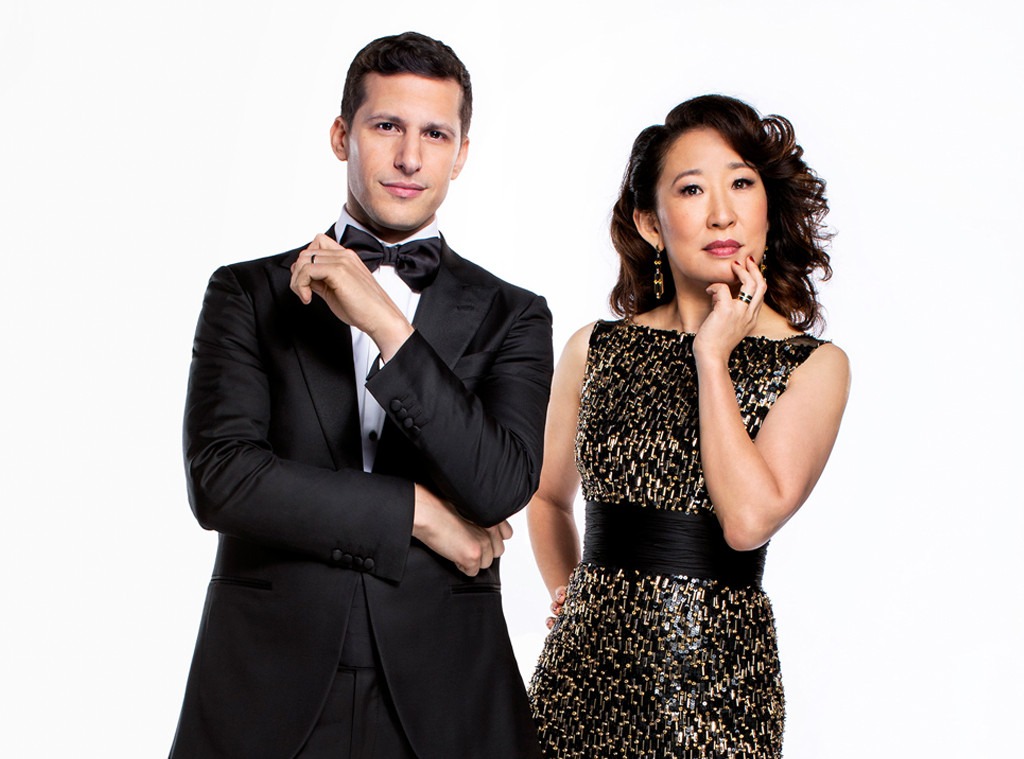 NBC
Best friends, soul mates, co-hosts, Andy Samberg and Sandra Oh are already well on their way to stealing the hearts of everyone in attendance and everyone watching the 2019 Golden Globes. They're already enamored with each other.
"We're soul mates. We're f--kin' co-dependent soul mates," Oh joked with Samberg and The Hollywood Reporter in a new interview.
This new dynamic duo was first paired up at the 2018 Emmy awards where they announced the Outstanding Directing for a Comedy Series category. That's where NBC Entertainment co-chairmen George Cheeks and Paul Telegdy first saw them and thought they'd make great hosts. Samberg, who has hosted the Emmys before, and Oh for the shock value. Being asked sure was shocking for the Killing Eve star.
"Honestly, I said yes even though it was so terrifying to me, really terrifying. I just could not let this opportunity pass me by, the life experience of being this scared of something," she told Samberg in an interview.
Samberg said he wants to get back to the style of show Tina Fey and Amy Poehler presided over.
"Seth [Meyers] was incredible last year—and it was such a tricky year with everything that was coming to light, and he really threaded the needle well — but the years that are more like how I would dream of doing it were Tina and Amy's," he said. "I like playing off someone else and having there be a looseness to it and the ability to try things that are not necessarily just straight jokes to prompter. That's why I'm excited to do it with you 'cause you're such an incredible performer. I'm obsessed with Killing Eve. I hope you win. I'm going to make you a crappy little tinfoil fake Globe, just in case you don't win, and I'm going to bring it out and give it to you and be like, 'You're always a winner to me.'
Safe to say millions of Killing Eve fans will be right there with Samberg and that fake Golden Globe for Oh. Both Oh and Samberg have won Golden Globes before, Oh for Grey's Anatomy, Samberg for Brooklyn Nine-Nine.
Killing Eve just wrapped production on the second season and is poised to come back in spring 2019. Brooklyn Nine-Nine jumps from Fox to NBC on Thursday, Jan. 10. The Golden Globes air live on Sunday, Jan. 6 on NBC.
Be sure to watch E! News on Sunday, Jan. 6, for E!'s Live From the Red Carpet 2019 Golden Globes special, followed by the telecast on NBC at 8 p.m. And check out FandangoNOW to download or stream all of this year's nominated films and TV shows for half-off all weekend!
(E! and NBC are both part of the NBCUniversal family.)