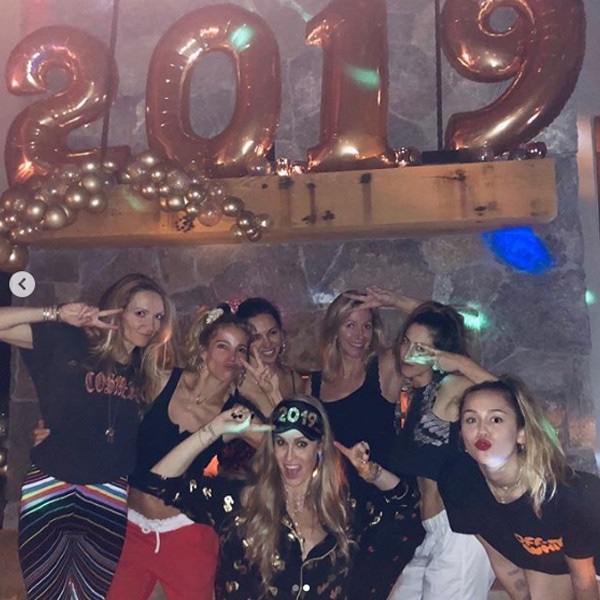 Instagram
It's a party in the U.S.A. right before New Year's Day!
Just one week after Miley Cyrus confirmed her marriage to Liam Hemsworth, it appears the "We Can't Stop" singer decided to celebrate 2019 with her extended family.
On Tuesday morning, Elsa Pataky took to Instagram to share some photos from the family celebrations. And spoiler alert: The fans spot Miley just being Miley.
"Happy 2019," Elsa shared on social media while giving her husband Chris Hemsworth a kiss on the lips. "Feliz año 2019. @chrishemsworth. #thegirlsgang."
In another photo, fans quickly saw Miley posing for a photo in front of 2019 balloons proving this week's celebration was also a family affair.
"I can try & act cool, but this is me FoReVeR #NewYearsFit #FindYouSomeoneWhoCanDoBoth," Miley wrote on Instagram earlier in the week while rocking her New Year's outfit. "Same S--t, New Year."
While the newlyweds are trying to keep a low profile as they celebrate their new status as husband and wife, some fans have speculated that the pair is on a honeymoon in Montana.
The proof? It's all thanks to a few family Instagram posts.
Wherever they may be, it was an unforgettable 2018 for the "Nothing Breaks Like a Heart" singer.
In addition to marrying her longtime love, Miley was a victim of the devastating Southern California wildfires that destroyed parts of Malibu, Calif. Through it all, the singer's bond with Liam remained strong leading to a special ceremony very few knew about until she posted online.
"I definitely learned a lot. My dad [Billy Ray Cyrus] has always told me, 'Life is a series of adjustments' and sometimes we never understand what our parents are telling us until we start to experience life more," Miley previously told Ryan Seacrest. "I'm starting to really understand what that means now experiencing something as life-changing and devastating as a natural disaster. It's a really deep character challenge to see the way you react to loss."
She added, "You can always rebuild a physical structure, but that love that can't be destroyed is always there and always stayed strong so that gave me a lot of light during a dark time."