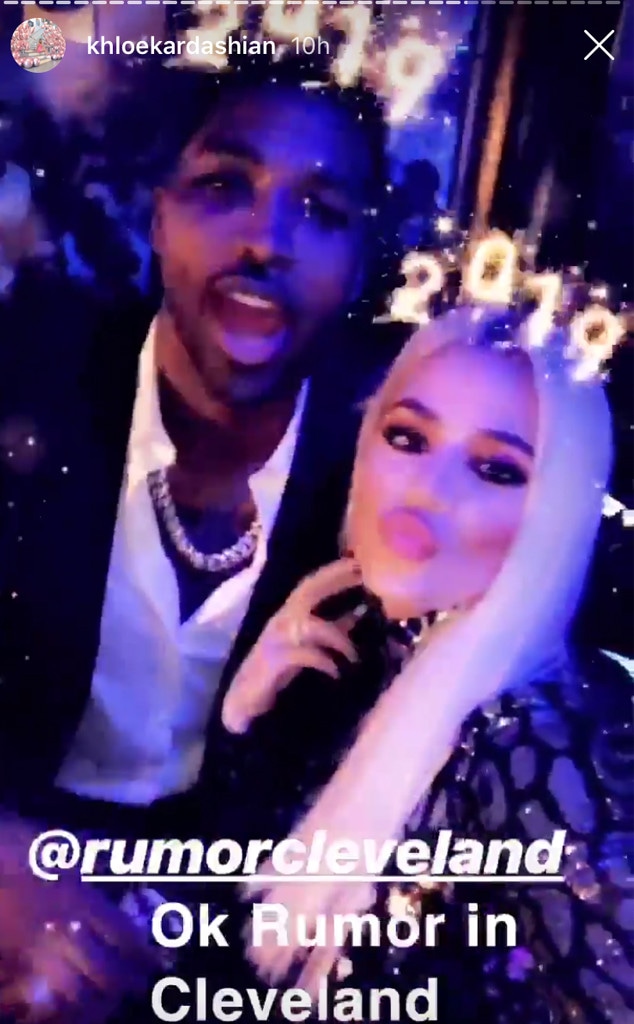 Instagram
They're starting off the New Year on a united front!
Khloe Kardashian and Tristan Thompson were by each other's side as they officially welcomed 2019 in Cleveland.
As documented on Instagram Stories, the Keeping Up With the Kardashians star and NBA player headed to the Rumor Bar and Lounge to host a New Year's celebration.
Featuring Jordan Clarkson, Kevin Love and Channing Frye, the party included a giant ice sculpture with the words "Koko and TT 2019."
 And when it was time to countdown to midnight, Tristan and Khloe went behind the DJ booth where they shared a kiss on the lips.
"Happy New Year," Tristan shared in a video when hanging out with his leading lady.
Before the special holiday, fans were curious to know where Khloe's relationship stood with the Cleveland Cavaliers basketball player. When posting her Top 9 of 2018 on Instagram Stories, the reality star didn't mention Tristan.
In addition, the pair was unable to celebrate Christmas together due to Tristan's job.
But if last night's celebration is any indication, these two continue to make it work as they raise their baby girl True Thompson.
"True, you are and forever will be my greatest blessing- my greatest gift!!" Khloe previously shared on Instagram when looking back at her roller coaster year. "There is nothing I wouldn't endure a million times over to be blessed with an angel like you!!!"
She added, "Thank you for showing me what it feels like to be complete. To be at peace in my soul. I never knew my heart could be so full. I will love you until the end of time! You were worth the wait my sweet baby True!"