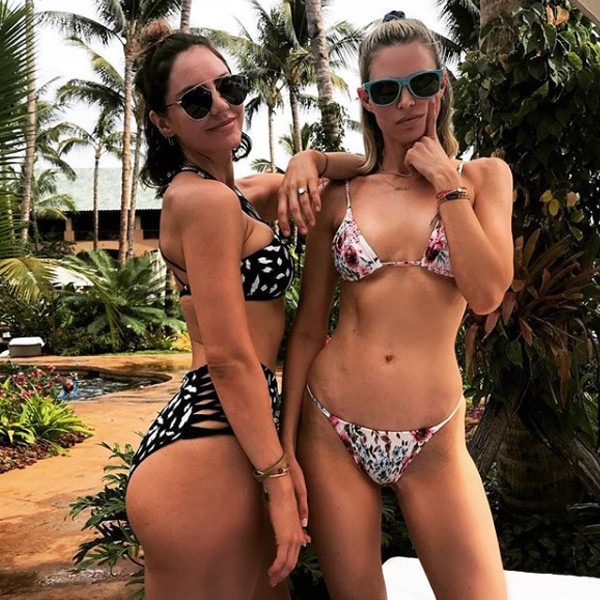 Instagram
Katharine McPhee isn't an average mom, she's a cool mom.
Ever since the American Idol singer and David Foster got together, it's become clear that Sara Foster and Erin Foster have so much love for their future family member.
But with a whole lot of love sometimes comes a fair amount of teasing and a recent family vacation was no different.
While enjoying a holiday trip to Four Seasons Resorts Lanai in Hawaii, Sara and Katharine found themselves lounging by the pool. What came next was a hilarious photoshoot with more than a few jokes.
"When your mom refuses to dress age appropriately," Sara joked on Instagram as she posed in Tori Praver Swimwear.
Katharine, who had a two-piece bikini of her own, couldn't help but respond in the comments section.
Watch:
Sara Foster Says Kids "Possible" for Katharine McPhee & Dad
"I can't even think of a good response," she wrote. Sara later replied, "@KatharineMcPhee as long as you keep looking this good in a bikini, I will be writing captions like these." LOL!
What is family for anyway?
According to Instagram, photoshoots aren't the only things on the agenda this trip. While in Hawaii, Katharine has been able to enjoy boat rides on the ocean blue water. And yes, family and friends have been able to enjoy the magic of a Hawaii luau after dinner.
After David and Katharine got engaged, E! News was able to chat with Sara who couldn't help but share how happy she was to see her dad so happy in the romance department.
"My dad loves love and my dad loves commitment," she shared with us. "My dad's always been married. He's never been single really. He's a real commitment, marriage kind of guy and I'm happy for him. He's really happy."
Sara would also call Katharine a "great addition" to the family.
"She's wonderful," Sara added. "The other day she was like, 'I got you a facial,' and like that's so cool."