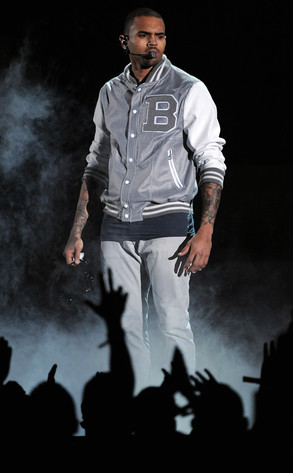 ROBYN BECK/AFP/Getty Images
Chris Brown lashed out on his Twitter account, addressing the critics who "hated on" his Grammy performance. Many people were outraged that Brown, who beat up Rihanna three years ago, was allowed to perform at the ceremony. Brown wrote:
"HATE ALL U WANT BECUZ I GOT A GRAMMY Now! That's the ultimate F*** OFF!"
His use of all caps should definitely back up his supporters' theory that Brown is reformed and no longer carries rage issues. Either Brown, or more likely his publicist, quickly deleted the Tweet.
Unfortunately they didn't move fast enough and it was captured in a screen grab. This is a lesson in Twitter. Just because you delete something does not mean it is gone forever, just ask Anthony Weiner. This is especially true if Twitter actually deletes it for you, which may or may not have happened to me when I Tweeted a photo of a few men enjoying themselves at a nice old fashioned Lemon Party. Google it-I can't say what it is. I think it's time we all agree that Chris Brown should not have access to a Twitter account-or a woman.