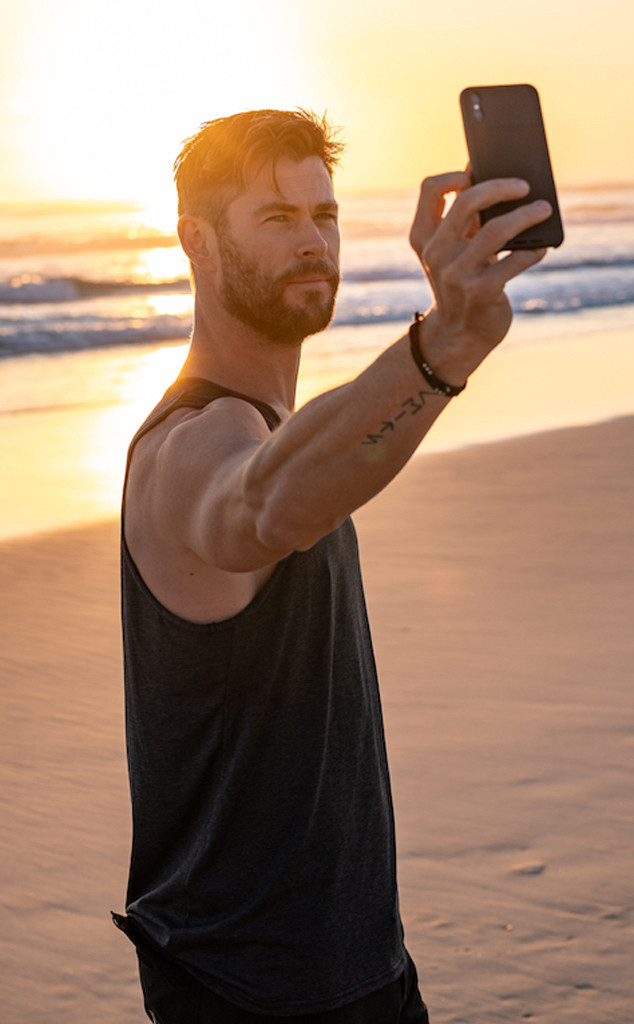 Instagram
Chris Hemsworth is all about coastal living.
When he's not filming, the 35-year-old actor spends most of his time with his family in Australia's Byron Bay. And now, he's giving fans an inside look at what his day-to-day life is like in Northern New South Wales.
In partnership with Instagram, the Thor star shared an self-shot IGTV video of a day in his life, from morning swims to training at the gym to enjoying a seafood cookout with wife Elsa Pataky and friends.
"I'm excited to bring you a little closer into my world today, from swimming the beaches of my hometown in Byron Bay, to the workouts that help keep me centered," Hemsworth said in a statement, adding that Byron is "one of the most beautiful places I've ever been. The surf is amazing, and there is a huge awareness about healthy living and environmental conservation."
Hemsworth and Pataky relocated to Byron Bay from Los Angeles in 2014, seeking a more private life for their children: daughter India, 6, and twin sons Tristan and Sasha, 4.
 "We couldn't take it anymore," Pataky told News.com.au last year. "In LA, my kids had a camera in front of them all the time…I really wanted to be in a place where I'm out of reach to the media…and in Byron we just feel like locals."
Last week, Instagram revealed the Phillip Island-raised star's account was Australia's "most-loved" on the social media platform in 2018. Nipping at his heels for the top accounts were Hugh Jackman, Margot Robbie, Ruby Rose and Miranda Kerr.  
Hemsworth also took out the top spot for the most-loved 2018 post, a sweet August birthday photo with his wife that featured a very cheeky caption and racked up more than 3.5 million likes.
But little brother Liam Hemsworth came a close second for a glam shot with his now-wife Miley Cyrus at the Vanity Fair Oscars after-party that earned 2.6 million likes.
Chris spent time in the US this week to attend Liam and Miley's top-secret wedding on Dec. 23 in their Franklin, Tennessee home.
"A lavish ceremony wasn't important to Miley or Liam, all that mattered was that their families could be there," a source told E! News. "The Cyrus and the Hemsworth families love each other and get along so well. Both families are thrilled Miley and Liam have finally made it official."