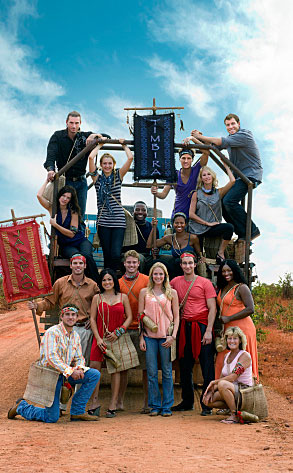 Monty Brinton/CBS
The castaways' first challenge: Pronounce Tocantins correctly.
Not really but, true to form, the 18th-season opener of Survivor: Tocantins—The Brazilian Highlands presented the 16 new eager-beaver castaways with a twist within the first few minutes.
But instead of voting their early nonfavorites off, the Jalapao and Timbira tribes were actually giving the losers of the first-impression contest a comfy helicopter ride to camp. And those quick-to-judge tribemates had to trek through the heat for four hours, hauling all their gear.
The early outcasts, "older woman" Sandy Burgin and sore-throat sufferer Sierra Reed, reacted quite differently to being shunned: Sandy thumbed her nose at her tired team by spending her free time searching for an Immunity Idol, while poor, sniffly Sierra decided it was more important to "look good in the eyes of [her] crew" and built a camp for her tribe to come home to.