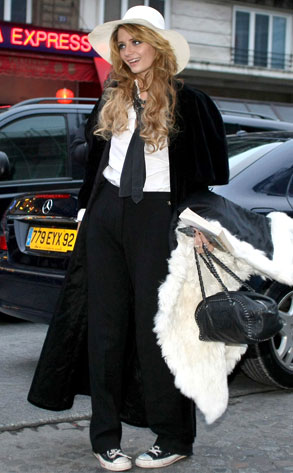 Sipa via AP Images
Mischa Barton, in a crabby mood at LAX, waiting to get her much-anticipated ass (we're sure) out to NYC for Fashion Week. Meesh apparently stood in a huff 'cause her Continental flight was delayed, passing over her passport and filling out some report with a cop.
Did he want to see some ID? Did he not believe a celebrity would be wearing such a fugly fur coat? Did some bystanders bump her too much or what? Misch-hon then went over and schlumped down on the floor among the regular folks, reading, of all things, The Enquirer. Hoping to catch a glimpse of herself?
Mary-Kate wouldn't be caught dead doing that. Sorry, Barton, only Lohan would. Another former celebrity spotted was...