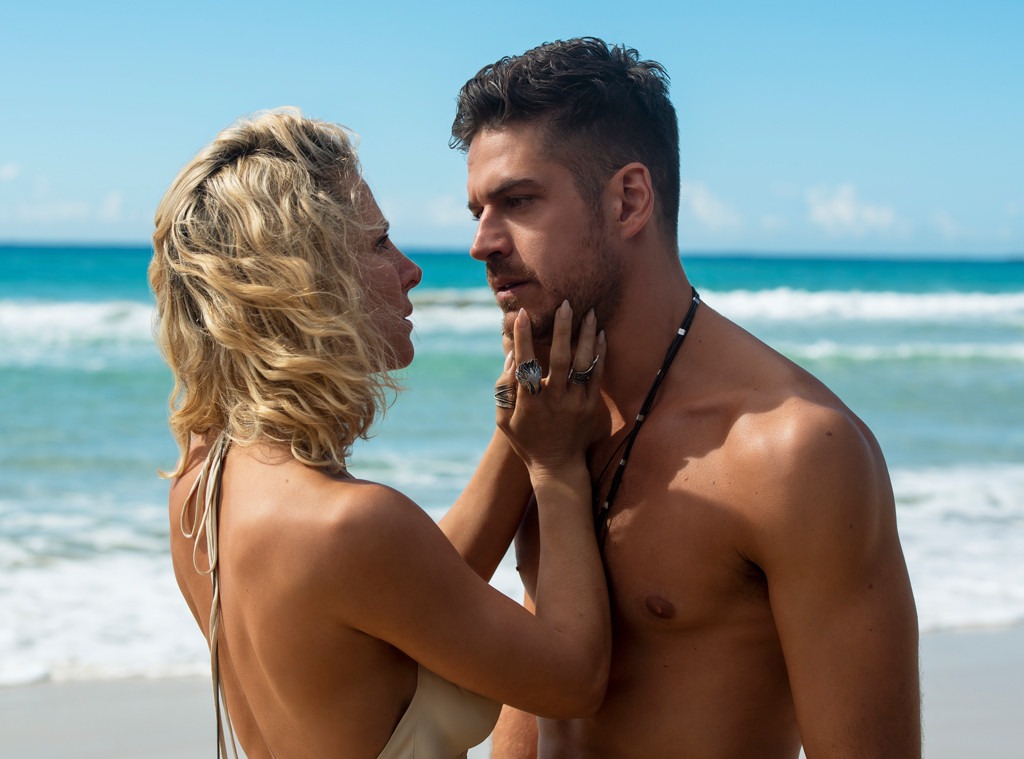 Netflix
There's no denying it: Tidelands is a very sexy show.
Netflix's first Australian original production follows the residents of small fishing village Orphelin Bay and their mysterious neighbours, a group of seductive half-Sirens called Tidelanders. It's often difficult to keep track of who's hooking up with who in the supernatural series—and most characters always find an excuse to take their shirts off.
"Orphelin Bay is very incestuous!" 21-year-old actress Madeleine Madden told E! News during the Sydney press tour. "I think throughout all of the raunchy scenes people are either power playing, or there's always some underlying subtext. The sexuality and sensuality is a mask for different things."
The Picnic at Hanging Rock star who plays Tidelander Violca, added with a laugh: "I'm a bit worried about my grandparents watching the show, to be honest!"
Episode 1 gets hot and heavy very quickly when Tidelander leader Adrielle (Elsa Pataky) meets drug smuggler Augie (Aaron Jakubenko) and pins him to the ground with her thighs in a scene that must be seen to be believed. 
"It was quite an interesting way to introduce a relationship," 30-year-old Jakubenko said. "Straight up with the heavy stuff…It was also really pivotal to understand at this point the differences between the humans and the Tidelanders. It was an important part of the show."
As for Brazilian actor Marco Pigossi, the saucy scenes won't come as a surprise for his fans back home.
"We are Brazilian, we are not even going to think about that! We are just used to skin," the 29-year-old laughed. "I think everything that's in the script, it's there for a reason, and this is what I like about the show. It's important to tell the story."
Before Tidelands filming began, the cast first got to know each other at an intensive boot camp during pre-production.  
"We were swimming and diving and holding our breath," explained Charlotte Best, who plays badass lead Cal. "It was incredible just to get to know the cast before we went into it together. We all had each other's backs. You really got the sense that everyone was willing and ready to give it everything."
New Zealand actor Mattias Inwood, 25, agreed that the demanding water training made the cast fast friends.
"You learn a lot about how your body handles being under depths of 5 metres, and how your body handles not having air," he said. "By the end of the 2 weeks we were doing 2-minute breath holds, almost. On the other side of that, it was great as a bonding tool as well."
The cast also spent time together at the beach with Byron-based Pataky, who has three kids with husband Chris Hemsworth.
"We did hang out a lot on the beach, [Elsa's] amazing. We got to know her family," Pigossi said.
Added Best, "Elsa was like our on-set mama. Her twins [Tristan and Sasha, 4] chase you, constantly. They're so gorgeous."
Today, the memories of shooting and boot camp live on in a group chat between the Tidelands cast—which features a lot of mermaid emojis.
"We called it 'The OGs'. It took me a long time understand what OG was!" Pigossi said, while Best chimed in with a laugh, "The originals! We started this group chat and it's pretty funny."
While the cast is stoked about the friendships they've made, they're also proud to be part of Netflix's first ever Australian production. 
"It's an incredible honour," Jakubenko said. "It's a big responsibility, I think. We've hopefully helped Netflix want to tell more Australian stories." 
"It's so special," added Madden. "It's like being a part of history and it's so cool to share it with this amazing cast. It's just been really overwhelming."
Watch:
Elsa Pataky Reveals Her and Chris Hemsworth's Netflix Obsession