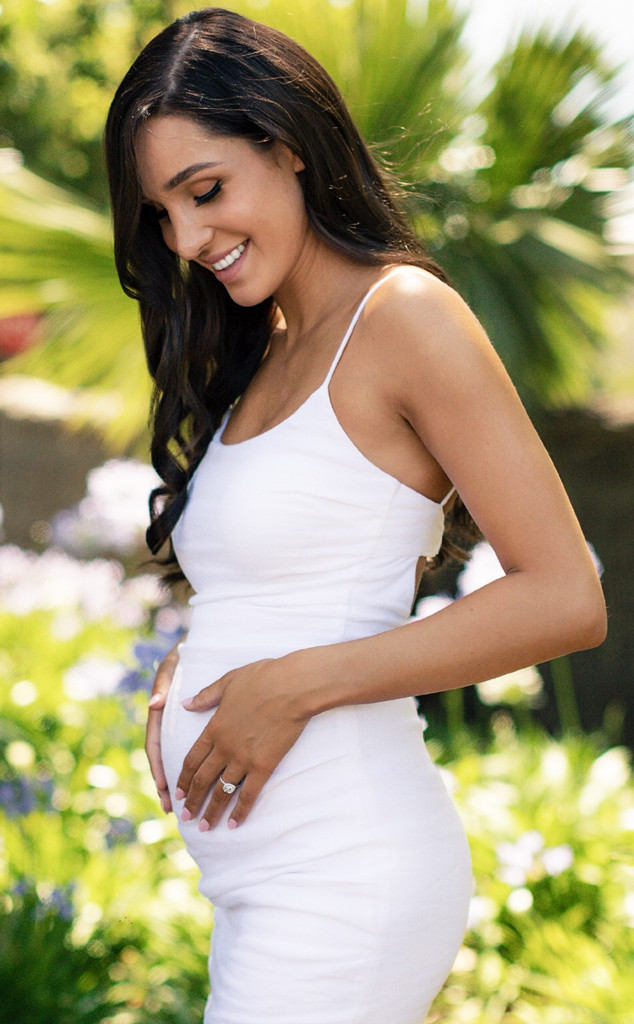 Sweat
Kayla Itsines is about to be one fit mumma.
The Bikini Body Guide founder just announced she's 20 weeks pregnant with her and fiancé Tobi Pearce's first child.
"To be able to start my own family with the person I love most in this world is just an absolute dream come true," the Australian fitness trainer posted on Instagram alongside a pregnancy reveal video Dec. 20. "I know you ladies probably have 1 million questions ... but for now, let's celebrate this amazing moment together as we are adding one new #bbg member in May next year."
Speaking to E! News from her hometown of Adelaide, the 27-year-old filled us in on her pregnancy journey so far and what this means for her famed workouts.  
First of all, congrats! How are you feeling?
I feel good! I'm at my Christmas party today, and I have a tight dress on, so it's all good. The perfect day for the announcement.
Talk us through your pregnancy journey. Was this planned?
It was definitely planned. It's something that we've always wanted, but obviously the business was so busy. And this year, it became an opportunity for us to have a baby, and we got pregnant relatively quickly, which was absolutely amazing. Tobi was over the moon. We sat and talked about it because obviously we haven't been pregnant before, so it was like, how long is this going to take? Could this be something that's really quick? It happened pretty straight away, so it's super exciting!
How did you find out you were pregnant? Were there any signs?             
All my friends at the moment are ahead of me in pregnancy, so I told them that Tobi and I were going to try and they were like, OK, when you feel this or this or you get tired or crave anything [that means you're pregnant]. I started getting these really odd pains—not pains—but a weird feeling in my tummy. I know my body. I'm obviously very fit. I eat the same sorts of foods every day on the Mediterranean diet. So I was like, Oh my gosh, could I be pregnant? So we took a test and it was negative. I was like, Oh OK, maybe it was just cramps and I'm getting my period. But then I missed my period and I was like, Oh definitely, and I was so excited. I took another test and it was positive. It was good!
What was Tobi's initial reaction?
He was so happy. He literally grabbed my stomach. He calls the baby "muffin", and straight away he grabbed my stomach and was like, Hi little muffin! It was really cute. I was like, Tobi, I don't think the baby can hear you yet and he was like, no no no, it can hear me.
Do you know the gender yet?
We're going to find out really soon. I'm so excited. I want to do a gender reveal, but not crazy, just with my family. Tobi thinks girl. I think boy, and my family's a bit of a mix. I honestly don't know. My dad comes from a family of all boys, but my mum comes from a family of all girls.
Any name ideas?
No! We don't know what it is yet, but Tobi's name ideas are all very boss names, and mine are very pretty names.
How has your fitness routine changed since becoming pregnant?
I was doing plyometric training combined with weights, but I've cut out jumping now. I'm also modifying a lot of the exercises, which I'll be posting on my Instagram, just to show how I'm working out. I think that's the first thing women want to know is how I'm changing the workouts because BBG is not recommended for pregnancy, as there is a lot of high-intensity jumping and things like box jumps that I will not do.
I know a lot of women do the same workouts they did before pregnancy, but that's just something I feel…I don't know maybe I'm just being paranoid. I've changed my routine a lot to body weight exercises and using lighter weights at higher reps.
Will this open up a whole new world of pregnancy fitness workouts for your brand?
Of course! Firstly, I'll be more relatable to the BBG mums out there. And I'm definitely going to start uploading my workout videos and how I've modified things, and we'll just see how people feel about it. There's a lot of people in the community who are expecting at the same time as me and they're like, Oh my God, I can't wait to see your routine because I don't know how to work out. So yeah, I definitely think this is going to open some doors, for sure.
I'm just so excited. The community is going to grow now and to be able to help the ladies who are on their journey at the moment and any mummas or people who are looking to get pregnant, I hope I can set a really good example for people. We'll see how it goes!
I'm impressed you were able to keep uploading workout videos without revealing your pregnancy for so long. Did you bank a ton of content to keep everyone in the dark?
When I found out I was pregnant, I filmed a bunch of videos. I was actually really bloated and I was like, Oh is this my baby bump? The doctor was like no no, I think you're just bloated and it's hormones. So, I just wore a T-shirt and then I mixed those videos with old videos from 2016, just because I wanted to give my body time and my family time to celebrate. And then I did the big announcement at 20 weeks.
I think it's going to be funny because I'm about to share my first video with a bump, so usually people watch someone's journey from 12 weeks to 20 weeks and see this bump grow, but I've got it already.
How have your eating habits changed? Any cravings?
Not necessarily cravings, more things that I don't want to eat. I used to love Asian greens and herbs and grilled fish and things like that and now I can't eat things like that—not that I can't, I just look at it and I'm like, I just don't feel like having that.
At the start of the pregnancy, I ate a lot of drier foods like toast and dry biscuits because I was feeling unwell. Plain pastas, homemade breads, a lot of carbs. Now I'm mostly back to my Mediterranean diet. After 16 weeks, I started feeling better. So, within the last month I've been back to my normal diet.
Did you struggle with morning sickness?
I had morning sickness, constant nausea, and a feeling of tiredness. I now have the biggest, biggest appreciation for pregnant women who work out and when they've got kids, as well. I actually got to 16 weeks and started feeling better and I was like, Oh no. Where's my nausea gone? Is there something wrong? The doctor was like, that's completely normal! It sounds weird, but I almost missed it because having nausea made me feel pregnant. It's just been a really incredible journey.
What's the most helpful pregnancy advice you've been given?
No one's given me any advice because I kept it a secret from everyone, except my grandparents. Probably the only advice I've been given is just to eat well and have fruit. Everyone's saying to cherish these moments and make sure you write down everything.
How did your grandparents react to the news?
The story is my grandma wanted a blanket for her bed and I was like, I'll buy you one. So I came over and told my sister—who knew I was pregnant—to record me giving her this blanket. So I gave my grandma a tiny blanket and she was like, This is a blanket for babies not a blanket for a bed! And then she stood there for a second and I pulled out a baby top, and she was like, Oh my God, you're pregnant!
Have you made any changes at home yet or started getting the nursery ready?
No! Tobi and I said, we'll do the baby announcement and then we'll go shopping. So, tomorrow we're going to go baby shopping. We're so excited. I couldn't go baby shopping before the announcement because they would be like, what are you doing here?