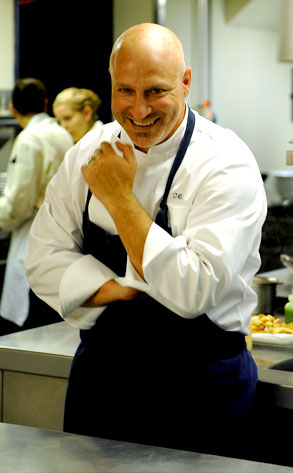 Bravo Photo: Virginia Sherwood
Bravo is cooking up something special for Top Chef foodies.
The cooking competition's head judge, Tom Colicchio, is helping to produce the cable channel's new spinoff show, Top Chef Masters, which will feature a smorgasbord of 24 (as yet unnamed) world-renowned kitchen-based artists competing in a buffet of challenges week. The winner will be declared the Top Chef Master and a prize will be donated to the charity of his or her choice.
Each episode will have two challenges—a quickfire test of each cook's skills and an innovation-centric elimination round. According to the network, "the food will be tasted and evaluated by the judges and a wide range of tasters...whether it is patrons at a five-star restaurant or a room full of hungry kids."
Former model and food journalist Kelly Choi hosts the competition while restaurant critic Gael Green, food critic Jay Rayner and editor-in-chief of Saveur magazine James Oseland have seats at the judges' table.