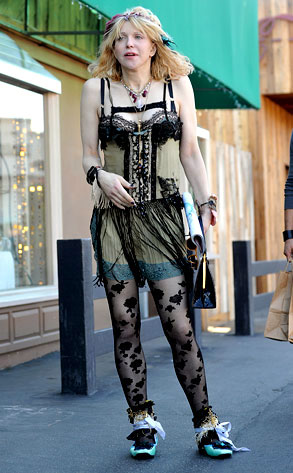 Splash News
Courtney Love's crowning as woman of the year this week in London at the Elle Style Awards has sparked heated debate among British historians and anthropological scholars.
"We're not denying Love's qualifications to be woman of the year, our issue is simply which year," stated Cambridge University professor Timmons O'Derrybrooks. "Given her strange, surgically enhanced appearance and oddly aloof manner, we feel she could easily be the woman of the year in 2086, when the earth will be populated by small-brained, emaciated, drug-ravaged females who thrive on plastic surgery."
O'Derrybrooks' theory is contested by Oxford historian Eunice Head. "Clearly, Love is the perfect woman of the year for 1872, when disease-ridden prostitutes were in vogue among all classes," emphasized Head. "She embraces all the stylistic qualities of the consummate cheap slattern, down to the slurred speech and spontaneous, confused outbursts of foul, pointless anger."