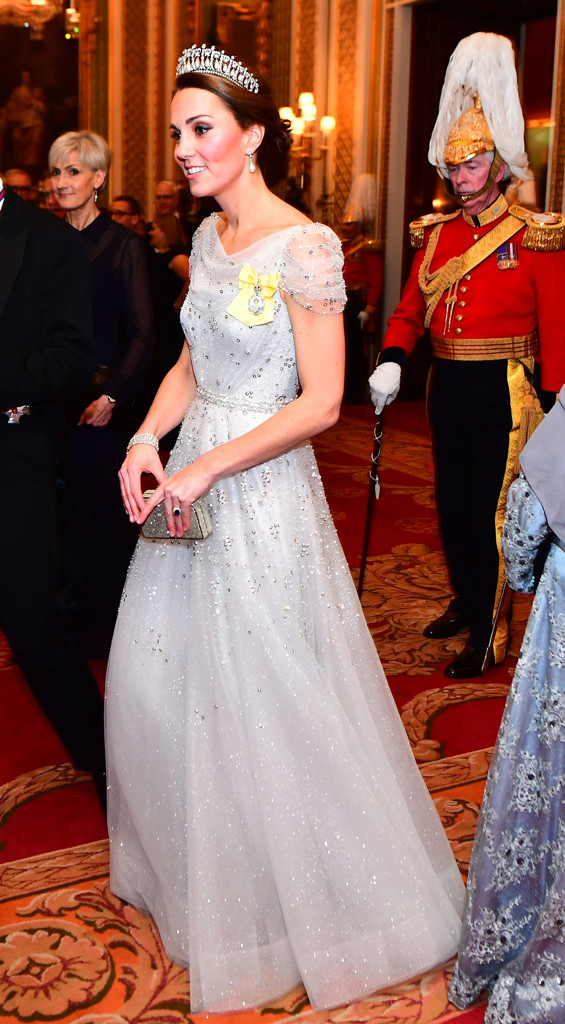 Victoria Jones/PA Wire
Queen Elizabeth II and Duchess Kate Middleton were truly the belles of the ball at Buckingham Palace.
The two royals made their grand entrance with their husbands in tow, but all eyes were on the leading ladies of the family.
For the annual reception, Kate sported a glittering custom Jenny Packham dress that perfectly complimented the festive holiday season. The modest white gown featured a draping neckline and was accented by delicate sequins. As for jewelry, the Duchess donned a diamond bracelet, the gorgeous Lover's Knot tiara, which was a wedding gift to Princess Diana, and matching pearl earrings. She also wore the yellow Royal Family Order, which was awarded to her by the Queen herself.
The Queen looked regal as ever in a similar gown, but the long-sleeve dress by Angela Kelly had gold accents. As always, the queen wore her blue sash with the gorgeous Queen Mary Girls of Great Britain and Ireland crown she so often wears, and the signature small handbag.