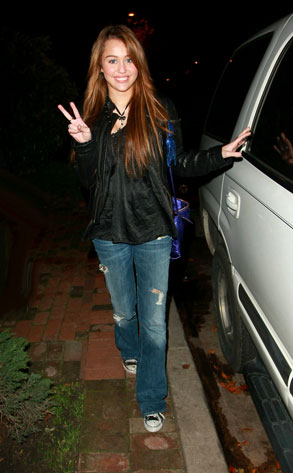 INFphoto.com
Fame means always having to say you're sorry.
Miley Cyrus, apparently figuring it was time to sweep her latest photo scandal (more of a scandalette, really) under the rug, officially apologized Monday for any hurt feelings that resulted from the photo she took with her friends in which everyone is slanting their eyes.
"I want to thank all of my fans for their support not only this week, but always! I really wanted to stress how sorry I am if the photo of me with my friends offended anyone," writes Cyrus, fresh from a well-received Grammy-night duet with Taylor Swift, on her MileyWorld blog.
"I have learned a valuable lesson from this and know that sometime my actions can be unintentionally hurtful. I know everything is a part of GODs [sic] ultimate plan, and mistakes happen so that eventually I will become the woman he aspires me to be. Peace and love, Miles."
So that should be it, right?