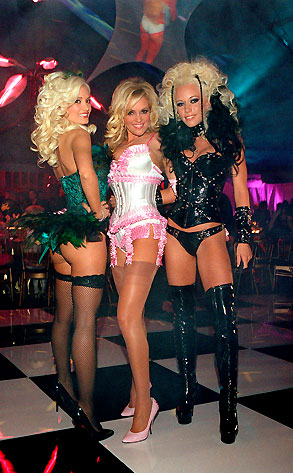 When we chatted at the Grammys with the always lovely, sometimes-forgotten-about GND babe Bridget Marquardt, we asked her how she was coping with life post-Mansion.
"It's been great! I'm still really close to Hef," bubbled B, who has been preoccupied hosting Travel Channel's Bridget's Beaches. In fact, Bridge blabbed that she's so busy filming her 13 episodes, she finds herself "homeless" when she comes back to L.A.
"I mean, I go to the Mansion all the time. It's still where my mail is and everything. I'm just not home enough to find a place to live!"
We're sure B—who was looking gorge, slimmed and trim in a purple, boobalicious dress—just crashes with her hunky new BF when she's in town, though. But B.M. seems to be her own woman now that her Bunny leash is off.
We asked about those controversial love lives of Kendra and Holly, among other things Bunnylicious: