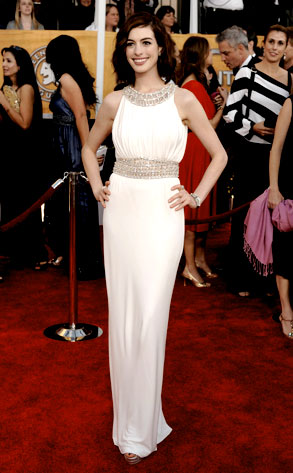 AP Photo/Chris Pizzello
And on Sunday, the Oscar Nominees Rested…: This weekend's Grammys will be a great place to see who John Mayer's dating this weekend. It will not be a great place to, say, see Anne Hathaway's latest red-carpet dress.
That Hathaway is not expected to be a presence at the Grammys is no surprise—she's a movie star, not a recording star. Then again, she is an Oscar hopeful, one of the season's canniest as pundits keep reminding. Wouldn't it be savvy for her and her fellow Oscar nominees to serve as Grammy presenters? (None were scheduled to do so.) Would it kill Philip Seymour Hoffman to rock the house with Taylor Swift and Miley Cyrus?
No, and perhaps, but that last question's beside the point, which is to lay low.