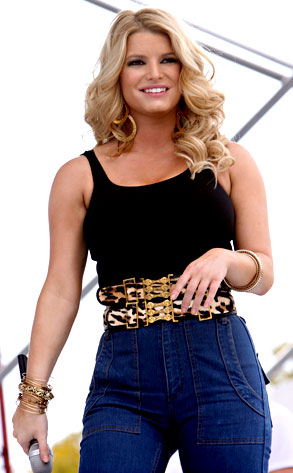 Logan Fazio/Getty Images
During a concert appearance last night in Michigan, expanding country musician Jessica Simpson apparently suffered a lapse in memory, forgetting the words to her recent hit single "Come On Over."
Soup Blog sources spoke with a Simpson camp insider about how the curvy star will be dealing with the issue. "We've consulted experts, and from now on we'll be using food as a memory trigger," revealed the source.
"It's simple. You incorporate something familiar, something you're wildy passionate about, with what you're trying to remember. So for instance, with the lines 'Leave your coat behind the door/ Leave your laundry on the floor,' she can mentally substitute them with, 'Leave your cake behind the door/ Leave your nachos on the floor.' "
To aid Simpson further, large flash cards featuring images of key lyric-corresponding foods such as chicken wings, apple fritters and moon pies will be held just off stage during upcoming live shows.