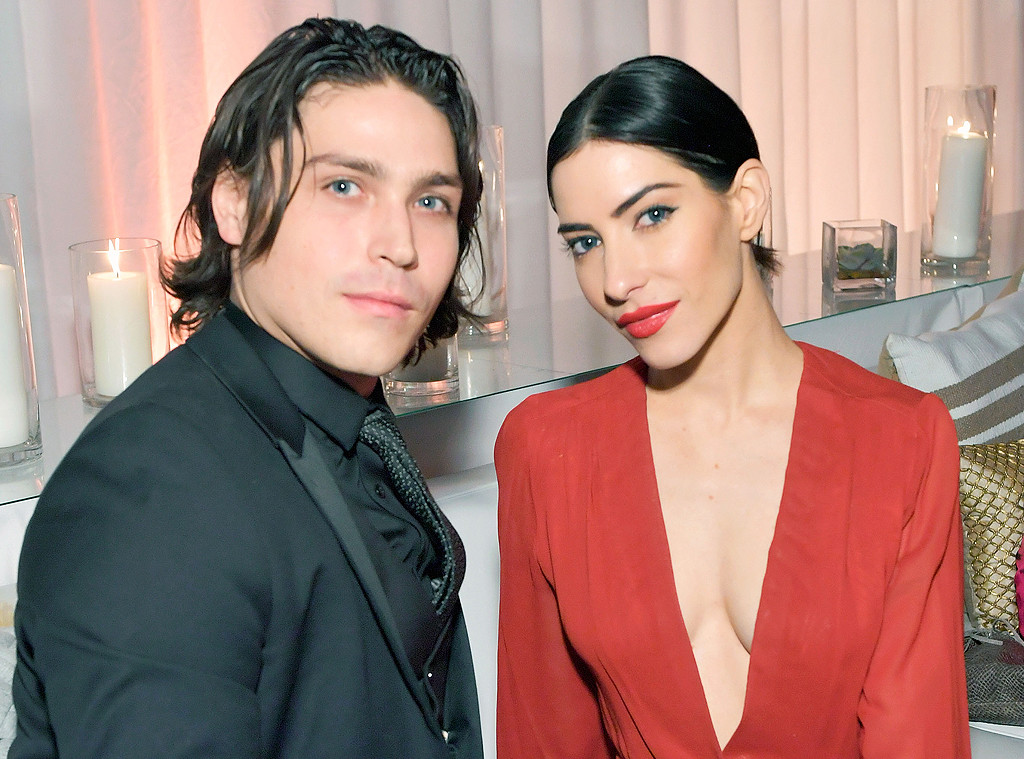 Stefanie Keenan/Getty Images for The Art of Elysium
Lisa Origliasso and Logan Huffman are officially husband and wife!  
The Veronicas singer took to Instagram on Nov. 6 to share a stunning black-and-white photograph from her wedding to the Final Girl actor at a property on Queensland's Sunshine Coast.   
"This past weekend I got to marry the man of my dreams. In the dress of my dreams," the Queensland native captioned her post.
Lisa tied the knot in a structured white dress featuring a belted waist, a bubble skirt and a detailed train from Australian designer J'Aton Couture.
In an interview with Vogue Australia, the 33-year-old revealed she looked to her French and Italian heritage when choosing the gown.  
"For my wedding dress I wanted to embody the romance period of the Victorian era, yet still have the forward graces of the '30s and '40s," she explained. "Inspired by my heritage from the old countries, my French and Italian ancestries played a big part in choosing the fabrics and intricate details of my veil and accessories." 
J'Aton designers Jacob Luppino and Anthony Pittorino told E! News the singer's dress aimed to capture her "innate style and individuality".
"We wanted to represent Lisa's strength as a woman and embrace her strong femininity so the dress featured old techniques from a bygone era of couture," the designers said. "The gown was heavily corseted and structured featuring tailoring methods, a lot of foundation work and construction that took several months to create but the overall look was to show a very simplistic gown that would allow Lisa to stand out on her day."
Jacob and Anthony described the intricate veil as the bride's "crowning glory".   
"To offset the simplicity and strength of the gown we contrasted the look by creating the most elaborate, delicate veil with thousands of tiny silk lily of the valley flowers entirely made out of Lisa's bridal coat fabric," they pair said. 
Lisa's look was also inspired by the dress American actress Wallis Simpson wore to marry King Edward VIII in 1937. 
She accessorised with Charlotte Olympia shoes, vintage leather gloves and a bouquet of lily of the valley with her family's rosary.
Lisa's sister and Veronicas bandmate, Jess Origliasso, served as a bridesmaid on the day. Jess shared another glimpse of her twin's wedding dress as well as her own outfit (a tailored white ensemble) in an Instagram video posted Nov. 7. 
"The most beautiful bride I could ever dream of. Lisa Marie Huffman," she captioned the post, hinting Lisa changed her last name. "I love you forever my girl."
Lisa has dated the Indiana-born actor since 2014. The pair got engaged in 2016 and threw a belated engagement party—complete with vegan catering from Jess—in April 2018.
"I'm madly in love and a little too co-dependant @loganhuffman77," Lisa shared on Instagram at the time. "Happy engagement my love (even if it is a year & a half later)."