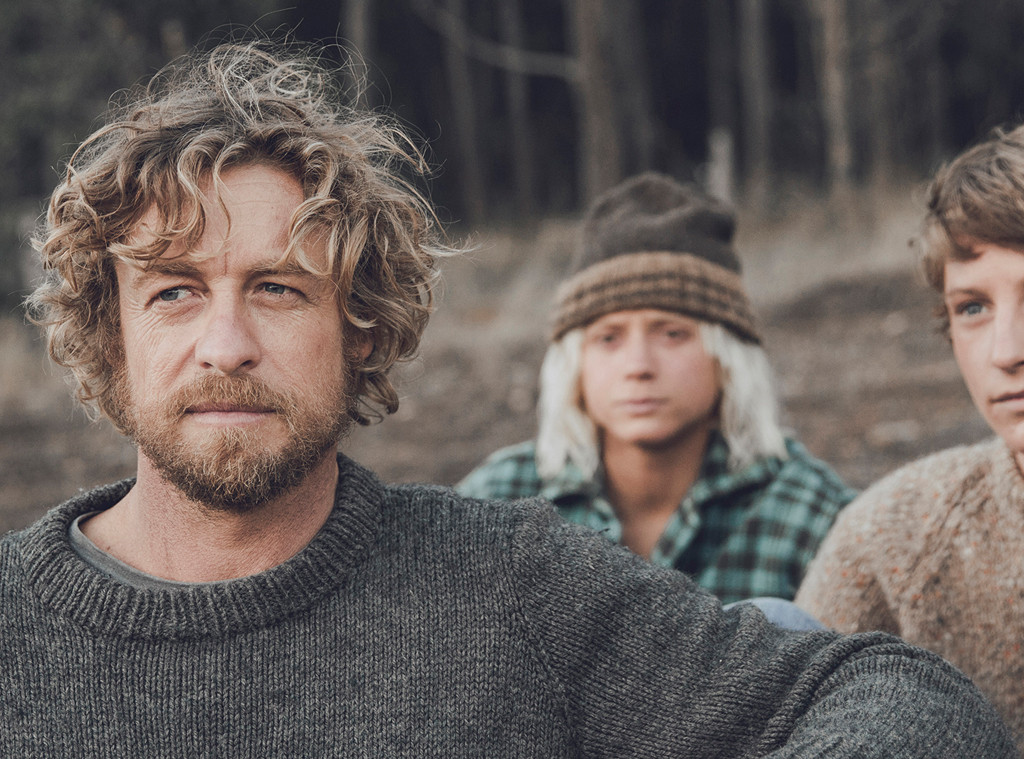 Screen Australia
The AACTA Awards nominations are here!
Leading the pack of Australian productions in 2018 are comedy-drama film Ladies in Black, drama series Mystery Road and mini-series Riot, each with 11 nominations.
Meanwhile, director-actors Joel Edgerton (Boy Erased) and Simon Baker (Breath) are competing against each other in four categories: Best Film, Best Direction, Best Adapted Screenplay and Best Supporting Actor.
Boy Erased co-stars Russell Crowe and Nicole Kidman also received supporting actor nominations, while international nominees this year include Lucas Hedges (Boy Erased), Rooney Mara (Mary Magdalene) and Julia Ormond (Ladies in Black).
The AACTA Awards will take place at The Star in Sydney on December 5 and air on Seven with encore screenings on Foxtel.
Keep scrolling to see the major category nominees, and click here for the complete list of nominations.
TELEVISION

BEST  DRAMA  SERIES
JACK  IRISH Ian  Collie,  Matt  Cameron,  Andrew  Knight  – ABC/Easy  Tiger  Productions
MR  INBETWEEN Michele  Bennett  – Foxtel/Showcase/Blue-Tongue  Films  and  Jungle  Entertainment
MYSTERY  ROAD David  Jowsey,  Greer  Simpkin  – ABC/Bunya  Productions
RAKE Ian  Collie,  Peter  Duncan,  Richard  Roxburgh  – ABC/Easy  Tiger  Productions
WENTWORTH Jo  Porter,  Pino  Amenta  – Foxtel/Showcase/FremantleMedia  Australia

BEST  TELEFEATURE  OR  MINI  SERIES
DEAD  LUCKY Ellie  Beaumont,  Drew  Proffitt,  Diane  Haddon – SBS/Subtext  Pictures
FRIDAY ON  MY  MIND David  Taylor,  David  Maher,  Diane  Haddon,  Christopher  Lee  – ABC/Playmaker  Media
PICNIC  AT  HANGING  ROCK Jo  Porter,  Brett  Popplewell  – Foxtel/Showcase/  FremantleMedia Australia
RIOT Joanna  Werner,  Louise  Smith  – ABC/Werner  Film  Productions
SAFE  HARBOUR Stephen  Corvini,  Debbie  Lee  – SBS/Matchbox  Pictures

BEST  COMEDY  PROGRAM
BLACK  COMEDY Kath  Shelper,  Mark  O'Toole  – ABC/Scarlett  Pictures  Pty  Ltd
THE  LETDOWN Julian  Morrow,  Sarah  Scheller,  Alison  Bell  – ABC/Giant  Dwarf
NANETTE Kevin  Whyte,  Kathleen  McCarthy,  Frank  Bruzzese  –Netflix/Guesswork  Television
ROSEHAVEN Andrew  Walker,  Kevin  Whyte,  Celia  Pacquola,  Luke  McGregor  – ABC/What  Horse?/Guesswork  Television
TRUE  STORY  WITH  HAMISH  &  ANDY Tim  Bartley,  Andrew  Lee,  Ryan  Shelton,  Andrew  Walker – Nine  Network/Radio  Karate
BEST  ENTERTAINMENT  PROGRAM
GOGGLEBOX  AUSTRALIA David  McDonald,  Kerrie  Kerr  – Network  Ten/Endemol  Shine  Australia
HARD  QUIZ Chris  Walker,  Kevin  Whyte,  Charlie  Pickering,  Tom  Gleeson  – ABC/Thinkative  Television
JULIA  ZEMIRO'S  HOME  DELIVERY Damian  Davis,  Polly  Connolly,  Nick  Murray,  Julia  Zemiro  – ABC/CJZ
LITTLE  BIG  SHOTS Karen  Greene  – Seven  Network/Warner  Bros  International  Television
THE  WEEKLY  WITH  CHARLIE  PICKERING Chris  Walker,  Kevin  Whyte,  Charlie  Pickering,  Jo  Long – ABC/Thinkative  TV

BEST  LIFESTYLE  PROGRAM
BETTER  HOMES  AND  GARDENS Russell  Palmer,  Rani  Eaton  – Seven  Network/Seven  Studios  Pty Ltd
THE  CHECKOUT Julian  Morrow,  Nick  Murray,  Rebecca  Annetts  –ABC/Jigsaw  Dwarf&  CJZ
FOOD  SAFARI  WATER Toufic  Charabati,  Georgina  Neal,  Jacinta  Dunn  – SBS/Kismet  Productions
THE  GREAT  AUSTRALIAN  BAKE  OFF Nicole  Rogers,  David  Briegel -Jones   Foxtel/Lifestyle/FremantleMedia  Australia
SELLING  HOUSES  AUSTRALIA Geoff  Fitzpatrick,  Duane  Hatherly,  Sonia  Harding   Foxtel/Lifestyle/Beyond  Productions
BEST  REALITY  SERIES
AUSTRALIAN  SURVIVOR:  CHAMPIONS  VS  CONTENDERS Amelia  Fisk,  Georgina  Hinds,  Adam Fergusson  – Network  Ten/Endemol  Shine  Australia
MASTERCHEF  AUSTRALIA  Marty  Benson,  Tim Toni,  Adam  Fergusson  – Network  Ten/Endemol Shine  Australia
MY  KITCHEN  RULES Matt  Apps,  Joe  Herdman  – Seven  Network/Seven Studios  Pty  Ltd
REAL  HOUSEWIVES  OF  MELBOURNE Kylie  Washington,  Lisa  Potasz,  Natalie  Brosnan,  Pip  Rubira  – Foxtel/Arena/Matchbox  Pictures
THE  SINGLE  WIVES Paul  Franklin,  Chris  Culvenor  – Seven Network/Eureka  Productions

BEST  CHILDREN'S  PROGRAM
THE  BUREAU  OF  MAGICAL  THINGS Jonathan  M.  Shiff,  Stuart  Wood  – Eleven/Jonathan  M.  Shiff  Productions
GRACE  BESIDE  ME Lois  Randall,  Dena  Curtis  –NITV/Magpie  Pictures
GUESS  HOW  MUCH  I  LOVE  YOU Suzanne  Ryan  –ABC  4  Kids/SLR  Productions
MY  YEAR  7  LIFE Laura  Waters,  Emma  Fitzsimons,  Karla  Burt  –ABC  4  Kids/Princess  Pictures
THE  NEW  LEGENDS  OF  MONKEY Rachel  Gardner,  Jamie  Laurenson,  Hakan  Kousetta,  Emile  Sherman,  Iain  Canning,  Robin  Scholes  –ABC/See-Saw Films
BEST  LEAD  ACTOR  IN  A  TELEVISION  DRAMA
Damon  Herriman  RIOT – ABC/Werner  Film  Productions
Aaron  Pedersen  MYSTERY  ROAD – ABC/Bunya  Productions
Richard  Roxburgh  RAKE – ABC/Easy  Tiger  Productions
Scott  Ryan  MR  INBETWEEN – Foxtel/Showcase/Blue-Tongue  Films  and  Jungle  Entertainment
Hazem  Shammas  SAFE  HARBOUR–SBS/Matchbox  Pictures
BEST  LEAD  ACTRESS  IN  A  TELEVISION  DRAMA
Kate  Box  RIOT – ABC/Werner  Film  Productions
Tina  Bursill  DOCTOR  DOCTOR – Nine  Network/Easy  Tiger  Productions
Judy  Davis  MYSTERY  ROAD – ABC/Bunya  Productions
Leah  Purcell  WENTWORTH – Foxtel/Showcase/FremantleMedia  Australia
Leeanna  Walsman  SAFE  HARBOUR – SBS/Matchbox  Pictures
BEST  PERFORMANCE  IN  A  TELEVISION  COMEDY
Alison  Bell  THE  LETDOWN – ABC/Giant  Dwarf
Hannah  Gadsby  NANETTE – Netflix/Guesswork Television
Wayne  Hope  BACK  IN  VERY  SMALL  BUSINESS – ABC/Gristmill 
Robyn  Nevin  BACK  IN  VERY  SMALL  BUSINESS – ABC/Gristmill 
Celia  Pacquola  ROSEHAVEN – ABC/What  Horse?/Guesswork  Television
BEST  GUEST  OR  SUPPORTING  ACTOR  IN  A  TELEVISION  DRAMA
Wayne  Blair  MYSTERY  ROAD – ABC/Bunya  Productions
Damien  Garvey  RAKE – ABC/Easy  Tiger Productions
Xavier  Samuel  RIOT – ABC/Werner  Film  Productions
Dan  Wyllie  ROMPER  STOMPER – Stan/Roadshow  Rough  Diamond
Ashley  Zukerman  FRIDAY  ON  MY  MIND–ABC/Playmaker  Media
BEST  GUEST  OR  SUPPORTING  ACTRESS  IN  A  TELEVISION  DRAMA
Caroline  Brazier  RAKE – ABC/Easy  Tiger  Productions
Nicole  Chamoun  SAFE  HARBOUR –SBS/Matchbox  Pictures
Celia  Ireland  WENTWORTH – Foxtel/Showcase/FremantleMedia  Australia
Deborah  Mailman  MYSTERY  ROAD – ABC/Bunya  Productions
Tasma  Walton  MYSTERY  ROAD – ABC/Bunya  Productions
BEST  DIRECTION  IN  A  TELEVISION  DRAMA  OR  COMEDY
MR  INBETWEEN  Episode  2  – Unicorns  Know  Everybody's  Name  Nash  Edgerton   –Foxtel/Showcase /Blue-Tongue  Films  &  Jungle  Entertainment
MYSTERY  ROAD  Episode  4 – Silence  Rachel Perkins  – ABC/Bunya  Productions
RIOT Jeffrey  Walker  – ABC/Werner  Film  Productions
SAFE  HARBOUR  Episode  1 Glendyn  Ivin  – SBS/Matchbox  Pictures

BEST  DIRECTION  IN  NONFICTION  TELEVISION
AFTER  THE  APOLOGY Larissa  Behrendt  – NITV/Pursekey Productions
BLACK  AS David  Batty  – ABC/Rebel  Films
HAWKE:  THE  LARRIKIN  AND  THE  LEADER  Episode  1 – The  Apprenticeship  Bruce  Permezel  –ABC/Southern  Pictures
YOU  CAN'T  ASK  THAT  Episode  1 – Survivors  of  Sexual  Assault  Aaron  Smith,  Kirk  Docker  –ABC/Australian  Broadcasting  Corporation
BEST  ORIGINAL  MUSIC  SCORE  IN  TELEVISION
MYSTERY  ROAD  Episode  4 – Silence  Antony  Partos,  Matteo  Zingales  – ABC/Bunya  Productions
PICNIC  AT  HANGING  ROCK  Episode  1 Cezary  Skubiszewski  – Foxtel/Showcase/  FremantleMedia Australia
RIOT David  Hirschfelder  – ABC/Werner  Film  Productions
ROMPER  STOMPER  Episode  3 – Poetry  Richard  Pike  – Stan/Roadshow  Rough  Diamond

FILM
BEST  FILM  PRESENTED  BY  FOXTEL
BOY  ERASED Steve  Golin,  Kerry  Kohansky - Roberts,  Joel  Edgerton  – Anonymous  Content  and  Blue-Tongue  Films
BREATH Mark  Johnson,  Simon  Baker,  Jamie  Hilton  – Gran  Via,  Windalong  Films  &  See  Pictures
CARGO Samantha  Jennings,  Kristina  Ceyton,  Russell  Ackerman,  John  Schoenfelder,  Mark Patterson  – Causeway  Films
LADIES  IN  BLACK Allanah  Zitserman,  Sue  Milliken  – Lumila  Films
SWEET  COUNTRY Greer  Simpkin,  David  Jowsey,  David  Tranter  – Bunya  Productions

BEST  INDIE  FILM  PRESENTED  BY  EVENT  CINEMAS
BROTHERS'  NEST Clayton  Jacobson  (Dir),  Jason  Byrne  – Jason  Byrne  Productions  Pty  Ltd
JIRGA Benjamin  Gilmour  (Dir),  John  Maynard  – Felix  Media  Pty  Ltd
THE  SECOND Mairi  Cameron  (Dir),  Leanne  Tonkes,  Stephen  Lance  – Sense  &  Centsability  &  Dust Bunny  Productions
STRANGE  COLOURS Alena  Lodkina  (Dir),  Kate  Laurie,  Isaac  Wall  Strange  Colours  Productions
WEST  OF  SUNSHINE Jason  Raftopoulos  (Dir),  Alexandros  Ouzas  – Exile  Entertainment
BEST  DIRECTION
BOY  ERASED Joel  Edgerton  – Anonymous  Content  and  Blue-Tongue  Films
BREATH Simon  Baker  – Gran  Via,  Windalong  Films  &  See  Pictures
LADIES  IN  BLACK Bruce  Beresford  – Lumila  Films
SWEET  COUNTRY Warwick  Thornton  – Bunya  Productions

BEST  LEAD  ACTOR
Ryan  Corr  1% – See Pictures  Pty  Ltd
Lucas  Hedges  BOY  ERASED – Anonymous  Content  and  Blue-Tongue  Films
Damian  Hill  WEST  OF  SUNSHINE – Exile  Entertainment
Daniel  Monks  PULSE – Daniel  Monks  &  Stevie  Cruz-Martin
Hamilton  Morris  SWEET  COUNTRY – Bunya  Productions
BEST LEAD ACTRESS
Abbey  Lee  1% – See  Pictures  Pty  Ltd
Rooney  Mara  MARY  MAGDALENE – See-Saw  Films
Kate  Mulvany  THE  MERGER – The  Merger  Productions
Julia  Ormond  LADIES  IN  BLACK – Lumila  Films
Angourie  Rice  LADIES  IN  BLACK – Lumila  Films
BEST  SUPPORTING  ACTOR
Simon  Baker  BREATH – Gran  Via,  Windalong  Films  &  See  Pictures
Fayssal  Bazzi  THE  MERGER – The  Merger  Productions
Russell  Crowe  BOY  ERASED – Anonymous  Content  and  Blue-Tongue  Films
Joel  Edgerton  BOY  ERASED – Anonymous  Content  and  Blue-Tongue Films
Josh  McConville  1% – See  Pictures  Pty  Ltd
BEST  SUPPORTING  ACTRESS
Elizabeth  Debicki  BREATH – Gran  Via,  Windalong  Films  &  See  Pictures
Natassia  Gorey-Furber  SWEET  COUNTRY – Bunya  Productions
Noni  Hazlehurst  LADIES  IN  BLACK – Lumila  Films
Simone  Kessell  1% – See  Pictures  Pty  Ltd
Nicole  Kidman  BOY  ERASED – Anonymous  Content  and  Blue-Tongue  Films
BEST  FEATURE  DOCUMENTARY
GHOSTHUNTER  Ben  Lawrence  (Dir), Rebecca  Bennett  – Ghosthunter One
GURRUMUL  Paul  Damien  Williams  (Dir),  Shannon  Swan  – 6  Seasons  Productions
JILL  BILCOCK:  DANCING  THE  INVISIBLE  Axel  Grigor  (Dir),  Faramarz  K-Rahber  – Faraway  Productions
MOUNTAIN  Jennifer  Peedom  (Dir),  Jo-anne  McGowan  – Stranger  Than  Fiction  Films  Pty  Ltd
WORKING  CLASS  BOY  Mark  Joffe  (Dir),  Matt  Campbell,  Andrew  Farrell,  Michael  Cordell–CJZ
Related:
"Ladies In Black" Cast Throwback to 1950s Australia