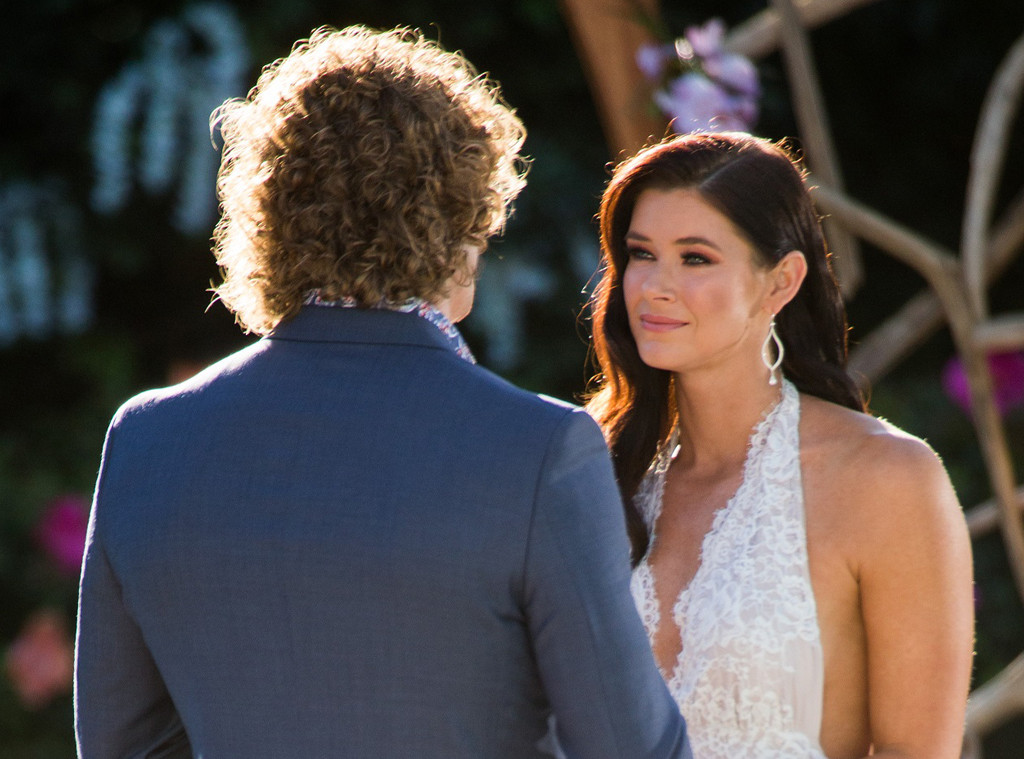 Ten
When Brittany Hockley saw Nick Cummins at The Bachelor Australia final rose ceremony, she had "zero idea" what would happen next.
The Honey Badger dropped the bombshell that he was not ready to commit to either the radiographer or Sophie Tieman—and ended the series a single man.
Still, Brittany is unsure why Nick let them both think the other had been chosen. (Producers explained the situation to Brittany during her getaway car ride, and she later broke the news to Sophie.)
"Nick says that it was right up to the last minute that he decided [to send me home]. Maybe it was when I was walking up to him that he decided? Who knows," she tells E! News. "Unfortunately, we weren't privy to the reason why. That's a question for dearest Nick."
The Port Macquarie-local would have left season 6 early if she'd known Nick would pick no one in New Caledonia.
"Hands down, I would have been quick smart out the door," she says. "The whole point is to fall in love. If I had that heads-up that there was going to be no one, there would have been zero point in staying."
And Brittany says she doesn't buy into the theory that Nick's heart was still set on Brooke Blurton, who decided to leave before the second-to-last rose ceremony.
"Nick is such a strong willed, strong minded man, and no one can tell him what to do," she says. "Ultimately, if he wanted Brooke there he would have [convinced her to stay]. The same if he wanted one of us, it would have been us. He just didn't feel it for the long term with anyone."
The 30-year-old has received no further explanation from the former Wallabies player about his shock decision—although her brother did receive a message about it.  
"Nick reached out very early on after the wrap. He just wanted to check in with a few of the girls to make sure they're OK. Unfortunately for me, for whatever reason, he didn't feel like he could contact me directly," she says. "I don't know if he thought it was too raw, or if I was angry or upset. The other girls got a phone call, and I got a text message through my brother.
"He messaged him and said, 'It didn't work out the way we thought. Please just look after Britt.' In a roundabout way, I appreciated that, but I was a little bit off that after everything we went through he couldn't speak to me. But he got there eventually."
Brittany doesn't have any "bad feelings" for Nick, but wouldn't consider dating the athlete if he asked for a second chance.
"I just don't think he would now, anyway," she says. "I always think everything happens for a reason. Maybe Nick and I are supposed to be in each other's life as friends one day—who knows? But the ship has sailed in terms of anything further."
But we're yet to find out how Nick truly feels. The bachelor avoided post-show interviews with media—expect for a chat with Lisa Wilkinson to air on The Sunday Project—and instead flew to Papua New Guinea to hike the Kokoda Track.
"I do believe that he had this trip pre-organised, and for everyone's sake I want to believe that," Brittany says. "You might say that's bad timing or you might say good timing. But I don't think it was a quick last-minute decision. I think it was always meant to be like this."
Moving forward, Brittany is open to the idea of being the 2019 Bachelorette following Ali Oetjen's run, although she'll need some time to heal first.
"This is Day One and I'm trying to get myself in a good place. It was such a crazy journey that I'm still processing," she says. "But if the time came, and the situation was right, I would be open to a discussion about it and would think about it."