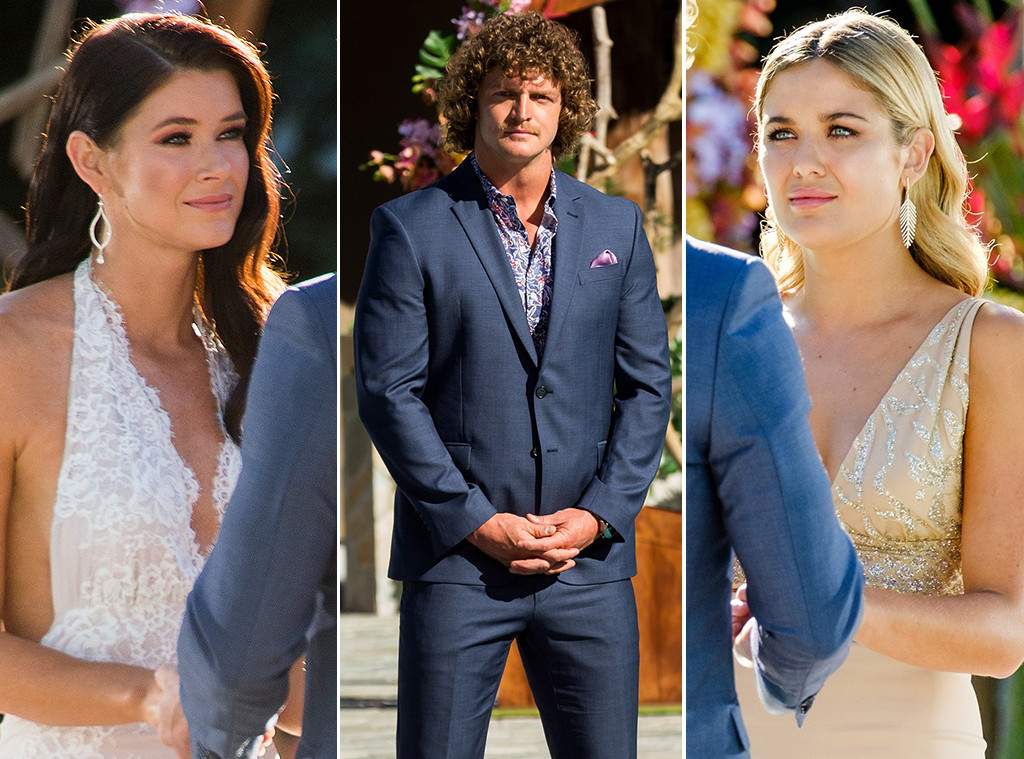 Ten
On The Bachelor Australia finale, Nick Cummins turned down both Brittany Hockley and Sophie Tieman and left New Caledonia a single man. Now, rather than going on the usual post-show media blitz, the Honey Badger has left the country and is currently walking the Kokoda Trail in Papua New Guinea.
He pre-taped a single interview with Lisa Wilkinson for Ten's The Sunday Project, which will air this weekend and promises to provide additional insight into his shocking non-decision.
"Going in, I feel like I was almost a boy compared to how I see things now," the 30-year-old says in a teaser.
Wilkinson appeared to not let him off the hook, however, firing back, "But you do understand on The Bachelor you're meant to be at a place where you're ready to have a relationship?"
The episode will also feature interviews with rejected finalists Brittany, Sophie, Brooke Blurton and Cass Wood.
"I don't understand how we didn't end up together," Brittany says in the clip.
While Brooke—who walked off the show in the second-to-last episode—tearfully explains, "My whole life has just been exposed. I wanted it to be worth it."
On the October 4 finale, Nick's family weren't convinced that Brittany and Sophie were perfect matches for him. His sister Bernadette even balked when Brittany mentioned she'd like to have kids in five years as she wasn't convinced her brother would be ready to settle down within that extended timeframe.
When it came time to pick a winner, Nick instead recited near identical rejection lines to both women.
"When I say those three words, the 'I love you' bit, I want to mean it with all my heart," he told Sophie. "I am not able to—with all my conscience—commit to you right now. At this point, our journey comes to an end."
And then to Brittany, "When I say those three words, I want to really mean it. I'm not looking for a girlfriend, I'm looking for a life partner. Right now, I can't give 100 per cent of myself to you. My head is very cloudy. Right now, I'm a bit lost. Because of that I have to say this time has come to an end."
Brittany was long rumoured to be the winner, but in recent weeks speculation mounted that Nick would end up single.
"'Wowee,'" the 30-year-old radiographer posted on Instagram after the finale aired. "Living it the first time was so hard, but reliving it tonight was something else…I gave it my all and was always true to myself, honest and risked it for the biscuit. I wore my heart on my sleeve and I'm proud of myself for putting myself out there. Whilst this is not my happy ending, I made the most beautiful friends, and I am so grateful to have had Soph there with me at the end. She is truly my rock."
Sophie, meanwhile, posted about the "emotional roller coaster", writing, "There is no denying that this isn't the way I hoped my journey would end. I unknowingly reached a point in time where not only could I see a future with Nick, I really wanted it. But in saying that, I am a firm believer that things happen for a reason, and now was not my time."