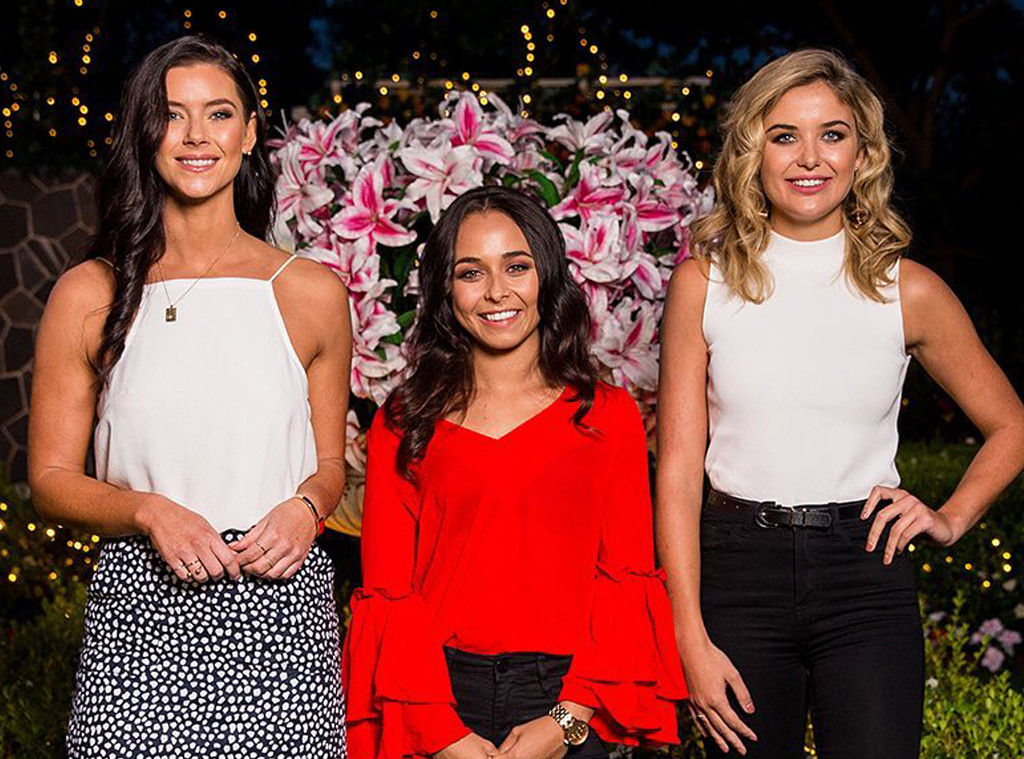 Ten
Nick Cummins has a tough decision to make on The Bachelor Australia.
Will the 30-year-old athlete give his final rose to early fan-favourite Brooke Blurton, underdog Sophie Tieman, or frontrunner Brittany Hockley?
In a bid to predict which contestant will win the sixth season, E! News has already dissected the wild rumours, examined the odds, and even grilled the Honey Badger about his dream partner.
We also quizzed the eliminated contestants after they left the mansion about their favourites—and their answers are very telling.
Here's who Cass Wood, Dasha Gaivoronski, Cat Henesy-Smith and more think will be the last woman standing (hint: Brittany's name comes up a lot).
CASS
The 23-year-old student is torn between Brittany and Sophie as likely winners (sorry, Brooke). "I think they're both amazing and they both have amazing connections with Nick," Cass told E! News. "I know them so well because we spent so much time together. They each have individual connections with him in different ways. As you can see on TV, they both look very happy."
DASHA
Russian-born personal trainer Dasha is team Brittany. "From Nick's perspective and if I was him, I would probably go for Brittany," she said. "They have a lot in common, it was meant to be from the start. They're the same age, they're from the same city and they both love travelling."
But the 31-year-old speculates that "maybe Britt is after something more serious but Nick is not quite ready for that".
EMILY
The 25-year-old dance teacher also thinks Brittany will receive the final rose. "It's so hard because I was so close with all of them, but I think Brittany has got a really good compatibility with Nick," Emily told E! News. "They seem to be on the same page."
SHANNON
Finally, a vote for underdog Sophie. "Golly! I'm going to say Sophie. I love her too. She's bloody awesome," car care consultant Shannon said. "She's always had trouble with expressing her emotions and she's really opening up a whole new part of herself. If she's willing to go to that extent Nick will acknowledge that."
JAMIE-LEE
Intruder Jamie-Lee's time was short and sweet in The Bachelor mansion, but it left her with a strong feeling Brooke wins the Honey Badger's heart. "Brooke and Nick's connection was so evident, you could just see it," the venue manager said. "They had such good banter and they had fun together and they both really enjoyed each other's company. It was actually nice to see that the whole process was working."
TENILLE
Her exit from the Bachelor mansion was a shock, but Tenille's pick certainly isn't. "I really like the connection that Brittany and Nick have," the 25-year-old said. "Their timeline of what they're wanting in their futures really lines up. I can see that working out."
DEANNA
Speaking to E! News after her Sept. 12 elimination, intruder Deanna kept her options open about who would win. Cass even got a look in at the time. "Brittany's been on a lot of dates with Nick. Brooke has as well. They're both great people," the South Australian said. "Sophie is really lovely, and Cass is amazing. It's really hard because there's qualities in all of them that would appeal to Nick."
CAT
Cat from Bali is a strong supporter of Brooke. "My bet's for Brookie," the jewellery designer said. "I adore Brooke. Nick would be lucky to have her."
ROMY
Cat's partner in crime, Romy, agreed. "I think Brooke should win," the photo shoot director said post-elimination.  
ASHLEA
Since day one, Ashlea picked Sophie and Brittany as frontrunners. "Sophie has that really catchy, bubbly personality. She's very rough and tough behind the scenes, but she's also classy and sophisticated," the property consultant said. "Britt, because she has her life in order and is just generally a really great person. I think any man that meets her would agree that she's set in who she is and what she wants, which is a great thing."
BLAIR
Picking two out of three frontrunners is a pretty decent effort from Blair back in week three. "I'm not going to put all my eggs in one basket," the PE teacher told E! News at the time, "so I'm going to go Brittany, Sophie and Emily."
The only way to truly know which bachelorette wins the Honey Badger's heart is to tune in this Wednesday and Thursday at 7.30pm for the final week of The Bachelor Australia.