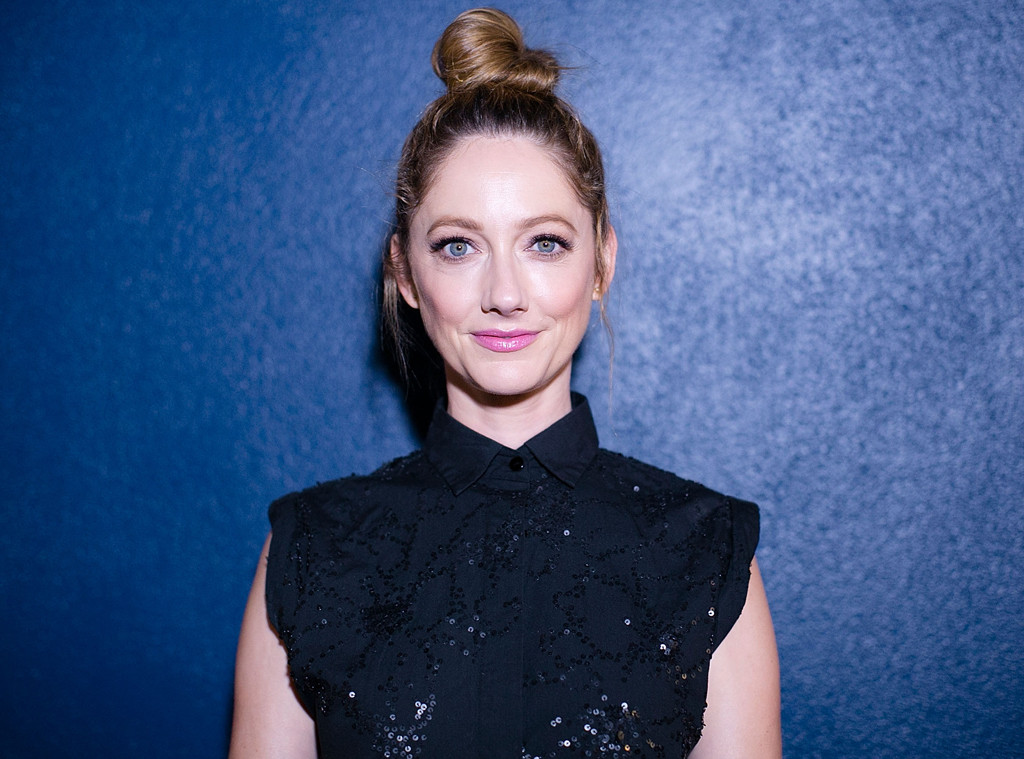 Gabriel Olsen/FilmMagic
Judy Greer may be the most optimistic person on the planet.
Instead of lamenting the painstaking five-second delay throughout our trans-Pacific phone call, she instead focuses on the fact that "it's kind of comforting in a way to know we're not so futuristic that everything happens immediately."
The 43-year-old has made a career of bringing that same heart and humour to smaller roles in films like What Women Want, 13 Going On 30 (titled Suddenly 30 in Australia), The Descendants, Ant-Man and a much-memed turn as Kitty Sanchez on Arrested Development.
And yes, she is incredibly self-aware: Her 2014 memoir is called I Don't Know What You Know Me From: Confessions of a Co-Star.
Now, in dark comedy series Kidding (new episodes Sundays on Stan), she plays Jill, the estranged wife of a children's entertainer (Jim Carrey) who's struggling to cope with the tragic death of their son.
"This is not new information, but a lot of times female characters aren't very multi-dimensional, especially in supporting roles," Greer says. "I loved the many different facets of Jill. She's so layered and heartbroken but strong. She's a nurse, she's a mother, she's suffered the unthinkable. I can't even wrap my mind around how she gets up in the morning, but people do. They go on, and I just wanted to see what she was like and what she would do next."
We're presently in the midst of a Greer-aissance of sorts. The Detroit native just made her directorial debut with A Happening of Monumental Proportions, starring her good friend Jennifer Garner, along with Common, Katie Holmes, John Cho, Allison Janney, and a slew of other people Greer "still can't believe said yes to me".
Next, she'll play Jamie Lee Curtis' daughter in Halloween, the 11th instalment in the beloved horror franchise (in Australian cinemas October 25).
Willy Sanjuan/Invision/AP/Shutterstock
"She [Curtis] is so committed to making sure that we stayed true to the story and the characters, that it became my mission, as well," Greer says.
"I felt a responsibility to this franchise that I didn't anticipate when I first signed on to do it. It's so easy sometimes to think, oh I'm just doing a genre film, a horror film. But it's important to take it seriously because these characters have been around for 40 years, so we owe them something."
(For the record, the original 1978 Halloween "scared the s--t" out of Greer.)
Though she's presently traded in romantic comedies for grittier fare, she still has soft spot for her early aughts work.
"When they're on TV, I will have to admit to watching them when I'm flipping channels," says Greer, who's married to TV producer Dean E. Johnsen. "I don't usually seek them out, but I always enjoy what I see. Usually I'm like, aww, I look so young."
She's remained extremely close with Garner, her 13 Going On 30 co-star, and says she's "always so excited" to catch up with any of her past colleagues.
"I ran into [27 Dresses co-star] Katherine Heigl at a restaurant a few months ago, and I gave her a great big, giant hug. It was so great to see her," she says. "It's always nice to see [13 Going On 30's] Mark Ruffalo, but we're not, like, texting recipes or anything."
And she's still a fan of the genre. Upon finding out that What Women Want has a new gender-flipped reboot—What Men Want starring Taraji P. Henson—she gasps with excitement, "Oh my God, that's amazing. I had no idea. I can't wait to check it out."
For now, she's got plenty to keep her busy with roles in next year's Where'd You Go, Bernadette?, Buffaloed and, hopefully, season 2 of Kidding. 
"I pray we get another season," she says. "It's funny how when it rains it pours. I just want to always keep challenging myself."
Related:
Judy Greer Talks Jason Sudeikis and "Driven"